The Glassell School of Art
---
The Glassell School of Art is the teaching institute of the MFAH, offering classes and workshops for all ages at the Studio School and Junior School; and the Core Residency Program for postgraduate artists and critics.
Building Hours for Student Access
Monday–Thursday | 9 a.m. to 10 p.m.
Friday & Saturday | 9 a.m. to 6 p.m.
Sunday | 12:30 p.m. to 6 p.m.
Closed on Thanksgiving and Christmas
Glassell School of Art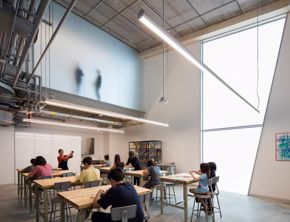 The L-shaped building is constructed from nearly 200 sandblasted, pre-cast concrete panels, alternating with panes of glass, in a rhythm of verticals and slight angles.
Highlights of the Glassell School of Art
• Fronts onto The Brown Foundation, Inc. Plaza, which provides ample outdoor space for programs and performances
• A street-level café for students and the public
• For the first time, all Glassell School of Art students are served under one roof, as the building houses the Junior School, Studio School, and Core Program residents
• The PNC Roof Garden, a sloping, walkable green roof offering dramatic views of the Sarofim Campus
Parking
The closest parking to the Glassell School of Art is the underground garage at 5101 Montrose Boulevard, located directly beneath the building. Two other parking garages are also nearby.
► Check mfah.org/parking for all parking options, garage hours, and fees.