Core Program | Open Studios
---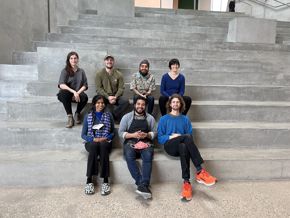 Core Program | Open Studios
The Museum's Core Program invites you to visit the studios as the 2021–2022 residencies draw to a close. Drop by to see what the Core fellows have been working on this year!
The studios are located on the third floor of the Glassell School of Art. Core fellows participating in this edition of Open Studios are artists Mickey Aloisio, Bryan Castro, Maggie Jensen, Jagdeep Raina, and Sindhu Thirumalaisamy; and critic Karen Schiff.
Admission is free.
About the Program
The Core Residency Program awards nine-month, postgraduate residencies to exceptional visual artists and critical writers who are working in diverse mediums to develop a sustainable practice. Core fellows form a community of makers and thinkers in an ongoing dialogue. Themes are driven by contemporary concerns, the interests and work of the fellows, and the Core Program's roster of visiting artists, critics, scholars, and curators. More Info
Questions? Call 713.639.7500
Visiting Guidelines In the interest of your personal safety and community health, please observe all precautions set forth by the MFAH—learn more here.
---
The Core Program at the Glassell School of Art receives generous funding from The Joseph & Sylvia Slifka Foundation; The Powell Foundation; and The Glassell Family Foundation.
Core fellowships have been underwritten by Milton and Sally Avery Arts Foundation, Inc.; Anchorage Foundation of Texas; Mr. Brad Blume; Ms. Bettie Cartwright; Mr. and Mrs. Jamal H. Daniel; The Dickson-Allen Foundation; Mr. Ronald A. Logan; McClain Gallery; and The Arch and Stella Rowan Foundation, Inc.