Student Activities & Exhibitions
Student Activities & Exhibitions
Exhibitions
The new Glassell School of Art building features gallery spaces with rotating exhibitions throughout the year.​
Contemporary Artists in Houston from the Collections of William J. Hill and the Museum of Fine Arts, Houston
August 3–November 11, 2018

BLOCK XVIII
September 28–November 4, 2018

Out of Clay
October 9–27, 2018

Non-Pavilion (Hines College of Architecture, UH)
November 9–December 2, 2018

Gerard Byrne: In Our Time
December 7, 2018–February 17, 2019

Alumni Review 1, 1960–2000
December 14, 2018–February 24, 2019

Off-site: Kinder Morgan Exhibition Series
The Glassell School of Art presents a series of exhibitions at the Kinder Morgan Building, located at 1001 Louisiana Street in downtown Houston. Learn more
Annual Student Art Sale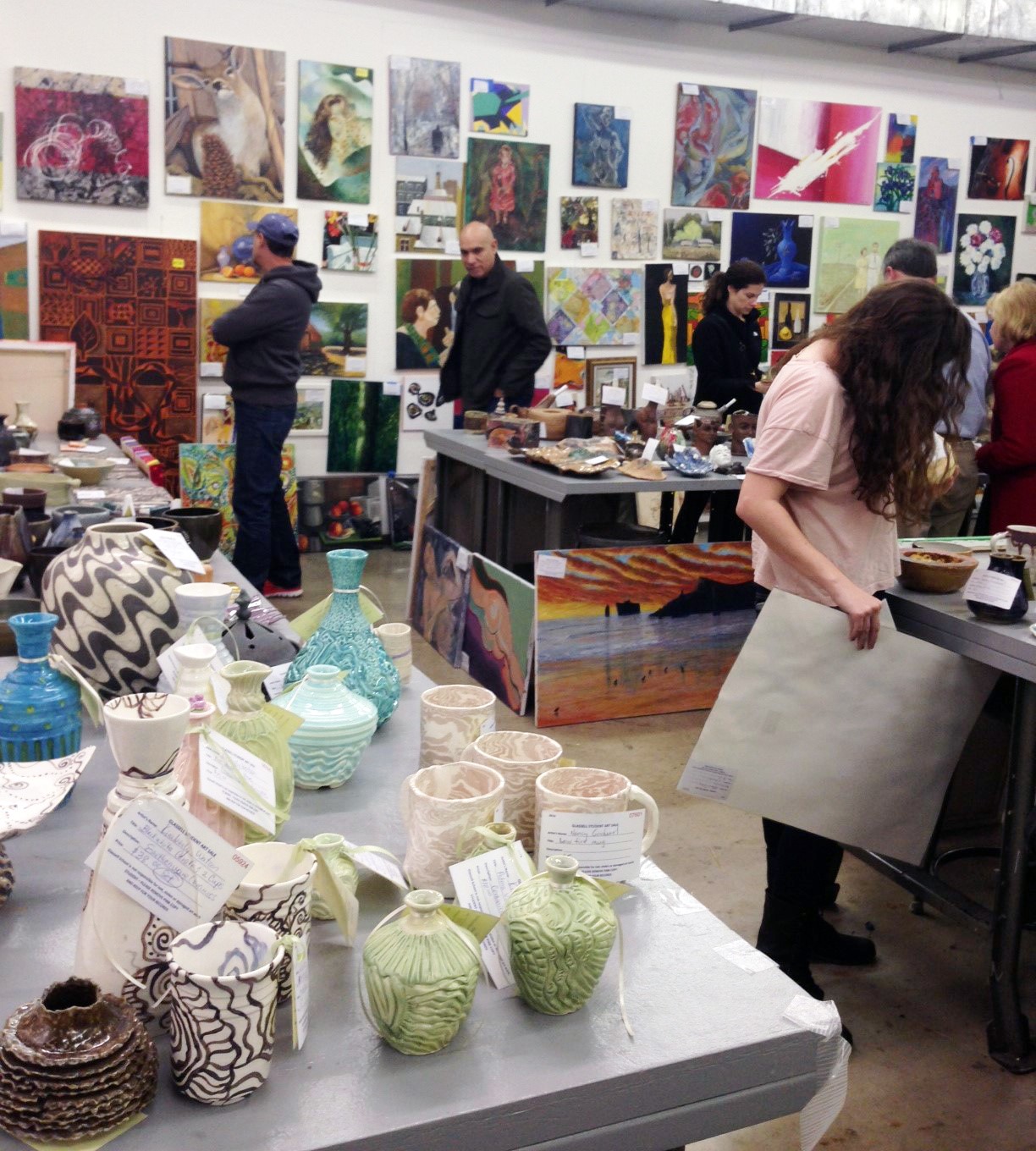 2018 Schedule
Preview Party:
• Thursday, December 6, 6–8 p.m.
Art Sale:
• Friday, December 7, 12 noon–8 p.m.
​• Saturday, December 8, 10 a.m.–5 p.m.
The Studio School Student Art Sale is an outlet for students to sell work they created over the course of the school year to an eager and enthusiastic public.
Proceeds benefit students in two ways: 75% from the sale of each object goes back to the student, and 25% goes toward Glassell School scholarships.
Student Alumni Organization
The Student Alumni Organization (SAO) is a donor group created specifically for the students and alumni of the Glassell School of Art. For current and former students who are passionate about giving back to the Glassell School community, the SAO provides an opportunity not only to connect with other Glassell alumni, but also to contribute to the school's mission. When you join the SAO, your gift allows the school to continue providing excellent instruction; to keep its tuition fees affordable; and to create an ever-growing community of artists.
Studio $75 (FMV $50)
• Eligibility for entry in the SAO Select Juried Exhibition
• An invitation to the preview party for the Annual Student Sale

Workshop $250 (FMV $125)
All of the benefits of Studio level, and
• An invitation to an exclusive Dean's Reception held at the private residence of a faculty member or donor

Exhibition $1,000 (FMV $150)
All of the benefits of Workshop level, and
• Recognition at the Annual Student Exhibition
• A complimentary copy of the annual Core publication
• One complimentary art history course at the Glassell School

Leadership Circle
• For those who wish to contribute $2,500 or more and receive benefits that reach throughout the Museum, the Leadership Circle offers exclusive access to the MFAH.
• Leadership Circle members who designate a portion or their entire gift to the Glassell School also receive SAO benefits at the level of their Glassell donation.
To become a member of the Glassell SAO, complete the online donation form and choose Glassell School of Art when making your gift. For more information, please call 713.639.7559.