Members Exclusive Access "Leandro Erlich: Seeing Is Not Believing"
---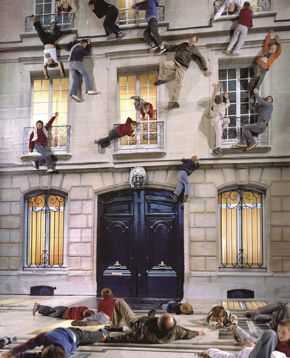 Members Exclusive Access to Leandro Erlich: Seeing Is Not Believing
MFAH members are invited to enjoy the immersive summer exhibition Leandro Erlich: Seeing Is Not Believing on a Monday, when the Museum is closed to the public. Tickets also include access to the special exhibition Virtual Realities: The Art of M.C. Escher from the Michael S. Sachs Collection and the other galleries in the Law Building.
Conceptual artist Leandro Erlich creates visual paradoxes and optical illusions that force you to question your perception of reality. Seeing Is Not Believing features two of Erlich's iconic, room-size installations and a selection of additional works spanning his career.
Tickets | Free
Plan Your Visit
Access the Law Building through the lower-level tunnels from the Beck Building or Kinder Building. The nearest parking is in the Kinder and Glassell garages.
• Parking Information
• MFAH Campus Map
Questions? Call the members hotline at 713.639.7550, Monday–Saturday, 10 a.m. to 5 p.m. or email membership@mfah.org at any time.
Safety Guidelines In the interest of your personal safety and community health, please observe all precautions set forth by the MFAH—learn more here.
Accessibility The MFAH strives to provide a welcoming and accessible experience for all guests by offering a range of accommodations—learn more here.
► If you are not yet an MFAH member, join now to get free tickets along with other great benefits!
---
"Leandro Erlich: Seeing Is Not Believing" is organized by the Museum of Fine Arts, Houston.
Major support is provided by:
Leslie and Brad Bucher
Generous support is provided by:
Baker McKenzie
Silvia Salle and Peter T. Wood