Lifelong Learning at the Glassell School of Art November 18, 2019
---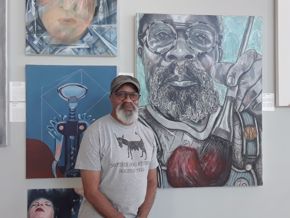 The Glassell School of Art is open to all ages and skill levels. The Studio School, for adults, offers everything from short-term workshops to full-semester courses in art and art history.
We asked artist and student Romeo Robinson to tell us about his experience with the opportunities at the Glassell School.
What is your story? How do you share it in your art?
My story began in New York City, where I was born and raised. I went into the U.S. Air Force and after that studied to be a commercial photographer—until the cold weather drove me out!
I chose to relocate in Houston, and I worked for Shell for 34 years as a refinery operator. When I retired, I wanted to do art and see if I was good at it. I first went to San Jacinto College and then came to the Glassell School of Art.
What is the best part of taking art and art history classes at the Glassell School?
There are so many best parts! Some of the best instructors in the country teach you, and they are all working artists. Camaraderie with other artists is key, especially within the BLOCK program of advanced students, which is one of the best programs any teaching institution has to offer.
At the Glassell School, you are central to the art community, and you are up with what's going on, with all the different types of art out there. And you get to exhibit your art, like my self-portrait in the exhibition Seeing Ourselves: Visual and Verbal Self-Portraits and Selfies (on view at the Glassell School from November 1 to December 7).
Could you share your choices in painting your self-portrait, and in seeing yourself in the mirror?
Making a self-portrait is challenging and rewarding. You are in the art, it is about you, and you are the subject! One of the hardest things is to look inward and to find a way to reflect what you see in a way that is informative and artistic. You have to figure out, "What do I see?" and "What do I want to say about myself?" I paint and I draw every day. My life is now filled with making art, with being creative. The best symbol of this creativity is the paintbrush that I hold in my hand in my self-portrait.
► Learn More
Spring classes at the Studio School begin January 23. Registration takes place January 7 and 8. See the schedules and the course catalog.
Recent Posts