See Glorious Masterpieces from the Hispanic Society Museum & Library May 14, 2021
---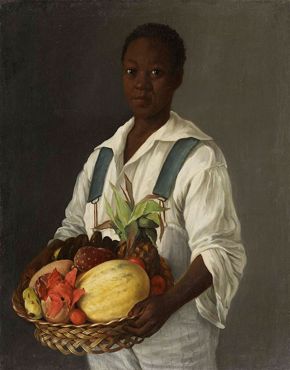 If you enjoyed the exhibition Glory of Spain: Treasures from the Hispanic Society Museum & Library—or if you never had a chance to see it—this installation is for you. More than 50 works of art from the New York–based Hispanic Society Museum & Library are on loan to the MFAH and on view in the Beck Building.
The Hispanic Society focuses on the art and culture of Spain, Portugal, Latin America, and the Philippines from antiquity to the early 20th century. James Anno, associate curator of European art at the MFAH, provides an inside look at a few highlights.
The Young Man from the Coast by José Agustín Arrieta
José Agustín Arrieta was among the most outstanding Mexican painters of his generation. This portrait depicts a young man of African descent, probably from the Gulf Coast region near Vera Cruz, the seat of the largest Afro-Hispanic ethnic group at the time. The elegantly dressed youth is presented monumentally, filling the canvas and meeting our gaze.
The Duchess of Alba by Francisco de Goya (slideshow image #2)
Standing before a river on one of her estates, the duchess—among the great beauties of her age—is dressed as a fashionable urbanite and fixes her gaze outward. She points to the phrase "only Goya" drawn in the sand at her feet, and her rings are inscribed "Alba" and "Goya," which have given rise to much speculation about her relationship to Francisco de Goya. The powerful composition, free brushwork, and loaded yet ambiguous meaning make this perhaps the artist's finest portrait.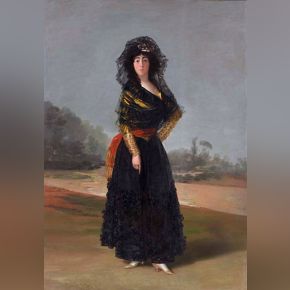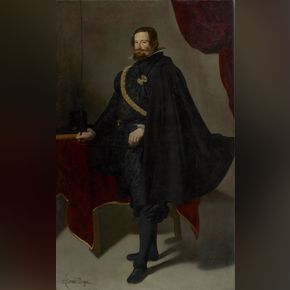 Gaspar de Guzmán, Count-Duke of Olivares by Diego Velázquez (slideshow image #3)
Gaspar de Guzmán, third Count of Olivares and first Duke of Sanlúcar la Mayor was named válido (favorite) to King Philip IV, whom Olivares had tutored as a boy. Ruthless, intelligent, and hard-working, Olivares began an ambitious program to reverse recent defeats and restore the prestige of the Spanish monarchy. Diego Velázquez represents Olivares in all the splendor of the position in one of the artist's most impressive official portraits of this date.
Louis Comfort Tiffany by Joaquín Sorolla y Bastida (slideshow image #4)
While in the United States for an exhibition tour in 1911, Joaquín Sorolla y Bastida undertook several portrait commissions, including one for renowned American designer Louis Comfort Tiffany. Sorolla derived inspiration from an avalanche of spring flowers at Tiffany's Long Island estate, depicting the designer at the easel along with pet border terrier, Funny. The execution of the picture is completely Impressionist, balancing multiple shades of yellow and blue against bands of whites and gray-greens.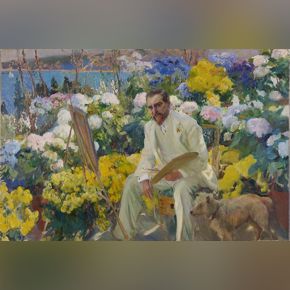 The Castas: Mestizo and Indian Produce Coyote by Juan Rodríguez Juárez (slideshow image #5)
Mexican casta paintings were popular depictions of the racial mixtures prevalent in viceregal society, and they reflect a system of racial classification strikingly at odds with today's social discourse. Here, a man of European and Amerindian parentage (mestizo) has married an indigenous Mexican woman. Their son's particular racial mixture is termed coyote.
• Ready to explore? Head to the second-floor galleries of the Beck Building and take in all of the extraordinary paintings, sculptures, and decorative arts on view. Included with general admission. Advance tickets recommended.
Recent Posts