Entertaining
Entertaining
Host Your Next Event at the MFAH
The MFAH campus offers a variety of unique and elegant spaces for private events. When you select the MFAH as your next venue, you are supporting the Museum's exhibitions, programs, and community outreach. Discounted rental fees are available for members of the Corporate Partners program and the Leadership Circle.
For more information, please contact specialevents@mfah.org or 713.639.7754.
Caroline Wiess Law Building
1001 Bissonnet Street
Houston, TX 77005
Maximum Capacity
• Reception: 1,000
• Seated dinner: 350

Designed by Bauhaus master Ludwig Mies van der Rohe and completed in two phases (1958 and 1974), the Law Building's elegant Modernist pavilion opens onto Bissonnet, now the Law Building's front entrance. The rear of the building, a Neoclassical structure designed by William Ward Watkin in the early 1920s to serve as the first MFAH building, has gallery spaces that are more intimate.
Audrey Jones Beck Building
5601 Main Street
Houston, TX 77005
Maximum Capacity
• Reception: 350
• Seated dinner: 150
Designed by Pritzker Prize-winning architect Rafael Moneo and opened in 2000, the Beck Building—which houses the Museum's collection of antiquities, Old Masters, Impressionism, American art, and Modern and contemporary art—offers a variety of spaces for entertaining.
Bayou Bend Collection and Gardens
6003 Memorial Drive
Houston, TX 77007
Bayou Bend's award-winning Visitor Center, located at 6003 Memorial Drive at Westcott Street, is a popular setting for receptions, meetings and parties. The sleek glass and steel architecture offers light-filled spaces, a two-story lobby, and beautiful views, creating a unique, memorable experience. At night, exterior lighting provides a surrounding glow. Added features include exhibits and a media wall.
The modern gateway to historic Bayou Bend Collection and Gardens, the Kilroy is just four miles from downtown or the Galleria, and easily reached via Memorial Drive, Allen Parkway, 610 or I-10. Political, commercial, fundraising, and religious events (including wedding ceremonies) are not permitted.
Learn more about capacity and amenities. For information about booking Bayou Bend's Lora Jean Kilroy Visitor and Education Center, contact Lavinia Ignat, 713.639.7758.
Rienzi
1406 Kirby Drive
Houston, TX 77019
Maximum Capacity
• Standing Reception: 99
• Seated Dinner: 90
Rienzi is the house museum for European decorative arts at the Museum of Fine Arts, Houston. The former residence of Carroll Sterling Masterson and Harris Masterson III, Rienzi was designed by architect John F. Staub in 1952. In 1972 the Mastersons' neighbor, architect Hugo V. Neuhaus, added a ballroom to the residence. This addition allowed the owners to expand their social activities and gave Harris Masterson more room for his growing collection of European ceramics, which today forms the core of the Rienzi Collection.
Brown Auditorium Theater
1001 Bissonnet Street
Houston, TX 77005
Maximum Capacity
• 350 fixed lecture-style seats
Brown Auditorium Theater—part of Ludwig Mies van der Rohe's 1954 master plan for the Law Building expansion—provides excellent sight lines to the stage from all 350 of its fixed seats and offers sophisticated audio-visual capabilities.
Host Your Group Meet-Up at Happy Hour Thursdays!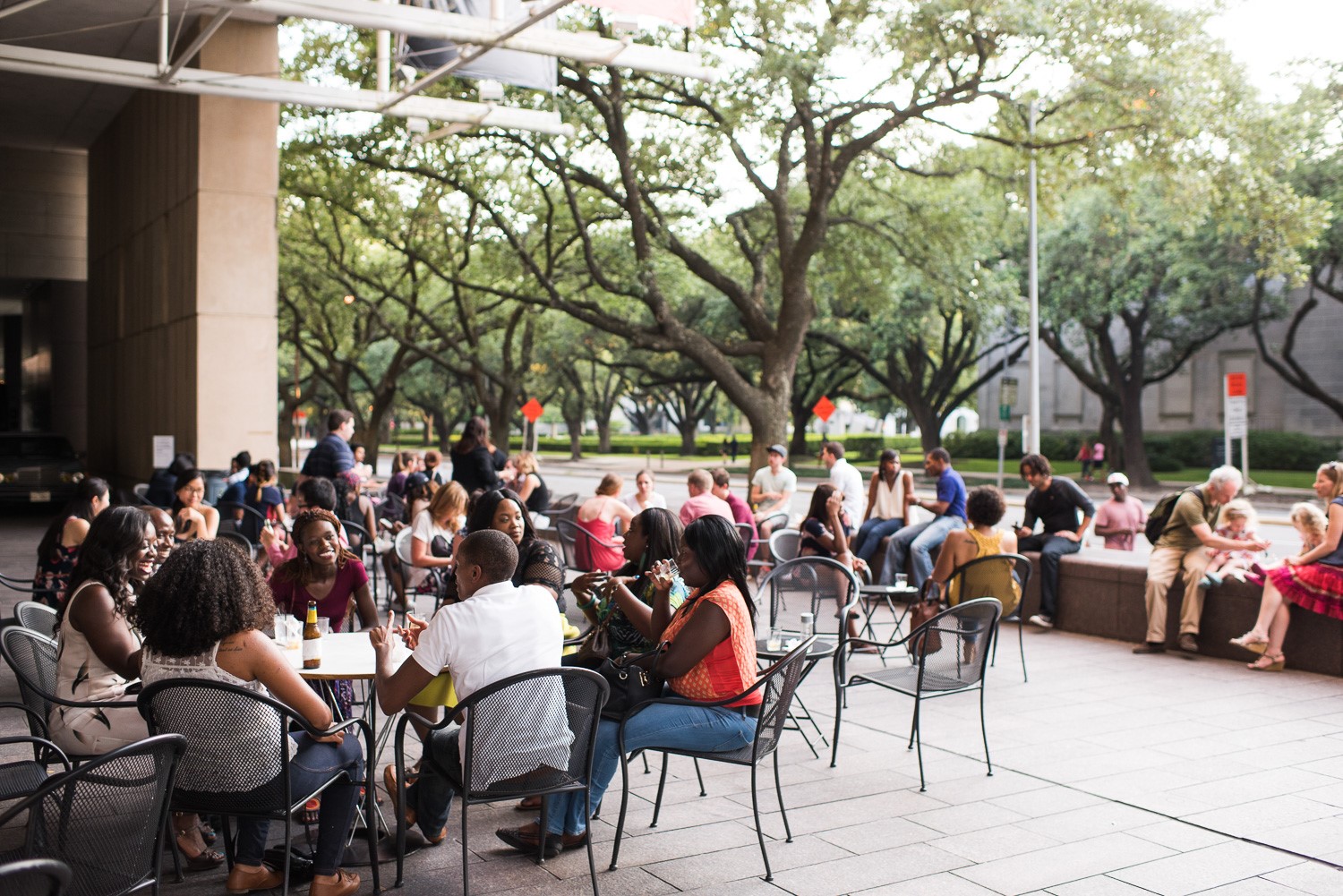 Need a venue for a group meet-up? Professional, alumni, and other groups can get together at the MFAH during Happy Hour Thursdays, which take place every week from 5 p.m. to 8 p.m. Relax, order drinks, visit the food truck, and explore the Museum. On Thursdays, all visitors enjoy free general admission 10 a.m. to 9 p.m. and free garage parking 5 p.m. to 9 p.m.
Contact 713.639.7754 or specialevents@mfah.org for more information about bringing your group to Happy Hour Thursdays.