Facility Rentals at Bayou Bend
Facility Rentals at Bayou Bend
Lora Jean Kilroy Visitor and Education Center
Bayou Bend's award-winning Visitor Center, located at 6003 Memorial Drive at Westcott Street, is a popular setting for receptions, meetings and parties. The sleek glass and steel architecture offers light-filled spaces, a two-story lobby, and beautiful views, creating a unique, memorable experience. At night, exterior lighting provides a surrounding glow. Added features include exhibits and a media wall.
The modern gateway to historic Bayou Bend Collection and Gardens, the Kilroy is just four miles from downtown or the Galleria, and easily reached via Memorial Drive, Allen Parkway, 610 or I-10. Political, commercial, fundraising, and religious events (including wedding ceremonies) are not permitted.
Amenities
• Ample free parking for cars and buses
• Discounts for nonprofit organizations
• 2 meeting rooms and an executive conference room
• Evening rental of 1st floor available
• Covered terrace(s)
• A/V equipped
• Wide range of catering options
• Packages available with Bayou Bend group tours/Visitor Center facility rental
Visitor Center Information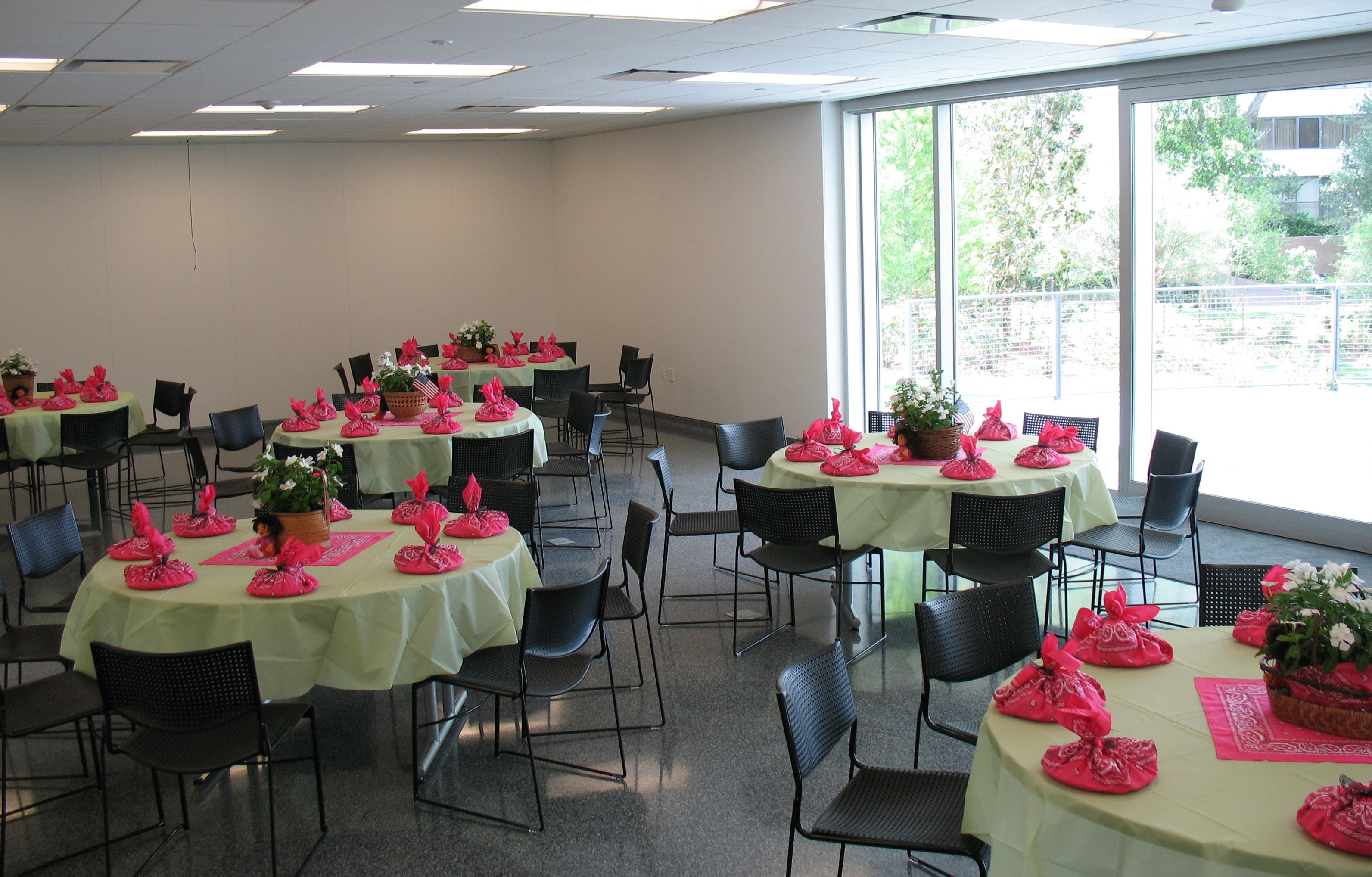 Rental inquiries contact:
Lavinia Ignat, 713.639.7758
Daytime rentals: 9 a.m. to 5 p.m. (rental of Bailey, Barnhart, and Jameson rooms available)
Bailey Room (may include outside Nau Verandah)
Inside Capacity: 82 Meeting/Lecture/Reception; 60 Seated Dinner
The Kilroy's largest room, Bailey features floor-to-ceiling sliding glass doors and windows on the south side overlooking a beautiful garden landscape, as well as state-of-the-art presentation capabilities, including a ceiling-mounted projector with multiple inputs and blackout screens. Also includes a long counter top with sink. With its terrazzo flooring and flexibility, Bailey is ideal for receptions, large meetings, and dinners. A partially covered outdoor terrace (the Nau Verandah) offers more rental flexibility.
Barnhart Room (may include small outside terrace)
Capacity: 38 Meeting/Lecture/Reception
The Barnhart Room is a more intimate version of the Bailey Room, containing all of the same presentation features, flexibility, natural light and blackout screens, but is more ideally suited for groups of between 20 and 38.
NOTE: Barnhart and Bailey are connected by a wide doorway at their east side, allowing for Barnhart to be utilized as a staging, storage, or spillover area.
Jameson Conference Room (can include access to covered terrace)— may be available at night for an additional fee with First Floor rental.
Capacity: 14–20 Meeting/Lecture/Luncheon
The Jameson Conference Room, located on the 2nd floor of the Kilroy, is a light-filled boardroom-type space with carpeting, a central stationary table with a conference phone, a large flat-panel monitor with DVD/Blu-Ray and computer presentation tools, and blackout screens. A small niche provides set-up for coffee, snacks, etc. The Conference Room is ideal for groups of 14 to 20.
Evening Rentals: 6 p.m. to 10 p.m.
Rental includes any combination of the following 1st floor spaces: Lobbies, Barnhart Room, and Bailey Room with outdoor Nau Verandah. 2nd Floor Jameson Conference Room may also be included for an additional fee.
Capacity: 300 Standing Reception; Note: for mixed use (seating/standing). Contact Bayou Bend for capacity.
Professional Bridal and Portrait Photography
Bayou Bend's opulent gardens are now available for wedding, family, commemorative, and bridal portraits!
Session fees are based on portrait type, party size, and day selected. A session pass is good for two hours and permits access to the entire 14 acres. As session times may only be selected when the estate is closed to the public, your access to the gardens will be both exclusive and intimate.
Available session times:
Monday, 11 a.m.–5 p.m.
Tuesday-Saturday, before 10 a.m. or after 5 p.m.
Sunday, before 12 noon or after 5 p.m.
Bridal and portrait inquiries contact:
Lavinia Ignat, 713.639.7758