Visiting the MFAH for Free
---
The MFAH offers many ways to enjoy your Museum for free! Browse the list below for a few ideas.
Thursdays: Always Free
It's simple. If it's a Thursday, general admission to the MFAH is completely free, to everyone, courtesy of Shell Oil Company. The only exception is specially ticketed exhibitions.
Plus, the Museum is open late on Thursdays, until 9 p.m. So you can bring the entire posse for free after work. Most programs like gallery talks and tours are also included in your visit for free.
Free Parking on Thursday Evenings
Parking in the Museum's garages is free for MFAH visitors who arrive between 5 p.m. and 9 p.m. on Thursdays! Learn more about parking and plan ahead.
Kids Get in FREE When . . .
1) They are 12 years old or younger.
2) Visiting on a Saturday or Sunday. Ages 18 and younger simply show their library card from any public library in Texas. (The cardholder receives the free general admission.)
3) Using the voucher they received after their school trip to the MFAH. (Each student who visits the Museum on a school tour is given a voucher to return with FREE admission for themselves—and their family!)
4) Visiting with a Lone Star Card participant who presents the card with a photo ID. Lone Star Card holders receive free admission for up to 6 people on one card.
Free Admission for Participants in the Texas Lone Star Card Program
Participants in the Texas Lone Star Card program receive free access to the buildings on the Museum's main campus, as well as Bayou Bend and Rienzi! A guest who presents a Texas Lone Star Card and photo ID can receive free admission for up to 6 people on one card.
Excludes dated and timed-entry events, including films, programs, special events, and some ticketed exhibitions. Please be sure to call ahead for tour information for Bayou Bend (713.639.7750) and Rienzi (713.639.7800).
The PNC Roof Garden | Brown Foundation, Inc. Plaza | Cullen Sculpture Garden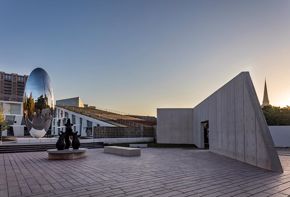 The Museum's Susan and Fayez S. Sarofim Campus boasts beautiful outdoor spaces that are free and open to the public!
The PNC Roof Garden, with its panoramic views of Houston's skyline, extends The Brown Foundation, Inc. Plaza up along the walkable, sloped roof of the Steven Holl Architects–designed Glassell School of Art. The public plaza below includes two sculptures, Eduardo Chillida's Song of Strength and Anish Kapoor's Cloud Column, as well as an architectural fountain and plenty of seating.
Connected to The Brown Foundation, Inc. Plaza is the Lillie and Hugh Roy Cullen Sculpture Garden, the perfect sanctuary from the hustle and bustle of Houston. Created by sculptor Isamu Noguchi, this tranquil oasis of art and nature is open every day of the year, 9 a.m. to 10 p.m.
FREE Fun at Bayou Bend
A variety of free fun awaits at Bayou Bend Collection and Gardens, the MFAH house museum for American decorative arts. Enjoy Family Days, art activities, history programs, and more for kids and adults. Questions? Contact bayoubend@mfah.org or 713.639.7750
FREE Activities at Rienzi
Rienzi, the MFAH house museum for European decorative arts, offers programs for all ages, including free Family Days, garden tours, and yoga events. Questions? Contact rienzi@mfah.org or 713.639.7800
Ways College Students Can Get in for FREE
College students can get FREE admission in two ways:
Bring a class assignment and student ID
Students attending any college or university can show that they are participating in an art-related assignment in order to receive free general admission.
Attend a school that is part of the University Partnership Program
Students of institutions that participate in our University Partnership Program can show their student ID to receive free general admission and discounts on ticketed exhibitions. Learn more
Wait! There's More
Free Admission
• The Museum provides free general admission to active members of the U.S. military and reserves with valid ID, as well as to military families with dependent cards, in person at any admissions desk.
• One person accompanying a guest who has accessibility needs receives free admission to the Museum's collections and special exhibitions, upon request at any admissions desk.
• Bank of America cardholders receive one free general admission as part of the "Museums on Us" customer benefit program, applicable to the first full weekend of every month. Learn more

Free Add-ons
Whether you paid for admission or not, you'll find activities at the MFAH that don't cost extra. Before you visit, see what's going on that day so you can take full advantage of your time on the Museum campus.