Rienzi Outreach & Support
Rienzi Outreach & Support
Support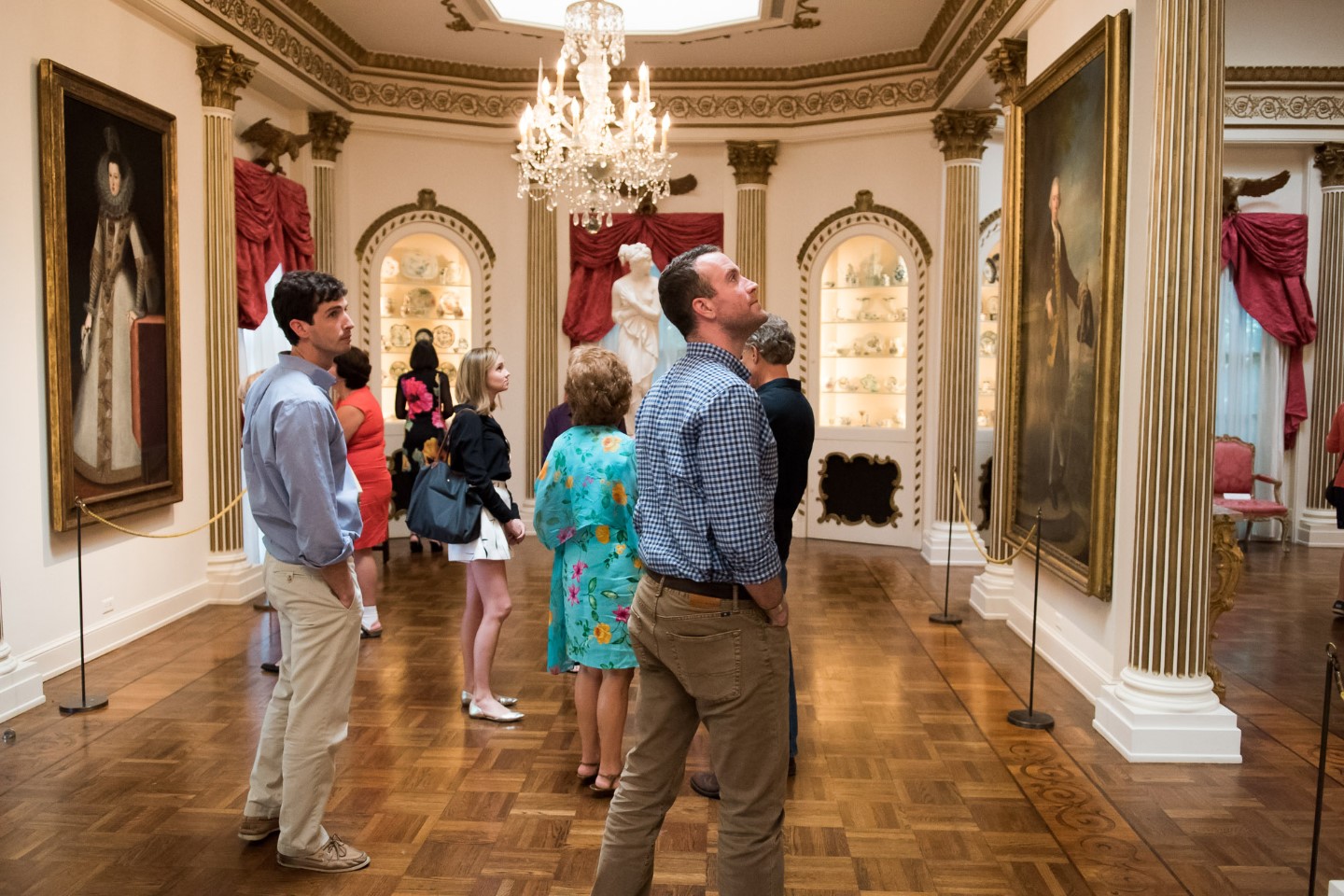 Rienzi Annual Fund
Generous gifts to the Annual Fund provide for Rienzi's most essential needs, from preserving the collection and gardens to supporting our dedicated staff. With these important resources, Rienzi presents an impressive and dynamic schedule of tours, performances, lectures, and educational programs for members of our community.
► Donate to the Rienzi Annual Fund today.

For questions, please contact Haley Horan at hhoran@mfah.org or 713.639.7559.
Rienzi Society
Established in 1999, The Rienzi Society hosts a formal dinner in the Rienzi grand ballroom each winter. Membership proceeds are directed to acquire fine European decorative arts and paintings for the esteemed collection.

Rienzi Society membership is $2,500 for an individual or $5,000 for a couple. For more information, please contact RienziSociety@mfah.org or 713.639.7581.
Rienzi Spring Party
This elegant fundraising event includes cocktails, hors d´oeuvres, and live entertainment in the scenic Rienzi gardens. Proceeds benefit Rienzi´s essential operations, and individual tickets start at $250. Additional underwriting levels are available for $2,000, $3,500, and $5,000. For more information please contact RienziSpringParty@mfah.org or 713.639.7581.
Rienzi Garden Endowment Fund
Rienzi's gardens are enjoyed by thousands of visitors each year. The Rienzi Garden Endowment Fund was established to help maintain the historic gardens to be enjoyed for generations to come.
Individuals are invited to make a contribution to the Rienzi Garden Endowment Fund in honor or in memory of a loved one. Gifts will be acknowledged with a special Valentine's Day card sent to the donor's desired recipient. For questions, please contact Haley Horan at hhoran@mfah.org or 713.639.7559.
Outreach and Community Programming
Rienzi partners with organizations across Houston for educational and artistic collaboration, attracting new audiences and introducing programs that appeal to our diverse community.
Popular programs for children and families include fall and spring Family Days and Storytime Tours throughout the summer. Rienzi also offers specialized tours focusing on porcelain and eighteenth-century art, history, and daily life. Finally, the biennial Rienzi symposium highlights Rienzi's collection in the context of historic European design and decorative arts.
Typical community programs each year include:
Storytime Tours: selected mornings throughout the year
Gallery Talks: one Thursday each month
Punch Party: annually
Food and Drink History Dinner: annually
Yoga in the Gardens: twice each year in the fall and spring
Family Day: twice each year in the fall and spring
Twilight Tours: twice each year in the fall and spring
Houston Grand Opera Studio
One of the country's most respected young artist programs, the Houston Grand Opera Studio has served young singers and pianist/coaches for more than 30 years. With generous support from the Alkek and Williams Foundation, Rienzi hosts a popular recital series showcasing the inspiring talent of HGO Studio's residents.