Exhibitions at Rienzi
---
Rienzi's exhibitions explore elements of the house museum and 18th- and 19th-century European decorative arts in depth, actively engaging visitors in a dialogue with the Rienzi Collection. Included with general admission.
Fine Lines: Works on Paper from the Masterson Collection
March 4–July 30, 2023 / September 1–October 22, 2023
Carroll Sterling Masterson and Harris Masterson III, Rienzi's founders, enriched their collection of European decorative arts with works on paper, providing the opportunity to view two-dimensional and three-dimensional objects together. Fine Lines highlights watercolors, drawings, prints, and books brought together by these dynamic collectors.
A work on paper offers a degree of immediacy and insight into the artist's mind that creates an intimate encounter between the artist, work of art, and viewer. The Masterson Collection comprises works on paper by artists including Pompeo Batoni, Jean-Honoré Fragonard, Thomas Gainsborough, and George Romney. Some of the drawings are preparatory sketches, and others were made as independent works of art. Subjects range from studies of nature, places, and the human figure to literary scenes and portraiture.
Looking South: Collecting the Arts of Mexico
September 1, 2022–February 26, 2023
Carroll Sterling Masterson and Harris Masterson III, Rienzi's founders, had a lifelong love of Mexico. Their affinity for the country was part of a larger American fascination with Mexico between the 1910s and 1940s.
Harris attended high school in Mexico City in the late 1920s. Carroll lived in Mexico in the 1940s with her children, Bert and Isla, and second husband, John Cowan.
Looking South: Collecting the Arts of Mexico reflects the Mastersons' captivation with Mexico, seen in their collection of objects and ephemera from the 18th to the mid-20th century and in Rienzi's Mexican Room, which they added in the 1970s. This wealth of Mexican material provides a fascinating lens through which to view 20th-century collectors and collecting.
Materials of Empire: Colonial Narratives 1700–1860
January 15–July 31, 2022

Exploration, war, scientific expeditions, and religious missions feature prominently in European history of the 18th and 19th centuries. These factors fueled an age of discovery in which ships transported explorers, merchants, and migrants from Europe to far-reaching destinations. Vessels returning to Europe carried cargo such as gold, silver, sugar, and tobacco. The ships also transported millions of enslaved men, women, and children from Africa across the empires to serve as labor in the cultivation of these new materials. New encounters and confrontations resulted in a complex cultural landscape.
Materials of Empire features objects from the Rienzi Collection that shed light on the links between Europe, Africa, the Americas, and India. This small exhibition examines the stories objects reveal as well as conceal.
Perpetual Bloom: Botanicals in the 18th-Century Interior
March 10–July 31, 2021
Throughout the 18th century new ideas about nature, based on scientific discoveries and geographic explorations, resulted in extraordinary representations of the natural world in the visual arts. As European nations explored distant lands and established colonies in the Americas, South Africa, and Asia, botanicals flowed into the continent from all over the world.
Scientific discoveries and the new print culture helped fuel botanical study and the close observation of nature. These new discoveries ignited a craze for landscape gardens both in and out of doors. Perpetual Bloom explores the ways in which botanicals were displayed and re-created in domestic interiors during the 18th century. The exhibition features a variety of porcelain objects, silver, and engravings.
Hats Off: Halston Hats from the Masterson Collection
January 11, 2020–January 3, 2021
This exhibition explores the art of millinery in the mid-20th century. Hats Off highlights hats and hair accessories designed by influential American fashion designer Halston (1932–1990) for the New York department store Bergdorf Goodman. Thirteen pieces in the Rienzi Collection, designed from 1958 to 1966, were ordered directly from Bergdorf Goodman's custom salon by by Carroll Sterling Masterson, one of Rienzi's founders. Some of the hats are paired with their design drawings, discovered through archival research. The exhibition also features loans from the collection of Halston's niece, Lesley Frowick, including original head forms and vintage Bergdorf Goodman hatboxes.
In Twilight: Mourning Costume and Customs, 1776–1914
September 1, 2019–January 5, 2020
This exhibition explores how people mourned in Europe and America in the 18th and 19th centuries, an era in which the specter of death permeated life. In Twilight: Mourning Costume and Customs, 1776–1914 offers a look at objects that were used as an outward display of inward emotion.
One way people coped with constant loss was to remember their loved ones through mourning customs and special dress. In Twilight includes an intact late-19th-century American mourning dress and a variety of portrait miniatures depicting subjects in mourning costumes, all recent gifts to the Rienzi Collection.
These objects are accompanied by selections from Rienzi's extensive collection of mourning jewelry, as well as books of the period advising readers on the correct way to display grief.
Broadway's Amazing Mastersons
March 2–July 31, 2019
Carroll Sterling Masterson and Harris Masterson III, Rienzi's founders, were known for their eclectic tastes and their art collection. As part of Rienzi's 20th anniversary celebrations, this exhibition focuses on an especially fascinating aspect of the Mastersons' artistic interests: their foray into Broadway productions.
From 1958 to 1966, the couple immersed themselves in Broadway theater. Among their productions were The Lady of the Camellias, by famed director Franco Zeffirelli; and the Tony Award–nominated musical Bajour, starring the legendary Chita Rivera.
Eventually the Mastersons turned their attention to cultivating the Houston art scene, but not until they had left a Texas-sized mark on the Big Apple.
The Connoisseur's Eye: New Perspectives on Ceramics in the Rienzi Collection
September 1, 2018–January 13, 2019
Carroll Sterling Masterson and Harris Masterson III, the former owners of Rienzi, were known for collecting fine ceramics. The Connoisseur's Eye: New Perspectives on Ceramics in the Rienzi Collection highlights their extensive collection of porcelain.
Recent research has uncovered new information on pieces from lesser-known factories in Europe, including Longton Hall Porcelain, the Naples Royal Porcelain Factory, and St. James's Porcelain Factory. These discoveries shed new light on the Mastersons' wide-ranging interests as collectors. This exhibition expands the story of 18th-century ceramics in the Rienzi Collection beyond the holdings from major porcelain factories such as Meissen, Sèvres, and Worcester.
Extravagant Objects: Jewelry and Objets d'Art from the Masterson Collection
November 18, 2017–July 26, 2018
For centuries, jewelry and objets d'art—luxurious objects made of precious and exotic materials—have been sought after by royals, aristocrats, and the affluent to demonstrate status, wealth, power, and taste. From small, personal, functional objects to bejeweled adornments and extravagant sculptures meant simply to delight the eye, these creations reflect the artistic vision and innovations of their time.
Extravagant Objects: Jewelry and Objets d'Art from the Masterson Collection features a dazzling array that reflects the eclectic tastes of Carroll Sterling Masterson and Harris Masterson III, the former owners of Rienzi.
Decorative Arts in the Age of Victoria
March 11–June 25, 2017
The 63-year reign of Queen Victoria (1837–1901) saw the British Empire reach its geographical, financial, and industrial peak. The art, architecture, and design created in those years were inspired by European artistic traditions as well as cultures across the globe. The Great Exhibition of 1851 was organized by the queen's husband, Prince Albert, to display the wonders of industry from around the world. Decorative arts were shown in revivals of Classical, Renaissance, and Rococo styles—sometimes copied quite closely, but often combined or reinterpreted to create a variety of novel forms and motifs. Historic decorative techniques were also adapted to modern manufacturing processes. This exhibition features works of art that illustrate the dual drives of the British to historicize and modernize their world. Among the objects on view are porcelain, glass, jewelry, miniatures, wallpaper, and furniture.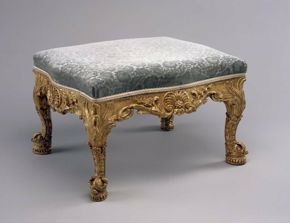 Grand Designs: Neoclassical Taste in the 18th Century
September 17, 2016–February 20, 2017

Throughout the 18th century, thousands of young aristocratic tourists traveled to Italy to take part in the Grand Tour. Many of them visited archaeological sites and purchased antiquities to decorate their grand houses back home. They also bought and commissioned a rich variety of decorative arts inspired by antique models that were considered the height of refined taste.
This exhibition explores the history and conservation of The Dundas Sofa, commissioned by Scottish businessman Sir Lawrence Dundas from two titans of English design: architect Robert Adam and furniture maker Thomas Chippendale.

The Lavish Prince Regent
March 5–July 31, 2016
Prior to his accession to the British throne in 1821, King George IV served as Prince Regent of the nation during the mental illness and incapacitation of his father, George III. The prince led an extravagant lifestyle before and during his regency that held great sway over the fashions of the day, and he advocated new forms of leisure, style, and taste.

During this period, he built the famous Royal Pavilion in Brighton, which was an Orientalist fantasy in architecture. As with the pavilion, the "Regency Style" that the prince created was a mixture of the antique and the exotic, the gilded and the decorated—and with an interest in elegant innovation.
The Lavish Prince Regent presents a survey of this most sumptuous of historical styles.
À la Mode: Fashioning European Silver, 1680–1825
October 10, 2015–February 7, 2016

For centuries, silver was one of the most popular expressions of style and taste, with its universal appeal and powerful hold on the imagination making it the necessary luxury. Silver was designed for almost every occasion, from everyday drinking and dining to commemorating christenings and weddings.
À la Mode draws from the rich holdings of the MFAH, Rienzi, and two private collections to explore the social life of silver. The exhibition shows how prevailing attitudes and changes in fashion determined the form and function of objects, and how people thought about and lived with silver.
Comfort and the Eighteenth-Century Interior
September 13, 2014–February 1, 2015

Eighteenth-century porcelain, silver, furniture, and textiles from the MFAH collections show that objects were often designed to improve people's physical or emotional well-being simply by making life more comfortable.
Related Event | Rienzi's 15th Anniversary Symposium
"Creatures of Comfort: 1650–1950"
September 19–21, 2014
Celebrating Spring: Porcelain in Bloom in the Rienzi Collection
March 1–June 29, 2014
Rienzi is pretty any time of year, but it is especially lovely in the spring when the bulbs, azaleas, and flowering trees are in full bloom. This year, Rienzi celebrates spring both inside and out of doors.
Although the garden flowers may be fleeting, Rienzi's distinguished collection of 18th-century European porcelain is always bursting with beautifully painted flowers. Produced by large factories and small studios with painters working from their own imaginations and printed sources, these flowers are an excellent example of the 18th-century interest in the botanical world. Celebrating Spring provides an opportunity to see these splendid porcelain works at close range—not just for their beauty, but also for the stories behind their creation.
While touching on a number of European porcelain makers, the exhibition focuses on the Rienzi Collection's celebrated collection of Worcester porcelain (1752–90). The dining-room table is set with the hand-painted Flora Danica dinner service, produced by the Royal Copenhagen Porcelain Manufactory since 1862, and purchased by Mr. and Mrs. Harris Masterson III in the early 1960s.
Rienzi Begins: Architect John F. Staub and the Mastersons
October 12, 2013–January 31, 2014
In 1952, Harris Masterson III sketched his ideal family home, a symmetrical one-story residence with classical ornament on the front and a cantilevered, Modernist glass-and-steel facade on the back. From these two sketches, Rienzi was born.
Carroll Sterling and Harris Masterson III engaged legendary Houston architect John F. Staub to design their River Oaks home. "The plan and interiors you have outlined are extremely attractive, and the desired combination of Palladian with contemporary offers an interesting challenge," wrote Staub in response to Mr. Masterson's designs. The thoughtful collaboration that ensued resulted in a rare example of mid-century Modernism and European Classicism combined with a theatricality that speaks to the character, era, and spirit of the 20th-century Texas family living there.
Using original documents and photographs from the MFAH Archives and the Woodson Research Center at Rice University, Rienzi Begins: Architect John F. Staub and the Mastersons traces the genesis of this unique house from the Mastersons purchasing land from Miss Ima Hogg in 1951, through early acquisitions for its interiors, to its completion in 1953. Rienzi Begins highlights the working relationship between Staub and Mr. Masterson. As part of the exhibition, an original bathroom—designed by Staub for Mrs. Masterson's teenage daughter—is on view for the first time. Lined in Norwegian Rose marble, the 1950s dream bathroom features a sunken bathtub and a crystal chandelier, and it opens to a poolside terrace.
Rienzi Library: Highlights from a House
February 28–July 26, 2015
Libraries have always provided rich insight into the intellectual curiosity and tastes of their creators. The Rienzi Library is no exception, reflecting the intimate, personal expressions of its founders, Carroll Sterling Masterson and Harris Masterson III.
Rienzi, the Mastersons' stylish River Oaks home, became part of the Museum of Fine Arts, Houston, in 1999. Today, the house museum holds one of the finest public collections of European decorative arts in the Southwest, with a diverse array of objects from British painting to French porcelain to precious objects. The Rienzi Library reflects this eclectic nature. Not only does it encompass Harris Masterson's enduring interests in literature, history, drama, peerage, bindings, and children's books—it also includes Carroll Masterson's appreciation for cooking and the culinary arts.
Developed over 50 years, their 2,300-volume collection remains a vital element of the house and the collection. Among the highlights are examples of fine graphic design and bindings, as well as early publications by authors such as ​Washington Irving, Niccolò Machiavelli, A. A. Milne, Christina Rossetti, and William Shakespeare.
This exhibition explores the many treasures of the Rienzi Library, shedding light on the personal lives that helped shape this prominent Houston home.
The Wedding Dress
March 3–June 30, 2013
Known for its exceptional collection of European decorative arts, Rienzi was the longtime home of Houston philanthropists Carroll Sterling Masterson and Harris Masterson III. The Wedding Dress celebrated the history of this family and its home through the story of a beloved heirloom. From the first wedding reception in 1957, the family has celebrated marriages of their children, grandchildren, and great-grandchildren at Rienzi. At the center of the story is a gown made of antique peau d'ange silk and a veil of antique Brussels rose-point lace. It was made for Isla Carroll Cowan for her marriage to T. R. Reckling III in 1957. The dress and veil were worn by three generations of women, all of whom had wedding receptions at the family home. This installation showcased the wedding dress and the veil along with images of the brides and views of Rienzi's wedding celebrations over the decades.
Visions of Fancy: George Romney, 18th-Century Paintings and Drawings
October 14, 2012–January 20, 2013

A leading artist of late-18th-century England, George Romney (1734–1802) worked among an elite circle of British painters, including Sir Joshua Reynolds and Thomas Gainsborough, whose patrons were made up of London's fashionable society. Romney established himself as a society portrait painter, with a style of elegance and informality that won him a prestigious client list. Visions of Fancy presented examples of these finished works along with a small collection of the artist's sketches and preparatory drawings, which express his aspirations toward historical and literary subjects. A highlight was the bound sketchbook from 1783 showing figures in spontaneous motion on each page. Although Romney gained prestige for his portraits, his drawings show the hand of a powerful and sensitive draftsman, and an innovative artist.
Dancing on Gilded Foot: KPM Porcelain at Rienzi
March 9–July 30, 2012
By the mid-18th century, porcelain—a material of no intrinsic value—became the most important diplomatic currency in Europe. Previously a rare and coveted collector's item in Europe imported from the Far East, this exotic substance fueled competition among European circles to produce wares of exquisite beauty, quality, and execution. Frederick the Great, King of Prussia, endeavored to establish a porcelain manufactory matching the renown of his military achievements. By 1763, he had personally taken control of a Berlin factory, making the Königliche Porzellan Manufaktur (Royal Porcelain Manufactory) a private, royal property. The manufactory became known for its lively patterns taken from nature, and Neoclassical elements, decorating its wares with finely painted images of astonishing complexity. The detail and quality of the factory's painting and gilding set it apart and brought much prestige to the court. This exhibition presented pieces of KPM porcelain spanning 100 years, culminating in a monumental, circa 1850 Fruchtschale (fruit stand), one of the most magnificent examples of the factory's skills.

English Taste: The Art of Dining in the Eighteenth Century
September 17, 2011–January 19, 2012

The first special exhibition ever held at Rienzi, English Taste treated visitors to a dining-room extravaganza. The 18th-century English dinner table was a feast for the eyes. In order to impress their guests and assure them that they were dining amid fashionable people of consequence, hosts served sumptuous dishes, adorned with towering sugar constructions and amusing trompe l'oeil (fool-the-eye) jellies of playing cards or bacon and eggs, all on exquisite silver and porcelain. Gracing Rienzi's table—complete with lavish, Georgian silver fittings and place settings—were lifelike fish, fowl, and flummeries created by English food historian Ivan Day with guidance from the influential period cookbook The Experienced English Housekeeper by Elizabeth Raffald, the "Martha Stewart of the 18th century." See a video tour.