Parking and Transportation Options
Parking and Transportation Options
► Plan ahead for your visit!
• Please be advised of City of Houston construction on Montrose Boulevard.
The City of Houston has begun work on a major sewer upgrade on Montrose Boulevard between Barkdull and Bissonnet streets. During the project, the two center lanes of traffic on Montrose—one northbound, and one southbound—are blocked for excavation. As a result, access to and from the 5101 Montrose parking garage is possible only via the northbound lane. There is no access from the southbound lane of Montrose into the Montrose garage. When exiting the garage, you must turn right.
The new mid-block crosswalk across Montrose to the Glassell School of Art and The Brown Foundation, Inc. Plaza is now active, so be sure to take extra caution when using the crosswalk, as construction may reduce drivers' visibility. The City of Houston's best estimate is that this work will last through the month of August.
• TxDOT construction on State Highway 288
One of the closest major highways to the Museum District, State Highway 288, is undergoing construction with intermittant lane closures, including removal of access to the Southmore Boulevard bridge. Stay up to date with SH 288 information at Drive288.com.
♦ Make visiting a snap! Enlarge the map to see main-campus parking options, or download the PDF.

A new underground parking garage, located at 5101 Montrose Boulevard, is now open!
The outdoor parking lot on Bissonnet, across from the Law Building, is closed permanently.
Parking is available in two garages: an above-ground garage at 1144 Binz Street, and a new underground garage at 5101 Montrose Blvd.
Parking is free in both garages for MFAH visitors who enter the Museum between 5 p.m. and 9 p.m. on Thursdays. General admission to the Museum is free on Thursdays, courtesy of Shell.
Guests with limited mobility: We recommend that you use the covered drop-off lane at the Main Street entrance to the Beck Building. Both the Montrose and the Binz parking garages feature wheelchair-accessible parking, though please note that the garage at 1144 Binz is closer to a Museum entrance.
Parking Garage Locations
1144 Binz Street
5101 Montrose Boulevard
As you head toward the Museum from the Montrose garage, enjoy the art and nature in the Cullen Sculpture Garden, created by sculptor Isamu Noguchi.
Parking Garage Hours
Both parking garages are open daily from 6 a.m. to 11 p.m.
Parking Fees*
Parking payments may be made only with a major credit card. Also accepted: MasterCard and Visa debit cards.
| | | |
| --- | --- | --- |
| | MFAH Members | Visitors |
| 0–30 minutes | FREE | FREE |
| 31 minutes–4 hours | $6 | $10 |
| 4–12 hours | $10 | $18 |
| 12–24 hours | $35 | $35 |

*Parking is free in both garages for MFAH visitors who enter the Museum between 5 p.m. and 9 p.m. on Thursdays. General admission to the Museum is free on Thursdays, courtesy of Shell.
More Parking Information for . . .
Still have parking questions? Please contact us at guestservices@mfah.org or at 713.639.7300 during business hours.
Parking at the MFAH House Museums
Bayou Bend Collection and Gardens
• Free parking is available. Guests with limited mobility may enter Bayou Bend at 2940 Lazy Lane.
• Free parking is first come, first served. Handicap-access spaces are available.
Take METRORail & Get Discounted Tickets!
You may park along the METRORail line and take the train to the MFAH. Parking is available at the Fannin South Park and Ride, located at 1604 West Bellfort (at Fannin Street, just outside of 610 Loop South), for $3 a day. Then, hop on the METRORail for $1.25 one way and exit at the Museum District Station located between Ewing and Binz. This will bring you within steps of the MFAH Visitors Center. The Museum campus also features stops on several METRO bus routes, including Airline/Montrose and Bissonnet.
Show your Metro Q® Fare Card and receive $5 off admission to the MFAH!
METRO's Summer of Fun Pass for Students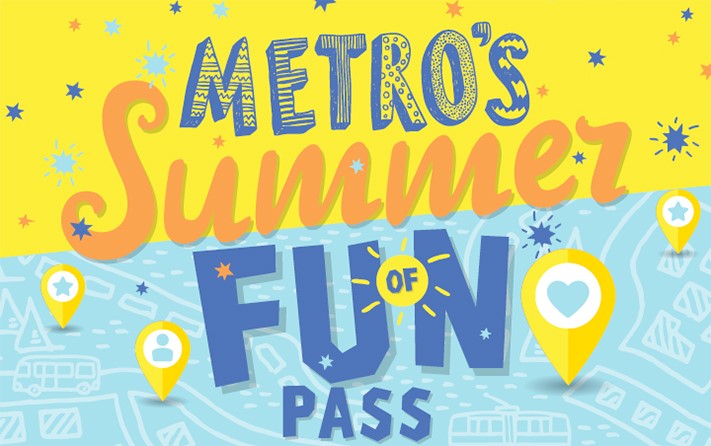 METRO offers free rides to students all summer.
From June 1 to September 1, 2018, METRO's Summer of Fun Pass gives K–12 students the opportunity to travel anywhere METRO goes—any time, any day—for free!
You can apply for your pass online, by mail, or in person.
Houston Bcycle
Houston Bcycle is a bike-sharing program that serves as an additional transportation alternative to the Museum. A Houston Bcycle station is located on the Museum's campus at 5650 San Jacinto, across from the Museum District METRORail station.
You can check out a bike directly from your phone and map your ride to the nearest station, or customize to the destination of your choice with the Bcycle app. The app allows you to view the location of all B-stations, as well as how many bikes and docks are available.