About the Junior School
---
The Glassell Junior School is an art school for young people, devoted to nurturing creativity and dedicated to fostering an appreciation of the arts and an awareness of the world. Classes and workshops for children ages 3 to 18 are offered year-round. A distinguishing feature of classes at the Junior School is ready access to works of art in the collections of the Museum of Fine Arts, Houston.
Classes are designed to accommodate children of all skill levels and interests. Courses range from drawing, painting, and ceramics to video, animation, and fashion design.
The Junior School maintains an active scholarship program with two annual scholarship events: a portfolio competition for all school-age children, and a sketching competition for ages 10 to 12.
Junior School Facilities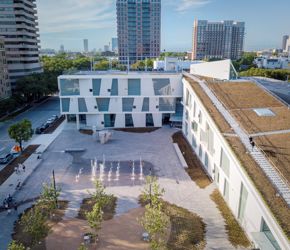 The Glassell School of Art
5101 Montrose Boulevard
In May 2018, the Glassell School of Art opened in its new home: a 93,000-square-foot building designed by Steven Holl Architects. The L-shaped building is constructed from a series of sandblasted, pre-cast concrete panels, alternating with panes of glass, in a rhythm of verticals and slight angles.
Highlights
• The building fronts onto to The Brown Foundation, Inc. Plaza, which provides ample outdoor space for programs and performances.
• For the first time, all Glassell School of Art students are served under one roof, as the building houses both the Junior School and Studio School, as well as Core Program residents.
• The PNC Roof Garden features a sloping, walkable green roof offering dramatic views of the Museum campus and the city of Houston.
• A street-level café open to students and the public.
Faculty
Isela Aguirre
BA, University of Houston
Colleen Bryant
BFA, Pratt Institute
M Ed, University of Houston
Judi Burton
BFA, University of Houston
Anna Chasovskaia
AAS, Houston Community College
BA, State University of Management, Moscow, Russia
Marley Foster
BA, Rice University
MFA, University of Houston
Jane French
BFA, San Francisco Art Institute
MFA, University of Houston
David Fulton
BFA, Tyler School of Art, Temple University
Core Fellow, Glassell School of Art
Donna Garoh
BFA, Tyler School of Art, Temple University
Erin Joyce
BFA, Rhode Island School of Design
MA, University of Houston
Vehishta Kaikobad
BA, University of Karachi, Pakistan
Elena Lopez-Poirot
BFA, University of Texas
MFA, University of Houston
Ken Mazzu
BFA, Lamar University
MFA, University of Houston
Valerie Nevarez
BA, University of Houston – Downtown
Jessica Ninci
BFA, MFA, University of Houston
Eduardo Ortiz
BA, University of Houston
MFA, Savannah College of Art and Design
M Ed, Columbia University

Kealy Racca
BFA, University of Houston
J. Michael Stovall
BA, University of Arkansas
Rachelle Vasquez
BA, University of Houston
Brittany Yaley
BFA, Southern Illinois University Edwardsville
---
The Glassell School of Art receives generous funding from:
The Glassell Family
Daviee-Walters Family Trust
The Skiles Foundation
Leslie and Brad Bucher
Sue and Rusty Burnett
John P. McGovern Foundation
Mr. and Mrs. John S. Orton
Texas Commission on the Arts
Berman Family Fund
Nena and David Marsh
Anonymous
The Powell Foundation
Wells Fargo
The Coneway Family Foundation
Ms. Priscilla Angly and Mr. Miles Smith
Mrs. Jereann H. Chaney
Barbara and Michael Gamson
Samuel F. Gorman
Palmer Foundation
Ms. Beth Robertson
Cyvia G. Wolff
Ms. Catherine J. Leachman
Claire and Doug Ankenman
Melza and Ted Barr
Mrs. Karen A. Bradshaw
Cindy and Larry Burns
Mrs. Jerry Ann Woodfin-Costa and Mr. Victor Costa
Ms. Sara Paschall Dodd
Doggett Family Foundation
Micahel and Krista Dumas
Julia M. Flowers
Dr. Cullen K. Geiselman
Mary and George Hawkins
Mr. and Mrs. Meredith J. Long
Marilyn G. Lummis
Judy and Rodney Margolis
Mr. and Mrs. Scott McCool
Ms. Clare T. Casademont and Mr. Michael M. Metz
Mr. and Mrs. Scott Nyquist
Ms. Diane B. Padgett
Isla and Tommy Reckling
Diane and John Riley
Pauline and Stephen Smith
Vallette and Russell Windham
Mr. and Mrs. William A. Wise