hang@MFAH
hang@MFAH

The Museum's teen leadership group, hang@MFAH (Houston Art New Generation at the Museum of Fine Arts, Houston) is offered as an out-of-school program for area high school students. Throughout the year, hang@MFAH members meet weekly with a mentor artist in the galleries to discuss the role of museums in the 21st century and the confluence of digital culture.
Providing a unique opportunity for high school students to transition from teacher-directed projects to a pursuit of personal intellectual growth based on their own interests, hang@MFAH demonstrates the interconnectedness between in school and out-of-school learning by keeping students active, thinking, and socially engaged outside of school, empowering teens to connect their passions to new skills and knowledge.
This program supports participants in the transition from teacher-directed projects to a pursuit of personal growth based on their own interests. Members of hang@MFAH ask questions, discover what they want to pursue, and then make it happen in a collective environment that transcends traditional educational settings. Hang@MFAH combines best practices in the fields of museum and technology education, while helping teens discover that pursuing their own talents can be relevant to real-life academic and/or career choices. Participation in hang@MFAH is by application only.
Now accepting hang@MFAH applications!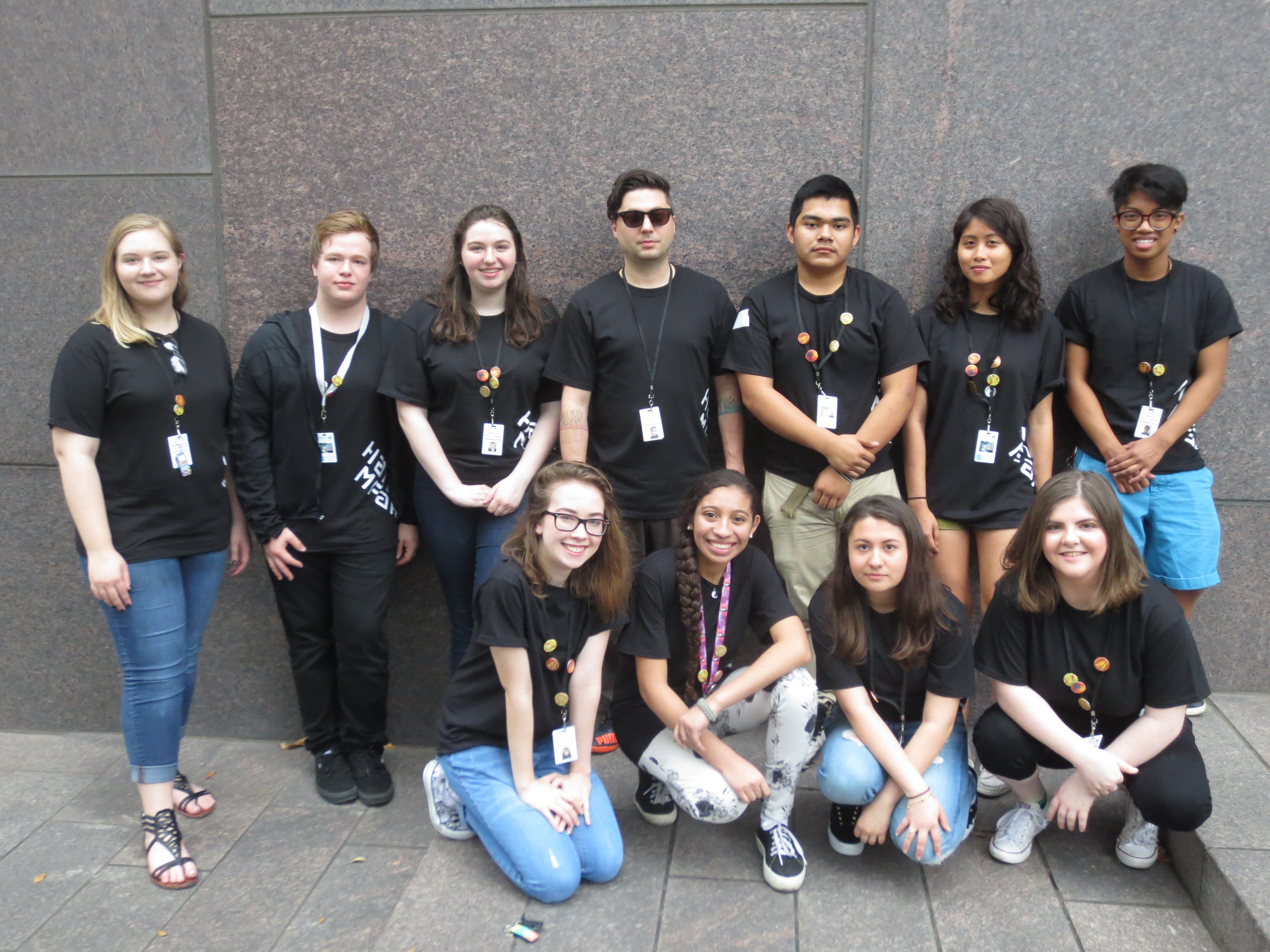 Hang@MFAH (Houston Art New Generation at the Museum of Fine Arts, Houston) is the Museum's teen leadership group for motivated high school teens interested in everything from talking about art to video-game hacking. Throughout the year, hang@MFAH members spend time with a mentor artist in the galleries to discuss objects in the collections and explore concepts through analog and digital tools to develop creative and critical-thinking skills.
Past projects include programs such as "Drivers Ed," an afternoon for teens by teens; participation in Teen Convening; "Looking Labs" tours; an Exit through the Gift Shop film screening; and experimenting with 8bit music, 3D printing, a graffiti wand, a drawing robot, and augmented reality.
Qualifications & Guidelines
Open to high school sophomores and juniors enrolled for the 2018–19 school year. Applications accepted based on merit and completeness.
hang@mfah meets four times a month: every Thursday from 4 p.m. to 7 p.m. (September 2018–June 2019)
Once a year, members nominate the next group and plan activities for the coming year. hang@mfah membership may be renewed based on performance during the previous semester.
There are no requirements in terms of specific technological or artistic skills, but students who prefer hands-on experience and peer-based learning will benefit.
Occasional Saturdays and event days are necessary beyond regular meeting times.
hang@mfah members are expected to follow the rules and guidelines of the program; participate in weekly meetings and occasional events; and fulfill solo and group responsibilities such as art assignments, gallery talks, and developing teen-centered events.
Benefits
Learning from enthusiastic working professionals in the arts
Getting practice in multimedia communication
Enjoying all the resources of an encyclopedic art museum
Meeting other teens with similar interests
Gaining experience for college applications and résumés
Acquiring skills for college preparedness with hands-on educational experiences
► How to apply
Apply online today! Applications for the 2018–19 program are still being accepted.
Questions? E-mail teens@mfah.org
More Programs for Teens
The MFAH presents art-inspired programs for all ages, including special programs and resources for ages 13–18. Check out what we have to offer for teen visitors, from art-making to tips on getting in for free!
Learn more about programs for teens
hang@MFAH receives generous support from the Claire and Theodore Morse Foundation and Texas Commission on the Arts.
All Learning and Interpretation programs at the Museum of Fine Arts, Houston, receive endowment income from funds provided by the Louise Jarrett Moran Bequest; Caroline Wiess Law; the William Randolph Hearst Foundation; the National Endowment for the Humanities; the Fondren Foundation; BMC Software, Inc.; the Wallace Foundation; the Neal Myers and Ken Black Children's Art Fund; the Favrot Fund; and gifts in honor of Beth Schneider.