hang@MFAH
hang@MFAH

The Museum's teen leadership group, hang@MFAH (Houston Art New Generation at the Museum of Fine Arts, Houston) is offered as an out-of-school program for area high school students. Throughout the year, hang@MFAH members meet weekly with a mentor artist in the galleries to discuss the role of museums in the 21st century and the confluence of digital culture.
Providing a unique opportunity for high school students to transition from teacher-directed projects to a pursuit of personal intellectual growth based on their own interests, hang@MFAH demonstrates the interconnectedness between in school and out-of-school learning by keeping students active, thinking, and socially engaged outside of school, empowering teens to connect their passions to new skills and knowledge.
This program supports participants in the transition from teacher-directed projects to a pursuit of personal growth based on their own interests. Members of hang@MFAH ask questions, discover what they want to pursue, and then make it happen in a collective environment that transcends traditional educational settings. Hang@MFAH combines best practices in the fields of museum and technology education, while helping teens discover that pursuing their own talents can be relevant to real-life academic and/or career choices. Participation in hang@MFAH is by application only.
► hang@MFAH applications are closed for 2017–18.
Questions? Email teens@mfah.org
More Resources for Teens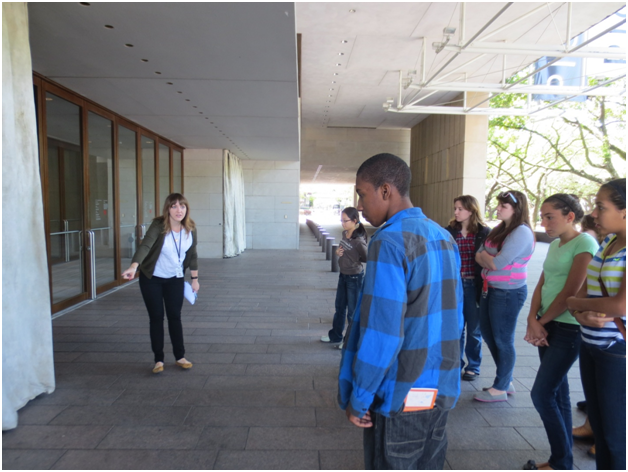 • "Tours-To-Go" self-guided tours
• Free sketching materials
• Film screenings: a collaboration between hang@MFAH and the MFAH film department

E-mail teens@mfah.org for more information.
Free Admission Opportunities for Teens
Teens age 18 or younger visiting on a Saturday or Sunday with a library card from any public library in Texas do not have to pay general admission. The library cardholder receives one free general admission. Offer does not apply to ticketed exhibitions or events.
On Thursdays, general admission to the MFAH is completely FREE, to everyone, courtesy of Shell.
hang@MFAH receives generous support from the Texas Commission on the Arts and BHP Billiton.
All Learning and Interpretation programs at the Museum of Fine Arts, Houston, receive endowment income from funds provided by the Louise Jarrett Moran Bequest; Caroline Wiess Law; the William Randolph Hearst Foundation; the National Endowment for the Humanities; the Fondren Foundation; BMC Software, Inc.; the Wallace Foundation; the Neal Myers and Ken Black Children's Art Fund; the Favrot Fund; and Gifts in honor of Beth Schneider.