hang@MFAH
hang@MFAH
► hang@MFAH applications are closed for 2016–17.
Questions? E-mail teens@mfah.org
Could you ever imagine spending half an hour looking at one work of art? Are you interested in how MFAH collections and computer programming relate? Check out hang@MFAH (Houston Art New Generation at the Museum of Fine Arts, Houston), the Museum's teen leadership group!
hang@MFAH is for motivated high school teens who are interested in everything from talking about art to videogame hacking. Throughout the year, hang@MFAH members spend time with a mentor artist in the galleries to discuss works of art and explore concepts through analog and digital tools to develop creative and critical thinking skills.
Meet-ups are designed for teens who are hungry to learn more about art in an atmosphere that encourages dialogue and asking questions. hang@MFAH members organize teen-focused events, produce new ways to see the MFAH collections for their peers, and explore careers in museums through specialized opportunities. hang@MFAH is by application only.
More Resources for Teens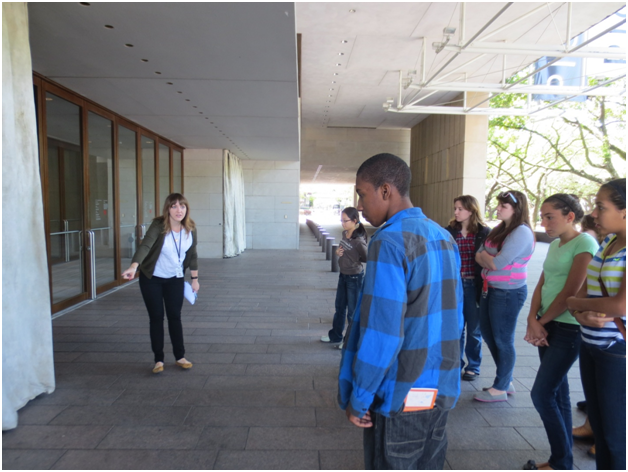 • "Tours-To-Go" self-guided tours
• Free sketching materials
• Film screenings: a collaboration between hang@MFAH and the MFAH film department

E-mail teens@mfah.org for more information.
Free Admission Opportunities for Teens
Teens age 18 or younger visiting on a Saturday or Sunday with a library card from any public library in Texas do not have to pay general admission. The library cardholder receives one free general admission. Offer does not apply to ticketed exhibitions or events.
On Thursdays, general admission to the MFAH is completely FREE, to everyone, courtesy of Shell.
hang@MFAH receives generous support from Air Liquide USA LLC.

All Learning and Interpretation programs at the Museum of Fine Arts, Houston, receive endowment income from funds provided by the Louise Jarrett Moran Bequest; Caroline Wiess Law; the William Randolph Hearst Foundation; the National Endowment for the Humanities; the Fondren Foundation; BMC Software, Inc.; the Wallace Foundation; the Neal Myers and Ken Black Children's Art Fund; the Favrot Fund; and Gifts in honor of Beth Schneider.