"Odyssey: Jack Whitten Sculpture, 1963–2017" Opens March 3 at the MFAH
---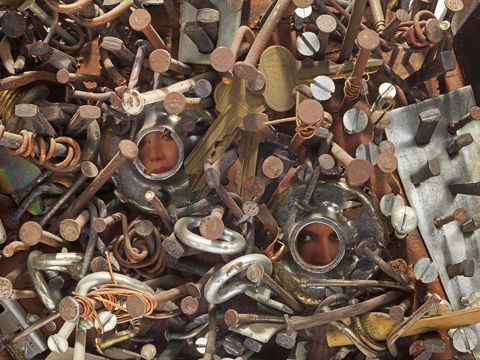 Forty sculptures by the American artist interweave traditions of African, European, and ancient art for contemporary audiences
HOUSTON—February 20, 2019—The Museum of Fine Arts, Houston, presents Odyssey: Jack Whitten Sculpture, 1963–2017—the first major exhibition dedicated to sculptures by renowned American contemporary artist Jack Whitten. While Whitten has long been celebrated for his work as an innovative abstract painter, this exhibition reveals an extensive and entirely unknown body of the late artist's work. Odyssey: Jack Whitten Sculpture, 1963–2017 will feature 40 of Whitten's sculptures made over the course of his five-decade career—each created with a diverse spectrum of materials, including wood, marble, copper, bone, fishing wire, and personal mementos­­—and a selection of his paintings. The exhibition will be on view March 3 to May 27, 2019, following presentations last year at the organizing institutions: The Baltimore Museum of Art (BMA) and The Metropolitan Museum of Art.
"Odyssey: Jack Whitten Sculpture, 1963–2017 has introduced the public to a hidden body of work by this contemporary master, drawing attention to the cultural traditions and figures that have influenced Whitten's work," said Gary Tinterow, director of the Museum of Fine Arts, Houston. "We are pleased with the opportunity to bring this revelatory exhibition to Houston."
"I am continually fascinated by the breadth of styles, techniques, and materials that Whitten's sculpture encompasses. From nails to bones to wire to even circuit boards in an array of forms and with a range of personal and cultural references, these objects constitute not only Whitten's truly original ways of making art, but also his intensely and fully cultivated worldview," said Kanitra Fletcher, assistant curator of modern and contemporary art at the MFAH.
Whitten (1939–2018) was one of the most important artists of his generation. His paintings feature groundbreaking experimentation with abstraction, including recent process- and material-based work memorializing African American historical figures, such as Barbara Jordan and W.E.B Du Bois. Whitten began carving wood in 1962 in order to understand African sculpture, both aesthetically and in terms of his own identity as an African American. His introduction to African art came when he visited the Brooklyn Museum in New York as a young man in the summers of 1958 and 1959. The encounters left a lasting impression, as he believed African sculpture was a vital inheritance for artists working in the African diaspora.
Whitten's art grew in unexpected ways when, in 1969, he began spending summers on the island of Crete. There, Whitten was inspired by ancient Cycladic and Minoan objects, recognizing their functional role in society as repositories of power, memory, sensuality, and spirituality, much like the African works he had seen in New York institutions. The resourcefulness of the people in Crete and their connection to nature and to material life recalled his own upbringing in Alabama. In Crete, his materials expanded to incorporate local wood and marble, as well as bones left over from his fishing excursions. These organic materials—shaped by techniques such as carving and burning—imbued his sculptures with a profound connection to ritual, nature, and the most fundamental experiences of human life. Whitten saw his work as just the latest episode in a long history of exchange between Africa, the African diaspora, and the Mediterranean. As the artist wrote in his studio log in 1975, "I am aware of the fact that this is the tradition in Art which I must connect with—a work of art with a function motivated by the tradition of African sculpture—MY WAY—not Picasso's European interpretation."
Whitten's sculptures will be joined by several paintings, many of which come from his Black Monolith series honoring African American cultural figures—including Ralph Ellison, Jacob Lawrence, and Ornette Coleman—revealing the connection between Whitten's paintings and his previously unknown sculptures, and also marks the first time these works have been exhibited together.
About Jack Whitten
Whitten was born in Bessemer, Alabama, in 1939. His work is informed by growing up in the Jim Crow South, and by his experiences of historical and personal struggles for freedom. He originally planned a career as an army doctor and began pre-medical studies at Tuskegee Institute in Alabama, where he was inspired by George Washington Carver's legacy as a scientist, inventor, and artist. Whitten became increasingly involved in the growing Civil Rights Movement, including participation in the Montgomery Bus Boycott and the demonstrations in Baton Rouge, Louisiana, while he was studying art at Southern University. In 1960, after a protest turned violent, Whitten decided he should leave the South and took a bus to New York City. There he gained admission to the Cooper Union and embedded himself in the downtown New York painting scene, as well as the uptown circles of African American artists, like Romare Bearden and Norman Lewis. Graduating in 1964, he first exhibited his work in a group show in New York at Allan Stone Gallery in 1965 and then in a solo exhibition in 1968. While making sculpture in private, he became known as an important and boundary-breaking painter. Whitten experimented with materiality and techniques, employing an array of acrylic polymers and exploring the variances in viscosity, clarity, brilliance, and elasticity. To make his paintings, Whitten used an inventive and broad range of materials such as iron oxide, dry pigments, crushed Mylar, ash, bone, and blood. The materials and their handling all carry profound metaphysical and social meaning.
Whitten has been the subject of numerous other solo exhibitions, including Jack Whitten: Five Decades of Painting, a traveling exhibition organized by the Museum of Contemporary Art San Diego in 2014­­–15; Jack Whitten: Erasures at Savannah College of Art and Design in 2012; an exhibition of memorial paintings at the Atlanta Contemporary Arts Center in Georgia in 2008; a solo show at MoMA PS1 in 2007; a 10-year retrospective at the Studio Museum in 1983; and a solo exhibition at the Whitney Museum of Art in 1974. His powerful painting 9.11.01 (2006) was included in the 55th Venice Biennale in 2013. Whitten was awarded a National Medal of Arts from President Barack Obama in 2016, and was inducted into the National Academy Museum and School and received an honorary doctorate from Brandeis University that same year. Whitten's work is in numerous prestigious collections including the Museum of Modern Art, the Whitney Museum of American Art, The Metropolitan Museum of Art, and the Tate London. The artist passed away in January 2018.
Organization
Odyssey: Jack Whitten Sculpture, 1963–2017 was organized by The Baltimore Museum of Art and The Metropolitan Museum of Art.
Generous funding for this exhibition in Houston is provided by:
Bridget and Patrick Wade
Gary Mercer
Catalogue
Odyssey's catalogue features the sculptures made by Whitten over the past 50 years, as well as the Black Monolith series of paintings and archival photographs. The catalogue includes essays by Katy Siegel, senior programming and research curator at BMA; and Kelly Baum, Cynthia Hazen Polsky and Leon Polsky curator of contemporary art at The Met; as well as contributions by Kwame Anthony Appiah, professor of philosophy and law at New York University; Kellie Jones, associate professor of art history and African American studies at Columbia University; Courtney J. Martin, deputy director and chief curator of Dia Art Foundation; and Richard Shiff, University of Texas at Austin's Cain Chair in Art History.
About the Museum of Fine Arts, Houston
Established in 1900, the Museum of Fine Arts, Houston, is among the 10 largest art museums in the United States, with an encyclopedic collection of nearly 70,000 works dating from antiquity to the present. The main campus comprises the Audrey Jones Beck Building, designed by Rafael Moneo and opened in 2000; the Caroline Wiess Law Building, originally designed by William Ward Watkin, with extensions by Ludwig Mies van der Rohe completed in 1958 and 1974; the Lillie and Hugh Roy Cullen Sculpture Garden, designed by Isamu Noguchi and opened in 1986; the Glassell School of Art, designed by Steven Holl Architects and opened in 2018; and The Brown Foundation, Inc. Plaza, designed by Deborah Nevins & Associates, and opened in 2018. Additional spaces include a repertory cinema, two libraries, public archives, and facilities for conservation and storage. Nearby, two house museums—Bayou Bend Collection and Gardens, and Rienzi—present American and European decorative arts. The MFAH is also home to the International Center for the Arts of the Americas (ICAA), a leading research institute for 20th-century Latin American and Latino art. mfah.org
Media Contact
Katie Jernigan, publicist
kjernigan@mfah.org | 713.639.7516