The MFAH Has Appointed Anita Bateman as Associate Curator of Modern and Contemporary Art
---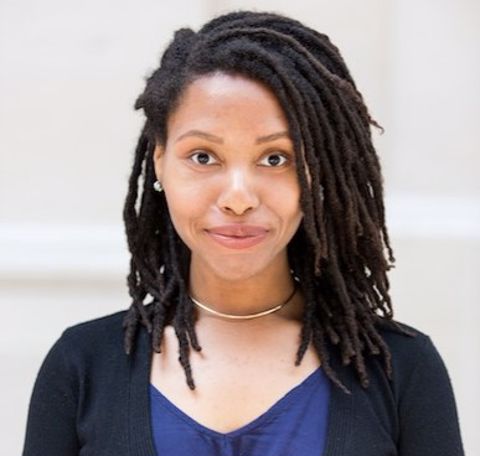 A curator and art historian in the fields of modern and contemporary African art and art of the African diaspora, Dr. Bateman will focus on developing exhibitions and defining and expanding the Museum's long-term collection goals
HOUSTON—OCTOBER 26, 2021—Gary Tinterow, director and Margaret Alkek Williams Chair of the Museum of Fine Arts, Houston, today announced the appointment of Anita Bateman as Associate Curator in the Department of Modern and Contemporary Art. Dr. Bateman will work with Alison de Lima Greene, the Isabel Brown Wilson Curator of Modern and Contemporary Art, on exhibitions, acquisitions, and the display of the permanent collection, with a special focus on work by African American artists and on defining and expanding long-term collection goals.
"I am delighted to welcome Anita Bateman to the Museum of Fine Arts, Houston, in a role that will encompass the Museum's exhibitions, collections, and programming in Modern and Contemporary Art," said Tinterow in announcing the appointment. "Dr. Bateman's groundbreaking work on East African photography; strong background with African American art and artists; and teaching experience in the museum environment will all enhance the Museum's efforts to further our longstanding commitment to the work of African American artists and artists of the African diaspora."
Dr. Bateman earned a B.A. cum laude from Williams College in art history and an M.A. and Ph.D. from Duke University, in art history and visual culture. She has held curatorial positions at the RISD Museum, the Williams College Museum of Art, and the Nasher Museum of Art at Duke. Dr. Bateman's curatorial projects, teaching, and writing have centered on modern and contemporary African art and art of the African diaspora. Among her most recent projects, she curated Black Flyyy and Defying the Shadow, two exhibitions at the Rhode Island School of Design Museum in Providence; Roots & Roads at Franklin Street Works in Stamford; and co-curated, with Carrie Mae Weems, Beyond Space at the Carr Center in Detroit. Her writing has been published in the International Review of African American Art, in the Photographer's Green Book, and in the Journal of Black Studies.
About the Museum of Fine Arts, Houston
Established in 1900, the Museum of Fine Arts, Houston, is among the 10 largest art museums in the United States, with an encyclopedic collection of nearly 70,000 works dating from antiquity to the present. The Museum's Susan and Fayez S. Sarofim main campus comprises the Nancy and Rich Kinder Building, designed by Steven Holl Architects and opened in 2020; the Audrey Jones Beck Building, designed by Rafael Moneo and opened in 2000; the Caroline Wiess Law Building, originally designed by William Ward Watkin, with extensions by Ludwig Mies van der Rohe completed in 1958 and 1974; the Lillie and Hugh Roy Cullen Sculpture Garden, designed by Isamu Noguchi and opened in 1986; the Glassell School of Art, designed by Steven Holl Architects and opened in 2018; and The Brown Foundation, Inc. Plaza, designed by Deborah Nevins & Associates and opened in 2018. Additional spaces include a repertory cinema, two libraries, public archives, and facilities for conservation and storage. Nearby, two house museums—Bayou Bend Collection and Gardens, and Rienzi—present American and European decorative arts. The MFAH is also home to the International Center for the Arts of the Americas (ICAA), a leading research institute for 20th-century Latin American and Latino art. mfah.org
Media Contact
Melanie Fahey, Senior Publicist
713.800.5345 | mfahey@mfah.org