Anish Kapoor's Monumental "Cloud Column" Installed at the Museum of Fine Arts, Houston
---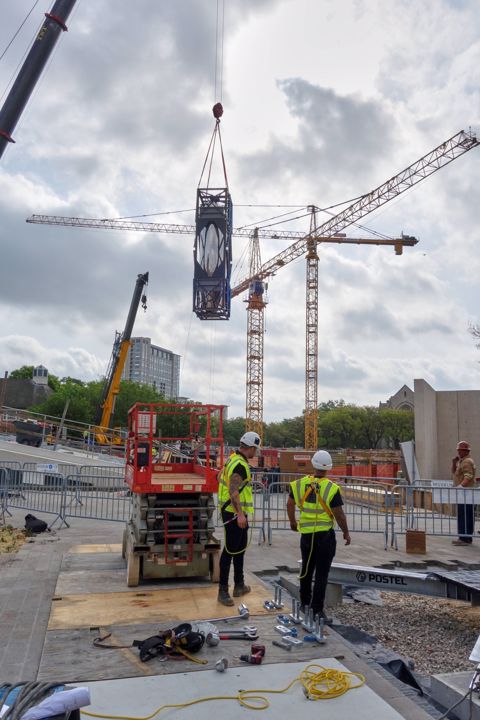 First of two public sculptures to be installed on the site of the Museum's Steven Holl–designed Glassell School of Art and its Brown Foundation, Inc. Plaza by Deborah Nevins & Associates
The plaza and school open to the public on Sunday, May 20
HOUSTON—March 27, 2018—Today, the Museum of Fine Arts, Houston, completed the two-day installation of Cloud Column, by Anish Kapoor, a recently acquired public sculpture for the Museum's redeveloped campus. Cloud Column has been sited on the plaza of the Glassell School of Art, which opens to the public on May 20.
Anish Kapoor's Cloud Column, conceived in the late 1990s and realized in 2006, is a singular work within a decades-long engagement with what the artist has called "defining space." The oblong form's concave "front" faces the Glassell School of Art, inverting the structure, its surroundings and the viewer in its reflection. Unlike nearly all of Kapoor's related sculptures, Cloud Column's stainless-steel surface has been hand-worked, evoking the human touch, commented MFAH Director Gary Tinterow. "I have admired Anish Kapoor's work for more than 20 years. When we had the opportunity several years ago to acquire this precursor to Chicago's Cloud Gate, I could only imagine that it would be as extraordinary for this city as Anish's work has been for Chicago. Its elegant form and the subtle humanity of its hand-worked surface will fully animate this new gathering place for Houston."
The installation process began early Monday morning, March 26. Protected by a steel cage, the sculpture was trucked along the freeway for seven miles on a flat-bed trailer, on its side, from the Museum's off-site art-storage facility to the construction site of the new Glassell School and plaza. There, a 650-ton crane had been delivered and assembled overnight. In less than half an hour, crews attached the sculpture—at 21,000 pounds, in a 6,000-pound steel crate—to that crane and another one by straps, hoisted it up, still on its side, then righted it vertically, and lowered, hovering, over its slab. For the next five hours, members of the installation crew worked beneath the sculpture and stationed themselves at its top to establish the exact positioning. Riggers then bolted it into place. In the morning, a team of five removed the dozens of bars of the cage by hand, with a crane engaged to pull away the larger ones. Following that, a single member of Kapoor's London installation team, perched on a cherry-picker, began buffing the stainless-steel surface to its signature sheen, a process that takes up to six hours.
The Glassell School of Art and Brown Foundation, Inc. Plaza of the MFAH open to the public on Sunday, May 20, the first phase in the Museum's campus-redevelopment project. A second public sculpture, Eduardo Chillida's 1966 Song of Strength, will be installed on the plaza, opposite the Kapoor, in mid-April. The entire campus will be completed in early 2020. Footage and photography of the installation process, along with related press materials about the MFAH campus redevelopment project, are available to members of the press.
Media Contacts
Mary Haus, head of marketing & communication
mhaus@mfah.org | 713.639.7554
Laine Lieberman, publicist
llieberman@mfah.org | 713.639.7516
Sarah Hobson, publicist
shobson@mfah.org | 713.800.5345