Ima Hogg Society
---
Miss Ima Hogg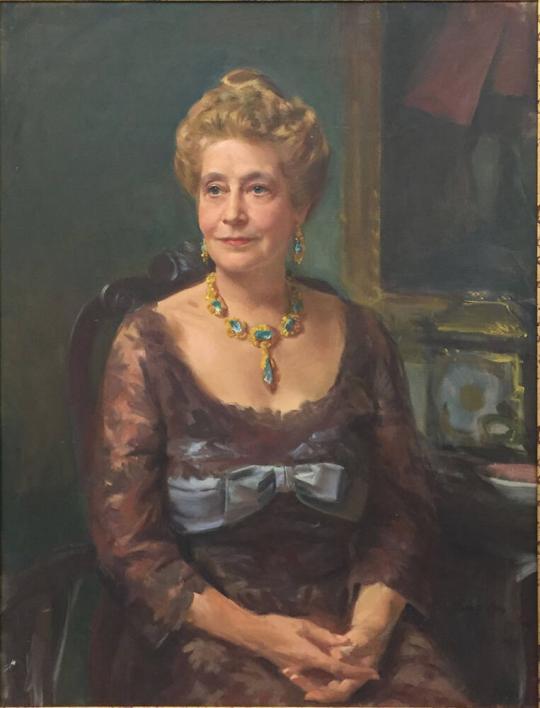 Robert C. Joy, Portrait of Miss Ima Hogg (1882–1975), c. 1971, oil on canvas, the Museum of Fine Arts, Houston, the Bayou Bend Collection, gift of John and Sara Lindsey.
The Ima Hogg Society recognizes and celebrates those who remember Bayou Bend Collection and Gardens in their wills and estate plans. Members of this society are also included in the Myrtle Wreath Society, but Ima Hogg Society members enjoy additional exclusive programs and benefits at Bayou Bend. No dues or fees are necessary to participate in the Ima Hogg Society, but there is an enrollment process. Details regarding your future gift are not required. Complete an enrollment card or contact Julia Smith at jsmith@mfah.org or 713.353.1587 with any questions.
In 1957, Ima Hogg bequeathed her historic home, collection of American decorative arts, and expansive gardens to the Museum of Fine Arts, Houston. This remarkable gift is now regarded as one of the finest house museums in the world, and she continues to serve as the inspiration for the Ima Hogg Society.
The official bequest language for the Museum of Fine Arts, Houston:
"I, [name] of [city, state, zip], give, devise, and bequeath to Bayou Bend Collection and Gardens, the Museum of Fine Arts, Houston, 1001 Bissonnet, Houston, Texas 77005 [written amount or percentage of estate] for Bayou Bend Collection and Gardens' unrestricted use and purpose."
Bayou Bend Collection and Gardens
The Museum of Fine Arts, Houston
Tax ID #74-1109655