William Kentridge: City Deep January 5–March 18, 2022
---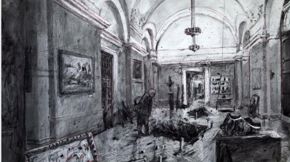 William Kentridge calls his films "drawings for projection." Born in Johannesburg in 1955, he records the world around him with an unblinking humanism, typically addressing South Africa's history of colonial and postcolonial exploitation.
His video City Deep takes its title from one of Johannesburg's most infamous mineshafts, now abandoned, where unlicensed workers continue to scratch out the last traces of gold. City Deep also features Kentridge's most familiar protagonist and antihero: Soho Eckstein, a mining magnate who has appeared in Kentridge films since 1989. As Eckstein wanders through the Johannesburg Art Gallery, the paintings gradually transform to reveal Eckstein's troubled memories. Portraits of miners come to life as the museum's walls give way to Johannesburg's blasted landscape, which ultimately consumes the institution.
William Kentridge: City Deep | January 5–March 18, 2022
• Included with general admission. Advance timed tickets recommended.
---
This exhibition is organized by the Museum of Fine Arts, Houston.