Monuments: 276 Views of the U.S.–Mexico Border by David Taylor December 5, 2017–January 31, 2018
---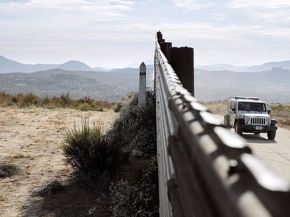 Along the U.S.–Mexico border, from the Rio Grande to the Pacific Ocean, 276 obelisks mark the boundary established at the end of the Mexican–American War in 1848.
Artist David Taylor first saw one of these obelisks in 2006, and he soon set out to find and photograph all 276 monuments along the 690 miles of border, crossing valleys and mountain ranges and cutting through cities and towns.
This special presentation is adapted, courtesy of the artist, from the resulting print portfolio: Monuments: 276 Views of the United States–Mexico Border.
At some points, the markers—most erected in the 19th century—stand alongside tall steel and concrete barriers. In other places, they are next to simple cattle fences, strings of barbed wire, dirt roads, or even in the open countryside. Little did Taylor (born 1965) know that his project would take nearly a decade and require complex permissions to enter restricted areas; that many of the monuments could be accessed only on foot; and that the people he would meet along the way would range from drug smugglers to border agents. Nor could he have predicted that, at the moment of his project's completion, the territory he photographed would be so fraught with political, economic, and social tension.
"Most battles over border politics are fought in the theoretical realm, as if discussing the logistics of a board game without real-life consequences. But along this 2,000-mile boundary every legislative decision impacts people and landscape in concrete ways. Within the discussion of border politics, little consideration is given to what the actual border looks like." —David Taylor
---
This exhibition is organized by the Museum of Fine Arts, Houston.