Kusama: At the End of the Universe June 12–September 18, 2016
---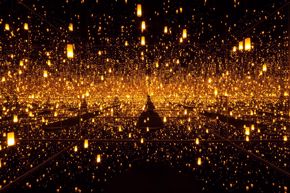 ► Looking for information about Aftermath of Obliteration of Eternity in the Kinder Building? Go here.
In summer 2016, the Museum's Cullinan Hall transforms into an interactive environment for audiences of all ages. Kusama: At the End of the Universe unites two of contemporary artist Yayoi Kusama's signature infinity rooms.
Kusama's Aftermath of Obliteration of Eternity is an intimate space illuminated by an array of golden lights that ignite and then fade into darkness. Visitors enter and stand in the center of the room, finding themselves enveloped by a seemingly infinite horizon and then confronted by an equally infinite void.
The glowing, tentacle-like forms of Love Is Calling shoot up from the floor and hang down from the ceiling. Covered in the artist's signature polka dots, these soft sculptures constantly change color. Further amplifying the experience as viewers pass through the room is a recording of Kusama's voice as she recites a love poem in Japanese, which echoes through the installation.
TIME magazine named Kusama (born 1929) to its annual list of "The 100 Most Influential People" for 2016. Kusama: At the End of the Universe—much like the MFAH exhibitions Soto: The Houston Penetrable in 2014 and Shadow Monsters in 2015—works with Cullinan Hall's soaring architecture to create an engaging experience and essential summer destination.
► How to Experience Kusama: At the End of the Universe
This exhibition features immersive works of art with capacity for only a few people at a time. Fast Pass tickets may be purchased in person only and are based on availability: first come, first-served. Tickets may not be purchased online or over the phone.

Questions about tickets or the experience? Email guestservices@mfah.org
What are "Fast Pass" tickets?
All advance timed tickets to Kusama: At the End of the Universe are sold out. Only same-day Fast Pass tickets remain.
Fast Pass tickets allow guests to enjoy the rest of the Museum instead of waiting in line to enter the exhibition.
Fast Pass tickets are valid only for the time printed on the Fast Pass ticket on the day of issue.
Everyone in your party using the Fast Pass line into the exhibition must have a Fast Pass ticket.
Fast Pass tickets are subject to availability.
Fast Pass Tickets
Guest (12 & younger)
$5
Guest (13–18)
$18
MFAH Member
$20
Adult (19+)
$25
---
This exhibition is organized by the Museum of Fine Arts, Houston.