Grand Designs: Neoclassical Taste in the 18th Century September 17, 2016–February 20, 2017
---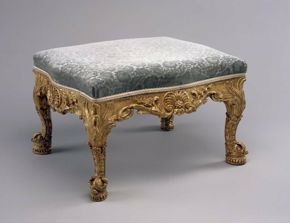 Rienzi, the MFAH house museum for European decorative arts, presents special exhibitions twice a year. Grand Designs: Neoclassical Taste in the 18th Century comprises furniture, decor, and prints from the era.
Throughout the 18th century, thousands of young aristocratic tourists traveled to Italy to take part in the Grand Tour. Many of them visited archaeological sites and purchased antiquities to decorate their grand houses back home. They also bought and commissioned a rich variety of decorative arts inspired by antique models that were considered the height of refined taste.
This exhibition explores the history and conservation of The Dundas Sofa, commissioned by Scottish businessman Sir Lawrence Dundas from two titans of English design: architect Robert Adam and furniture maker Thomas Chippendale.
Grand Designs places the rare sofa within the context of firsthand observation of ancient sites and objects, as well as reproductions in print. Among the other works on view are the sculpture Figure of Hercules and the Nemean Lion from Ludwigsburg Porcelain Factory; a ewer by silversmith Paul de Lamerie; and prints illustrating the decorative work of Robert Adam and his brother James.
---
This exhibition is organized by the Museum of Fine Arts, Houston.