Charles Marville: Photographer of Paris June 15–September 14, 2014
---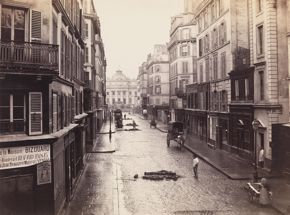 The first major exhibition in the United States devoted to 19th-century French artist Charles Marville explores the beauty, variety, and historical poignancy of his art. Charles Marville: Photographer of Paris features nearly 100 photographs that span Marville's entire career.
At the heart of the show are the images for which Marville (1813–1879) has been most celebrated: rigorously composed, beautifully detailed prints that he made beginning in the early 1860s as official photographer for the city of Paris. One of photography's early masters, Marville has long been a mystery, partly because documents that would shed light on his biography were thought to have disappeared in a fire that consumed Paris's city hall in 1871. However, new research has helped to reconstruct his personal and professional biographies.
Charles Marville: Photographer of Paris shows the City of Light taking shape through prints carefully selected for their perfectly calibrated compositions, exquisite technique, and exceptional state of preservation. Many of Marville's photographs depict Paris at the very moment of its transformation from a city of narrow streets and medieval buildings into the most modern of European capitals. His compelling urban views show Paris both before and after historic neighborhoods were razed to make way for broad boulevards, monumental buildings, and manicured parks. Featured works from Marville's early career also include landscapes, cityscapes, studies of sculpture, and striking architectural photographs made in Paris, across France, and in Germany along the Rhine.
Exhibition Catalogue
Accompanying the show is an illustrated exhibition catalogue, available through The MFAH Shop (713.639.7360) and the Museum's Hirsch Library (713.639.7325).
---
This exhibition is organized by the National Gallery of Art, Washington, D.C., in association with The Metropolitan Museum of Art, New York, and the Museum of Fine Arts, Houston.
Generous funding is provided by Joseph M. Cohen and The Hite Foundation.