Mike + Doug Starn: Big Bambú
Through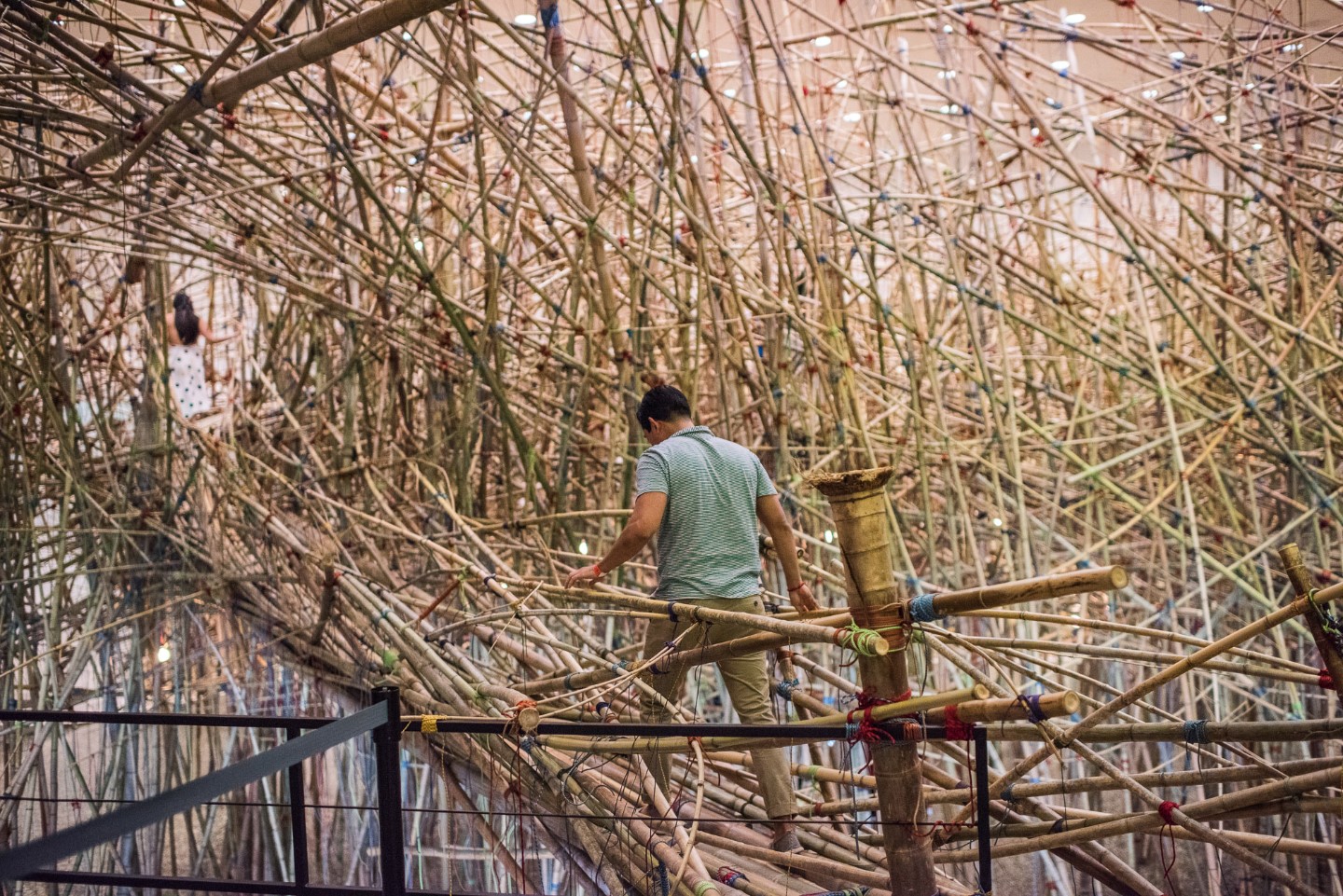 Mike + Doug Starn: Big Bambú
This Thing Called Life
Información en español sobre la exposición
► Check out the experience of the summer! Before you buy your tickets, read the guidelines carefully.

FINAL WEEKS!
Mike and Doug Starn have reconceived their ongoing Big Bambú project for Houston, filling the Museum's austerely graceful Ludwig Mies van der Rohe–designed galleries with a monumental wave of bamboo. An installation of some 3,000 poles lashed together, This Thing Called Life rises 30 feet from the floor of Cullinan Hall, cresting onto the balcony of Upper Brown Pavilion. Visitors are invited to cross a bridge of bamboo that winds from the balcony into the wave's curl, then deep into the Big Bambú sea. The path extends to the floor, where you can explore the bamboo eddies and currents at ground level.
The sea has long been a part of the Starns' lexicon: an emblem of great age, yet continually new and changing. Taking inspiration from the architecture of nature, the Starn brothers began to use bamboo in their studio in 2008. Their first public installation—on the roof of New York's Metropolitan Museum of Art in 2010—was experienced by more than 600,000 visitors, making it the ninth most-attended exhibition in that museum's history. They have since created other iterations of Big Bambú around the world, but This Thing Called Life is the first public staging indoors, in active dialogue with an existing structure.
The artists have been widely recognized for more than three decades for their conceptual photographic work, and this installation features three gigantic photographs of previous Big Bambú incarnations. Folding and draping off the wall and ceiling, these huge prints attest to the ongoing nature of Big Bambú, a process that never comes to rest, akin to life itself.
► Get Ready to Experience "Mike + Doug Starn: Big Bambú"
Before purchasing your tickets, read the below visitor guidelines carefully.

All Big Bambú ticket holders may experience the exhibition at ground level.
Please note these requirements for accessing the upper-level pathway. Guests need to:

Wear flat, rubber-soled shoes / no bare feet, heels, wedges, flip-flops, or backless shoes such as mules
Confirm they are able to walk without assistance
Be at least 3.5 feet tall (42 inches)
Confirm they are age 6 or older
Have one adult for every two minors between the ages of 6 & 12 in the group
Access the pathway without babies in carriers or strollers
Exercise sensible judgment at all times when on the pathway, especially if using cameras, smartphones, etc.
Still have questions? Call 713.639.7300 during business hours, or go to Hours & Admissions to learn more about visiting the Museum.
► Rock Out to the Big Bambú Spotify Playlist
During the construction of Mike + Doug Starn: Big Bambú, the artists and collaborators created daily playlists for the evolving project. Then they compiled a soundtrack to share, with tunes from Prince, the Rolling Stones, OutKast, and many others. Listen in!
Mike + Doug Starn: Big Bambú This Thing Called Life | June 10–September 3, 2018
► Exhibition Admission
Tickets, available online and on-site, include access to the Museum's art collections.
Please be sure to read these visitor guidelines carefully before you purchase your tickets.
MFAH Member (Join now!)
Free
Adult (19+)
$18
Senior (65+ with ID), Military (with ID),
College Student (19+ with ID), Youth (13–18)
$13
Child (12 & younger)
Free