American Adversaries: West and Copley in a Transatlantic World October 6, 2013–January 20, 2014
---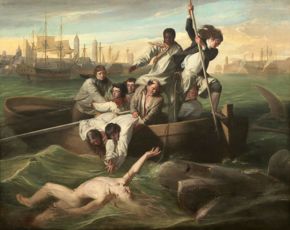 American Adversaries charts the rise and spectacular success of contemporary history painting in the 18th century through the lives and experiences of two colonial American innovators: Benjamin West (1738–1820) and John Singleton Copley (1738–1815). This major exhibition is the first to offer a revealing look at their ambitious, competitive, and highly successful lives.
West and Copley—initially friends but eventually bitter rivals—created theatrical paintings that romanticized current events and captured the imaginations of the public. At the core of the exhibition are two works that catapulted these artists to international fame: West's The Death of General Wolfe and Copley's Watson and the Shark. These paintings have not been presented together in more than 60 years and never before in this context.
The two key paintings are joined by works of art from all over the Atlantic World, providing greater perspective and meaning. American Adversaries: West and Copley in a Transatlantic World comprises oil paintings, works on paper, sculptures, and artifacts. Among the other artists represented are George Romney, Gilbert Stuart, and John Trumbull.
In-Gallery Extra: Audio Tour in Both English and Spanish
Enhance your exhibition experience and learn more about the artwork on view. You may purchase the optional audio tour at the admissions desks.
Exhibition Catalogue
An illustrated catalogue, published by the MFAH and distributed by Yale University Press, accompanies the exhibition and is available through The MFAH Shop (713.639.7360) and the Museum's Hirsch Library (713.639.7325).
A Closer Look
During the run of the exhibition, an interactive online feature provides additional details and context about The Death of General Wolfe and Watson and the Shark.
Ruth K. Shartle Symposium
On Saturday, October 5, prominent scholars of 18th-century art address many of the themes developed in the exhibition, from curatorial, art-historical, and conservation perspectives.
---
The exhibition is organized by the Museum of Fine Arts, Houston. An indemnity has been granted by the Federal Council on the Arts and the Humanities. The exhibition is made possible through support from the Terra Foundation for American Art.
Additional support is provided by:
The Henry Luce Foundation
National Endowment for the Arts
The Raymond J. Horowitz Foundation for the Arts, Inc.
Carol and Mike Linn
The National Endowment for the Humanities: Exploring the human endeavor
Jeanie Kilroy Wilson
The Rand Group
Ann G. Trammell
The Brown Foundation, Inc. / Carla Knobloch
The catalogue for this exhibition receives generous funding from Furthermore: a program of the J. M. Kaplan Fund.