Core Program Events
---
The prestigious Core Residency Program at the Glassell School of Art offers postgraduate residencies for art critics and visual artists. Events and exhibitions take place throughout the year. Learn More
• Sign up for the Core mailing list! Contact webeditor@mfah.org
Lectures | 2020–2021
Thursday, April 22, 12 Noon
Speaker: Jill Magid, artist
Virtual Lecture / More Info
Thursday, February 4, 12 Noon
Speaker: Kathleen Stewart, professor
Virtual Lecture / More Info
Thursday, November 12, 12 noon
Speaker: Tirdad Zolghadr, writer and curator
Virtual Lecture / More Info
Thursday, October 8, 12 Noon
Speaker: Lawrence Abu Hamdan, artist
Virtual Lecture / More Info
Exhibition | 2020–2021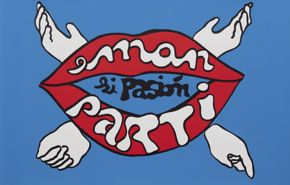 Rewrite the World
December 3, 2020–February 28, 2021
Leslie and Brad Bucher Gallery, Glassell School of Art
Rewrite the World highlights artists who make the revelation of historical and structural injustices a cornerstone of their practices. The work on view illustrates how art-making can intersect with other forms of producing and sharing knowledge—among them poetry, dance, archival research, and mapmaking.
The exhibition presents art by Jamal Cyrus, Demian DinéYazhi', Newton and Helen Harrison, and Cecilia Vicuña from the 1970s to 2020. Rewrite the World also addresses work created by artists and activists during the past year to protest police brutality and honor Black lives. Curated by 2020–2021 critic-in-residence Ana Tuazon.

Learn More
► Virtual Exhibition
Explore Rewrite the World online
► Virtual Discussion
"A Voice of Hope: Remembering Carl Hampton and Houston's Black Panther Party"
Exhibition | 2019–2020
2020 Core Exhibition
March 12–June 12, 2020
Leslie and Brad Bucher Gallery & Levant Foundation Gallery, Glassell School of Art
Every year, the Core Program at the Glassell School of Art awards residencies to artists and critical writers, culminating in the spring with an exhibition and yearbook.
The 2020 Core Exhibition features work by the 2019–2020 artists-in-residence: Qais Assali, Shobun Baile, Gustavo Gomez-Brechtel, Niloufar Emamifar, Ryan Hawk, Irmak Karasu, leo, and Kara Springer. This year's Core critics-in-residence, Will Harris and Ana Tuazon, contribute essays based on their independent research to the Core Yearbook 2019–2020 publication, issued in conjunction with the exhibition.