Core Artists & Critics
---

2021–2022 Core Residents
Artists-in-Residence
Mickey Aloisio
Bryan Castro
Maggie Jensen
Jagdeep Raina
Fred Schmidt-Arenales
Sindhu Thirumalaisamy
Critics-in-Residence
Víctor Albarracín Llanos
Karen Schiff
Víctor Albarracín Llanos
Critic-in-Residence
Víctor Albarracín Llanos is a Colombian artist, writer, curator, and educator. He was co-founder and member of El Bodegón, an influential artist-run space in Bogotá, between 2005 and 2009. Albarracín has exhibited in Canada, Germany, Latin America, and the United States. His work generates fictions and conflicts to create situations of vulnerability, disenfranchisement, and estrangement through the amateurish use of different cultural mediums, including music, literature, and video. He has published three books: Feign (2015), Materials for a Makeshift Shack (2013), and El tratamiento de las contradicciones (2013); and has written for magazines and websites internationally. Albarracín received the Colombian National Art Critic Award in 2009, and in 2013 he moved to the United States as a Fulbright fellow. In 2016, he co-curated the Colombian National Artists Salon and was appointed artistic director of lugar a dudas in Cali, Colombia, where a year later he founded (escuela incierta), a program focused on theoretical density, conviviality, and corporeal experience.
Mickey Aloisio

Artist-in-Residence
Mickey Aloisio is a visual artist from Long Island, New York, who is currently based in New Haven, Connecticut. He received his BFA from the Fashion Institute of Technology and his MFA from the School of Art at Yale University. Through video, sound, photography, and alternative analog technologies, his practice explores themes such as fantasy, longing, anonymity, and nostalgia. Aloisio is the recipient of the Alice Kimball English Traveling Fellowship and the Critical Practice Research Grant, both awarded by the Yale School of Art; as well as the Pride Photo Award Open Category First Prize in Amsterdam. His work has been exhibited nationally and internationally.
Bryan Castro

Artist-in-Residence
Bryan Castro's work blends writing; drawing and painting; painting and installation; and performance, demonstration, and lecture, to create meaning out of difference. He uses language in both oral and written form to visualize and perform dysfluency, challenge the stigma around stuttering, and advocate for acceptance and pride. Castro received his BFA in visual arts from the Mason Gross School of the Arts at Rutgers University–New Brunswick in New Jersey, and his MFA in fine arts from the painting and printmaking department at Virginia Commonwealth University in Richmond, Virginia.
Maggie Jensen

Artist-in-Residence
Maggie Jensen is a multidisciplinary artist whose work is fueled by both a critical and poetic exploration of aesthetic form that engages questions of power and authority. She builds large-scale sculptural installations and cacophonous sound works that remain just opaque enough to evade the confidence of would-be decoders. Focusing on materials and forms that signal permanence and intelligibility, Jensen uses them to emphasize fragility and misunderstandings. She holds a BFA in art history from Massachusetts College of Art and Design, and an MFA in visual art from the University of Chicago. For the 2019–2020 academic year, she was awarded a visual arts teaching fellowship in the humanities at the University of Chicago. She has produced and worked on numerous collaborative texts, in-situ performances, and curatorial projects.
Jagdeep Raina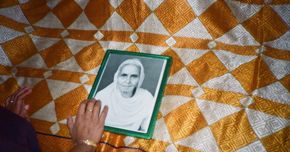 Artist-in-Residence
Jagdeep Raina is an artist and writer. In his practice, he studies archives in order to consider them in the context of fluctuating infrastructures of power, using strategies of reproduction to suggest that the archive is a living object. Raina holds an MFA in painting from the Rhode Island School of Design and was a 2021 Paul Mellon Fellow at Yale University. He has been an artist-in-residence at the Skowhegan School of Painting and Sculpture in Madison, Maine; the Fine Arts Work Center in Provincetown, Massachusetts; the Camden Arts Centre/Slade School of Fine Art in London; and the Mariam Dawood School of Visual Arts and Design in Pakistan.
Karen Schiff
Critic-in-Residence
Karen Schiff is an artist, writer, and educator who is reinterpreting Picasso's 1907 painting Les Demoiselles d'Avignon. She has an MFA, with honors in drawing, from the School of the Museum of Fine Arts at Tufts University in Boston; and a PhD in comparative literature and literary theory, with a certificate in women's studies, from the University of Pennsylvania. Her art criticism has appeared in journals including Art in America, Art Journal, Hyperallergic Weekend, Brooklyn Rail, Tate Etc., Switch (on Paper), and Art in Print, and on a blog she co-founded, Wallscrawler. She was admitted to the International Association of Art Critics in 2013. Artist's residencies include Yaddo, Anderson Ranch, and the Edward F. Albee Foundation. Her drawings are held by the Art Institute of Chicago, Brooklyn Museum, Yale University Art Gallery, and the MCS Collection of Contemporary Drawing in Funchal, Portugal, among other public and private collections.
Fred Schmidt-Arenales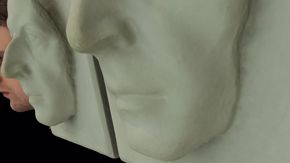 Artist-in-Residence
Fred Schmidt-Arenales is an artist, filmmaker, and organizer. His work attempts to bring awareness to unconscious processes on the individual and group level. He has presented performances and experimental video and audio works internationally, at venues including Künstlerhaus Halle für Kunst und Medien in Graz, Austria; Pieter Performance Space and NAVEL in Los Angeles; and Kunsthalle Wien in Vienna, Austria. He is the recipient of a grant from the Graham Foundation for his upcoming film project Committee of Six, exploring the history of urban renewal in Chicago. Schmidt-Arenales received an MFA from the University of Pennsylvania and has participated in the Bronx Museum Artists in the Marketplace fellowship, the Flaherty Film Seminar, ACRE, and UnionDocs Collaborative Studio.
Sindhu Thirumalaisamy
Artist-in-Residence
Sindhu Thirumalaisamy's work across moving images, sound, and text has explored common places such as hospitals, parks, streets, temples, mosques, and lakes, as multivalent sites that hold possibilities for collective resistance and care. Her film The Lake and The Lake won the Best Documentary Award at the Ann Arbor Film Festival in 2020. Recent exhibitions include programs at Artists' Television Access in San Francisco, BlackStar Film Festival in Philadelphia, DokuFest in Kosovo, EFA Project Space in New York, the Kinodot Experimental Film Festival online, Montreal International Documentary Festival (RIDM), the Museum of Contemporary Art San Diego, and UnionDocs in Brooklyn. She received an MFA from the University of California San Diego and has been a participant in the Flaherty Film Seminar, the Skowhegan School of Painting & Sculpture, the SOMA Summer program, and the Whitney Independent Study Program.