Core Artists & Critics
---
2020–2021 Core Residents
Artists-in-Residence
Qais Assali
Niloufar Emamifar
Maggie Jensen
Irmak Karasu
Kara Springer
Sindhu Thirumalaisamy
Critics-in-Residence
Víctor Albarracín Llanos
Ana Tuazon
Víctor Albarracín Llanos
Critic-in-Residence
Víctor Albarracín Llanos is a Colombian artist, writer, curator, and educator. He was co-founder and member of El Bodegón, an influential artist-run space in Bogotá, between 2005 and 2009. Albarracín has exhibited in Canada, Germany, Latin America, and the United States. His work generates fictions and conflicts to create situations of vulnerability, disenfranchisement, and estrangement through the amateurish use of different cultural mediums, including music, literature, and video. He has published three books: Feign (2015), Materials for a Makeshift Shack (2013), and El tratamiento de las contradicciones (2013); and has written for magazines and websites internationally. Albarracín received the Colombian National Art Critic Award in 2009, and in 2013 he moved to the United States as a Fulbright fellow. In 2016, he co-curated the Colombian National Artists Salon and was appointed artistic director of lugar a dudas in Cali, Colombia, where a year later he founded (escuela incierta), a program focused on theoretical density, conviviality, and corporeal experience.
Qais Assali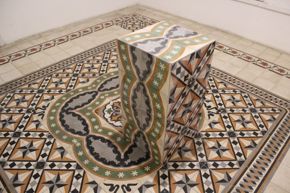 Artist-in-Residence
Qais Assali is an artist, designer, and educator. His work with photography, video, installation, lecture performance, graphic design, and the archives seeks to engage and subvert national geopolitical power dynamics. His interdisciplinary work stages questions between site and the body in relation to his own identity and locale in order to rethink contested geographies. His work has been exhibited internationally at Rashid Diab Arts Centre, Khartoum; Jeune création, Paris; Festival Artes Vertentes de Tiradentes, Brazil; L'uzine, Casablanca; 6018North, Chicago; Qalandiya International, Ramallah; and solo exhibitions at Akademirommet, Kunstnernes Hus, Oslo; Khan Al Wakala, Nablus; and Michigan State University Union Art Gallery. Assali has been a faculty member at a number of academic institutions in Palestine and was artist in residence for critical race studies at Michigan State University for the 2018–2019 academic year. He holds two master's degrees: an MFA from Bard College and an MA in art education from the School of the Art Institute of Chicago.
Niloufar Emamifar

Artist-in-Residence
Niloufar Emamifar's project-based practice explores the interrelations between social and physical space and asks questions regarding urban interstices and their relational properties. She holds a BFA in interior architecture from Soore School of Architecture, Iran; and an MFA in studio art from the University of California, Irvine. Her work has been exhibited at Los Angeles Contemporary Exhibitions; the Venice Biennale of Architecture; the Iran Biennale of Architecture; Human Resources Los Angeles; and SculptureCenter and Essex Street Gallery in New York City. She has participated in residency programs at London College of Communication and Grand Central Art Center.
Maggie Jensen

Artist-in-Residence
Maggie Jensen is a multidisciplinary artist whose work is fueled by both a critical and poetic exploration of aesthetic form that engages questions of power and authority. She builds large-scale sculptural installations and cacophonous sound works that remain just opaque enough to evade the confidence of would-be decoders. Focusing on materials and forms that signal permanence and intelligibility, Jensen uses them to emphasize fragility and misunderstandings. She holds a BFA in art history from Massachusetts College of Art and Design, and an MFA in visual art from the University of Chicago. For the 2019–2020 academic year, she was awarded a visual arts teaching fellowship in the humanities at the University of Chicago. She has produced and worked on numerous collaborative texts, in-situ performances, and curatorial projects.
Irmak Karasu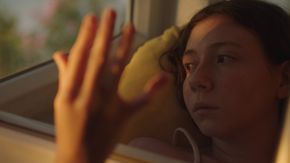 Artist-in-Residence
Irmak Karasu is an artist and filmmaker from Turkey. Working in film, video, performance, and writing, she constructs a language that explores haptic visualizations of the female psyche and body under pressure. She holds an MFA in film/video from the School of the Art Institute of Chicago, and a dual BA in film & television and psychology from Istanbul Bilgi University. She is the recipient of a James Nelson Raymond Fellowship, a Mithat Alam Education Foundation Achievement Award, and a New Artists Society Scholarship. Her works have been shown and have received awards at a range of film festivals and museums including the Helsinki International Film Festival; the Istanbul Film Festival; the San Francisco Dance Film Festival; the !f Istanbul International Independent Film Festival; the Santralistanbul Contemporary Art Museum; MING Contemporary Art Museum, Shanghai; and EXPOCHICAGO.
Kara Springer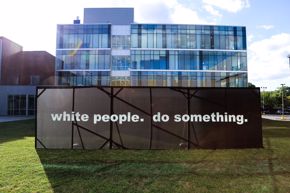 Artist-in-Residence
Kara Springer's interdisciplinary practice is particularly concerned with armature—the underlying structure that holds the flesh of a body in place. She utilizes photography, sculpture, and site-specific interventions to explore precarity and brokenness in systems of structural support through engagement with architecture, urban infrastructure, and systems of institutional and political power. Springer has lived, worked, and studied in Toronto, Paris, Philadelphia, and New York, where she recently completed the Independent Study Program at the Whitney Museum of American Art.
Sindhu Thirumalaisamy
Artist-in-Residence
Sindhu Thirumalaisamy's work across moving images, sound, and text has explored common places such as hospitals, parks, streets, temples, mosques, and lakes, as multivalent sites that hold possibilities for collective resistance and care. Her film The Lake and The Lake won the Best Documentary Award at the Ann Arbor Film Festival in 2020. Recent exhibitions include programs at Artists' Television Access in San Francisco, BlackStar Film Festival in Philadelphia, DokuFest in Kosovo, EFA Project Space in New York, the Kinodot Experimental Film Festival online, Montreal International Documentary Festival (RIDM), the Museum of Contemporary Art San Diego, and UnionDocs in Brooklyn. She received an MFA from the University of California San Diego and has been a participant in the Flaherty Film Seminar, the Skowhegan School of Painting & Sculpture, the SOMA Summer program, and the Whitney Independent Study Program.
Ana Tuazon
Critic-in-Residence
Ana Tuazon is a writer and curator who has lived in Portland, Oregon; and New York City. She completed an MA in art history and criticism at Stony Brook University in 2018, where her research centered on the practices of women of color within and outside of feminist art traditions, with a particular focus on art practice as a form of radical social and political engagement. In 2018 she co-curated the inaugural Southeast Queens Biennial through the curatorial lab of art nonprofit No Longer Empty, and she is a 2019 curatorial fellow for the opening exhibition of NXTHVN, a new arts space in New Haven, Connecticut. She has presented at conferences including the College Art Association and Theorizing the Web, and she has written for publications including Art Practical, Hyperallergic, and Temporary Art Review.