David B. Warren Symposium | Welcome & Keynote Address
---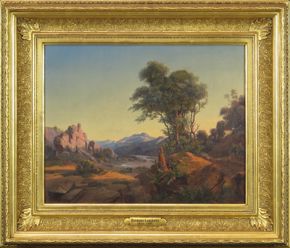 2021 David B. Warren Symposium
The Power of Place: Defining Material Culture in Pre-1900 Texas, the Lower South, and the Southwest
Friday, Saturday & Sunday / February 26, 27 & 28
This free, virtual symposium presents thought-provoking papers from a slate of historians and curators. Explore how the interaction of place with race, ethnicity, and gender has shaped our shared history.
Presentations are live, free of charge, via Zoom. Advance registration is highly recommended. Sign up only once, and you can access all time slots using the same link.
SCHEDULE
Friday, February 26
6:30 p.m.
• Welcome & Keynote Address
"As Far as the Eye Could See: The Bugbees, from New England to the West Texas Plains"
Speaker: Michael Grauer, National Cowboy & Western Heritage Museum, Oklahoma City
Saturday, February 27
10 a.m. to 11:45 a.m.
• "'A Very Valuable Man': Enslaved Builders and the Making of Texas"
Speaker: Tara Dudley, the University of Texas at Austin
1 p.m. to 3 p.m.
• "The Magisterial Gaze in Slave Territory: Henry Cheever Pratt's Coons Rancho as Plantation Painting"
Speaker: Alexis Monroe, Institute of Fine Arts, New York University
• "The Material Culture and Cultural Landscape of the Polley Mansion, Whitehall"
Speaker: Melinda Creech, independent scholar
• "William J. Frederich's Scrapbook: A Palimpsest of the Visual Landscape of a Galveston Man in the 1880s"
Speaker: Olivia Armandroff, University of Southern California
Sunday, February 28
1 p.m. to 3 p.m.
• "New Orleans's Place in the Mahogany Trade"
Speaker: Lydia Blackmore, the Historic New Orleans Collection
• "Gaineswood Geography: How Commerce Routes and Climate Shaped Life on an Alabama Plantation"
Speaker: Sarah Duggan, the Historic New Orleans Collection
• Panel Discussion & Conclusion
Questions? Contact Joey Milillo, Bayou Bend programs manager: jmilillo@mfah.org

---
The David B. Warren Symposium is made possible with generous support from the David B. Warren Symposium Endowment; Humanities Texas, the state affiliate of the National Endowment for the Humanities; Nancy Glanville Jewell; and The Summerlee Foundation.