Christmas Village at Bayou Bend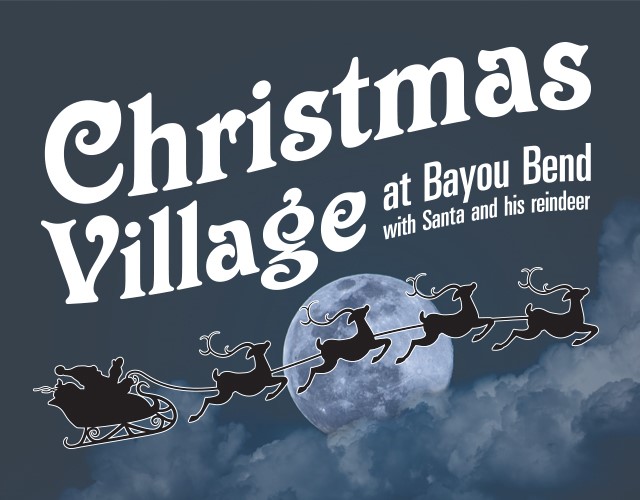 December 12–30, 2019
Open every evening except December 24 & 25.
View a map of Christmas Village
Discover an immersive Christmas experience at beautiful Bayou Bend Collection and Gardens. A dazzling bridge brings you into a winter wonderland featuring thousands of lights throughout the estate. Get in the holiday spirit with a faux-snow slide for sledding, a cotton-snowball play area, a handcrafted model train circling a 15-foot tree, games for all ages, carols by the Mistletones, and more—all on 14 acres of gardens and art nestled in River Oaks.
Holiday-themed tours of Ima Hogg's historic mansion feature live actors, theatrical effects, and Christmas decorations. Plus, the Cottage Shop at Bayou Bend is open for browsing!
Live Music in the Village Tent
• Thursday, December 26 | Arthur Yoria
• Friday, December 27 | Tommie Lee and Jerry
• Saturday & Sunday, December 28 & 29 | Arthur Yoria
• Monday, December 30 | Houston Pride Band Ensembles
• Priority parking is $10 (cash only). Parking in other lots is free. Staff will direct drivers to free, off-site overflow parking as needed. Rideshare options are encouraged. See the parking map.
• Visitors with limited mobility: A few days before your visit, please call 713.639.7750 to ensure arrangements can be planned to make your visit as enjoyable as possible.
• Single-occupant strollers are welcome, though many paths do have steps. Service animals are allowed, but please leave pets at home.
• Secure your spots in advance! Purchase tickets online. Christmas Village takes place rain or shine.
Admission
• Upgrade your evening with a theatrical, holiday-themed tour of the first floor of the house! Here's how it works: You choose a time to tour the house, but you can explore Christmas Village throughout the entire evening, both before and after your house tour. (The tour adds just $5 to any admission, including the free children's tickets).
• Drinks for sale at the bar. Dinner, light bites, hot chocolate, and more treats are also available for purchase at the Mrs. Claus's Kitchen food truck, in the village tent, and at the sweet shop near the house!

Christmas Village at Bayou Bend*
• Members: $13 adult (ages 13+), $8 youth (ages 5–12)
• Nonmembers: $15 adult (ages 13+), $10 youth (ages 5–12)
• Free for children ages 4 & younger
*A house-tour upgrade adds $5 to each admission (including the free children's tickets)
Premium Nights* (Fridays & Saturdays, plus December 22 & 23)
• Members: $16 adult (ages 13+), $10 youth (ages 5–12)
• Nonmembers: $18 adult (ages 13+), $12 youth (ages 5–12)
• Free for children ages 4 & younger
*A house-tour upgrade adds $5 to each admission (including the free children's tickets)