Visiting Musicians July 20, 2019
---
In the work of Icelandic artist Ragnar Kjartansson, the repetition of lines and lyrics of music is not relegated to rehearsals. Rather, it is what his performances make manifest.
As a young boy, Kjartansson (born 1976) watched his parents, well-known actors in Iceland, rehearse scenes over and over in the theater. Instead of becoming bored or distracted, Kjartansson was intrigued by the way the same words would constantly yield new meanings. This revelation would inspire a body of work brimming with reprises, as seen in the exhibition Ragnar Kjartansson: The Visitors.
Life-Size Projections
Recently acquired by the Museum, The Visitors is conceived as an installation. The hour-long work comprises nine life-size projections, each featuring a different musician who inhabits a separate room or the grounds of the 200-year-old Rokeby mansion in Hudson River Valley, New York. Each romantically distressed room is lovingly lit and opulently furnished in a style evocative of a John Singer Sargent painting, including the bathroom where Kjartansson appears, playing his guitar in a claw-foot tub.
Simultaneously and Separately
Connected by mics and earphones, the group plays simultaneously and separately, singing the lyrics of a poem written by artist Ásdís Sif Gunnarsdóttir. They eventually home in on the line "Once again I fall into my feminine ways," repeating the words as the tone of the music evolves from a melancholic dirge to a raucous gospel song.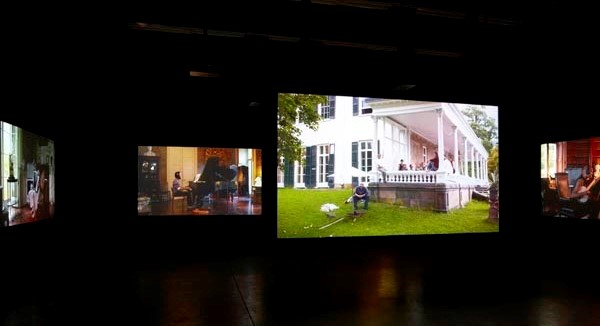 Moving from Screen to Screen
Unlike other Kjartansson works, in which performers move on and off stage at will, The Visitors invites the audience members to come and go, meandering about the installation to pause at the various screens. In this way, viewers are made to feel as though they are within, and not just watching, the performance. Moving from screen to screen, they have the impression of walking through the Rokeby mansion, spending time with each player, taking in every note and gesture.
A Merry Band
Finally, the musicians convene in the main room and on one screen. Still singing, they pop open a bottle of champagne and parade out of the house and down a hill, like a merry band of troubadours entering a Hudson River School tableau.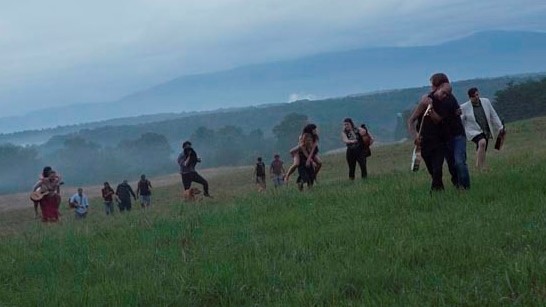 Togetherness and Solitude
The title of this work comes from ABBA's final album, recorded while the pop group was splitting up. Accordingly, The Visitors is a meditation on both togetherness and solitude. The musicians come together for a performance that they enact separately, reflecting the ways in which we simultaneously experience the world individually and collectively.
► See more in "Ragnar Kjartansson: The Visitors," on view in the Beck Building through September 22.