Last Chance to See Video Art November 9, 2012
---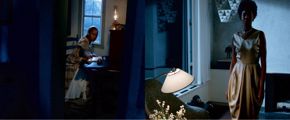 If you haven't already seen There is no archive in which nothing gets lost, hurry! Head over to the museum's Glassell School of Art soon, before the show closes on November 25. Sally Frater, the curator and a Core Program critical-studies resident, selected works that are fresh, so to speak—made within the past decade.
The title of the exhibition comes from a phrase in the book Deep Storage: Collecting, Storing, and Archiving in Art, edited by Ingrid Schaffner and Matthias Winzen. Frater notes that she wasn't interested in examining the archive, but wanted to "position each work as an archive that contains a specific history and/or narrative."
The three artists featured in the exhibition—Sonia Boyce, Wangechi Mutu, and Lorna Simpson—weave historical moments in U.S. history within a sequence of time-based images, otherwise known as video. Simpson's Corridor (2003) is sandwiched between Mutu's Cutting (2004) and Boyce's Oh Adelaide (2010).
Simpson is an artist who has shaped the course of art history, yet surprisingly, many people are still unfamiliar with her art. In past works, she has acted as the subject, but in Corridor, it is Mutu who acts out the main role, in two screens playing simultaneously. Kenyan-born and Brooklyn-based Mutu is known for her watercolor and collage work, so being able to view two videos in which she acts is a rare opportunity. Boyce collaborated with sound artist Ain Bailey to create Oh Adelaide.
Take your time to watch the entire length of each video. The works do not follow a set narrative, so you can begin viewing at any point without getting lost.
This year has been groundbreaking for video-art exhibitions in Houston, and Frater's show is a compelling addition to the mix. In the spring, Contemporary Arts Museum Houston presented Perspectives 178: CINEPLEX, which simulated a "cinémathèque space for a celebration of the expansive nature of moving image media and the power of montage." This fall, DiverseWorks showed Keren Cytter: Video Art Manual, and the Menil Collection's Silence featured Jacob Kirkegaard's video and sound installation AION, among other works.
Want to know more? Read the insightful interview via Glasstire detailing Frater's curatorial decisions.
► There is no archive in which nothing gets lost is on view at the MFAH Glassell School of Art through November 25. Admission is free.
Recent Posts