Reimagining Rockwell November 20, 2019
---
Opening December 15, "Norman Rockwell: American Freedom" is the first comprehensive exhibition devoted to Norman Rockwell's iconic 1943 depictions of FDR's "Four Freedoms." Paired with the exhibition is "The Four Freedoms Reimagined," featuring photographs from the "For Freedoms" project by Hank Willis Thomas and Emily Shur.
"[Norman Rockwell's] greatest strength was his ability to enter the American psyche," says Stephanie Plunkett, chief curator at the Norman Rockwell Museum. "People responded to his art because they saw the best of themselves in it."
But in 2012, as New York–based artist Hank Willis Thomas gazed at the white faces of the guests seated at Norman Rockwell's Freedom from Want Thanksgiving table, Thomas did not see himself at all.
The 21st-Century Generation
Thomas, enlisting the help of photographer Emily Shur in collaboration with colleagues Wyatt Gallery and Eric Gottesman of the artist collective For Freedoms, decided to reimagine each of Rockwell's classic Four Freedoms paintings—Freedom of Speech, Freedom of Worship, Freedom from Want, and Freedom from Fear—to reflect the country's current generation.
The For Freedoms Series
Cumulatively, Thomas and Shur produced 82 photographs for their For Freedoms series, 16 variations of which are included in the exhibition Norman Rockwell: American Freedom. Each image comprises activists, artists, celebrities, and everyday citizens of varying religions, races, sexual orientations, ages, and genders. Above, in this particular 2018 take on the original Freedom from Want (below), the father cradles an infant as the mother serves the turkey, a challenge to traditional gender roles.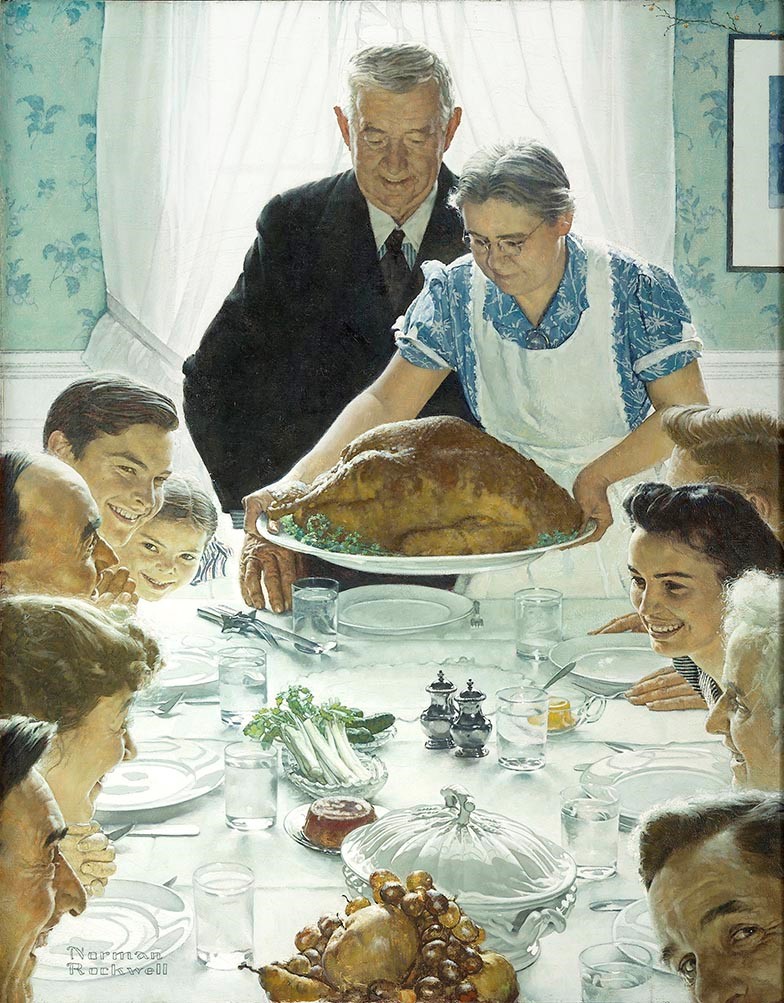 The Deeper Mosaic of America
"I hope that people look at these images and are reminded of their humanity, their grace, and mercy," said Gina Belafonte, who helped cast the photographs. "Most of all, I hope people are inspired and activated to love, be patient, and to take a deeper look at themselves and see where they fit within the deeper mosaic of America."
► See "Norman Rockwell: American Freedom" and "The Four Freedoms Reimagined" in the Beck Building from December 15 to March 22.