Lois Weber & Anna Pavlova, Pioneering Women of Film & Dance March 11, 2017
---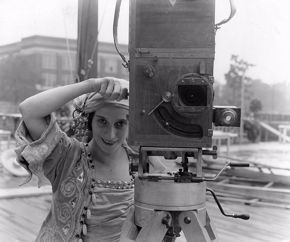 Today's audiences may be surprised to learn that more than a century ago, one of the most highly acclaimed powerhouses of the film industry—entrusted to head the largest production that Universal had ever attempted—was a woman filmmaker. Director Lois Weber was tapped to bring a well-known and loved opera to the big screen, which was as artistically ambitious as it was risky. In celebration of Women's History Month, her 1916 film The Dumb Girl of Portici screens at the Museum on March 17 & 19.
Daniel Auber's opera centers on Fenella, a young Italian woman living during the Spanish occupation of Naples in the mid-17th century. In her only onscreen performance, world-renowned Russian ballerina Anna Pavlova plays the leading role of Fenella.

Lois Weber (far left) talks with Anna Pavlova (center) on the set of The Dumb Girl of Portici.
It's in large part because of Pavlova that dance is considered a serious artistic discipline worthy of pursuit in the United States: Her performances gathered large, captivated audiences, while her charismatic style was empowering to aspiring dancers everywhere. Thanks to the restoration and release of The Dumb Girl of Portici, today's audiences can experience the rare treat of seeing Pavlova dance.

Anna Pavlova poses for a publicity shot for the film.
Prior to The Dumb Girl of Portici, Weber directed shorter, more intimate, character-driven films, focusing on deconstructing the stereotypical female characters portrayed in cinema. She was determined to use the power of the moving image to elicit open conversation about the era's most provocative issues. Instead of being cast as housewives or mistresses, Weber's women had complex lead roles such as the birth-control activist, played by Weber herself, in The Hand That Rocks the Cradle—which boasted the provocative working title Is a Woman a Person?
Weber took her role in the industry seriously, so when the challenge of directing The Dumb Girl of Portici presented itself, she accepted it with the determination and passion for which she was known. The resulting film, with Pavlova as the star, brought together two women who remain hugely influential in their respective fields.
In March, the Museum celebrates Women's History Month by highlighting women's immense contributions to all fields of the arts—in this case, film and dance. Learn more about the Museum's celebration of Women's History Month, and see "The Dumb Girl of Portici" when it screens at the Museum on March 17 & 19.
Recent Posts