Inside Fashion Fusion: An Interview April 22, 2019
---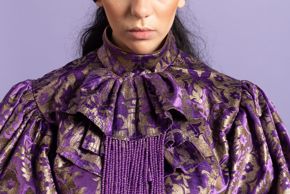 The Fashion Fusion competition challenges student designers from the award-winning fashion program at Houston Community College to create original, contemporary designs based on MFAH exhibitions. This year, Vincent van Gogh: His Life in Art provides the inspiration.
In anticipation of the runway show on April 25, we asked participating designer Kyndall Bollmeyer about her expectations and past experiences.
What inspired you to participate this year?
Kyndall Bollmeyer: This year's Fashion Fusion is a visual storytelling of Vincent van Gogh's life and artistic progression. His fervent expression of his own human experience, his use of symbolic content, and a rich color palette are some of the things I found both inspiring and relatable.
Do you feel like you grew as a designer from your experience with Fashion Fusion?
KB: Yes. A wonderful thing about Fashion Fusion is that there are simply no creative limitations. These fashion pieces are reflections of art pieces. I can let my imagination stretch beyond the world of fashion into wearable art.
What was it like to see your clothing on the runway at past Fashion Fusion events?
KB: As designers, we rarely get to see our pieces on the runway, and watching them at Fashion Fusion is always a bit magical. There's a breathtaking moment when you see all your hard work walking down the runway and realize it was totally worth it.
What are you looking forward to about this year's runway show?
KB: Aside from the show experience itself, I can't wait to see what everyone has created. I'm always so proud and impressed by the hard work of my peers. It's a guaranteed spectacular show!
► Want to find out more? Get details about Fashion Fusion, Happy Hour Thursday, and the exhibition "Vincent van Gogh: His Life in Art." Plan your visit for Thursday, April 25.