Rienzi, known for its beautiful collection of European decorative arts and paintings, is a place where social history comes alive. The objects in the collection tell stories—not only about why the objects were made but also about the people who used them.
As an MFAH house museum, Rienzi offers programming that explores the history of drinking and dining, and the April 29 "Demon Rum" Dinner examines the fascinating evolution of rum through a one-of-a-kind culinary experience. Guests will enjoy historic rum cocktails paired with a decadent four-course meal, all created by two dynamic forces on Houston's restaurant scene: bartender Bobby Heugel (Anvil Bar and Refuge) and chef Chris Shepherd (Underbelly).
We asked Heugel and Shepherd their thoughts on preparing for the "Demon Rum" Dinner. Whet your appetite with a look at their answers below. See the menu and more info here.
What gives rum its unique reputation, and why is it a favorite ingredient for bartenders?
• Bobby Heugel Rum has been considered a drink of the people throughout its history. It has also been at the center of many cocktail movements, so it can morph into different meanings depending on the occasion. Rum is arguably the most diverse spirit in the world. Every region produces an entirely different spirit based on the type of cane that grows there . . . [so] rum has a vast and exciting spectrum of flavors to draw from.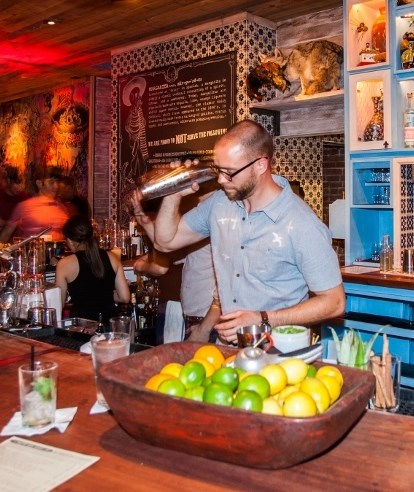 Bobby Heugel
Where will you get ideas for the "Demon Rum" Dinner's menu and drinks?
• Bobby Heugel Rum's complex social history is ripe for discussions about how the world of drinks and humanity are often intertwined in ways outside of the glass. We will focus on varying regions and rums that reflect different periods of history to discuss some of these concepts.
• Chris Shepherd Rum is a spirit that built the Southern part of our country, so influences come from all over the South and the Caribbean. I'm going to follow Bobby's lead to see his inspiration for the cocktails. If he makes a Tiki-style cocktail or an old-school Southern cocktail, I'm going to pair the food to match the time period and location.
Chris Shepherd
If you lived in Europe in the 18th century, what would be your drink of choice? Your favorite meal?
• Bobby Heugel I would have loved a Navy Grog. The British Royal Navy bought and consumed more rum than any other group worldwide during this era. Sailors were given large daily rations, and they often mixed them together in a grog—some type of combination of rum, lime, water, and possibly a sweetener.
• Chris Shepherd I would definitely like to explore the spices that were being brought in from all over. I'd also like to study classic French cuisine as it was being created and developed.
The "Demon Rum" Dinner takes place on Wednesday, April 29. More Info