Conservators Keep "Colors of the Oasis" Vibrant April 27, 2017
---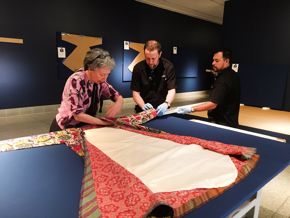 The textiles on display in Colors of the Oasis: Central Asian Ikats may be about 150 years old, but their rich hues have retained stunning vibrancy. Without experts like conservators, the vivid designs would be lost.
Esther Méthé, a textile conservator who is in private practice in Canada, teamed up with MFAH staff to help examine and install nearly 50 robes and panels in the exhibition. I chatted with her to find out what it's like to help such precious textiles stay bright and well cared-for so that audiences today—and tomorrow—can enjoy the ikats' fine craftsmanship.
Can you explain what conservators do, for those who may not know?
In general, the role of a conservator is to ensure that objects receive proper care. That includes examining objects to assess condition and needs for treatment, storage, and display methods, as well as thoroughly documenting actions taken with a work of art.
How are you involved with Colors of the Oasis: Central Asian Ikats? I understand you have a history with the exhibition.
From 2002 to 2015, I worked as chief conservator at the Textile Museum in Washington, D.C., which mounted the original iteration of this exhibition at the Textile Museum as well as in Seattle. Since I had worked on Colors of the Oasis before, I was asked to install it again in Houston.
How did you help prepare for this particular display at the MFAH?
I worked with Tessa Lummis, associate registrar from the GWU Museum and the Textile Museum; MFAH associate conservator Ingrid Seyb; and MFAH preparations staff to handle the objects, which included mounting the robes onto supports, adjusting padding, and so on. It was a very good team.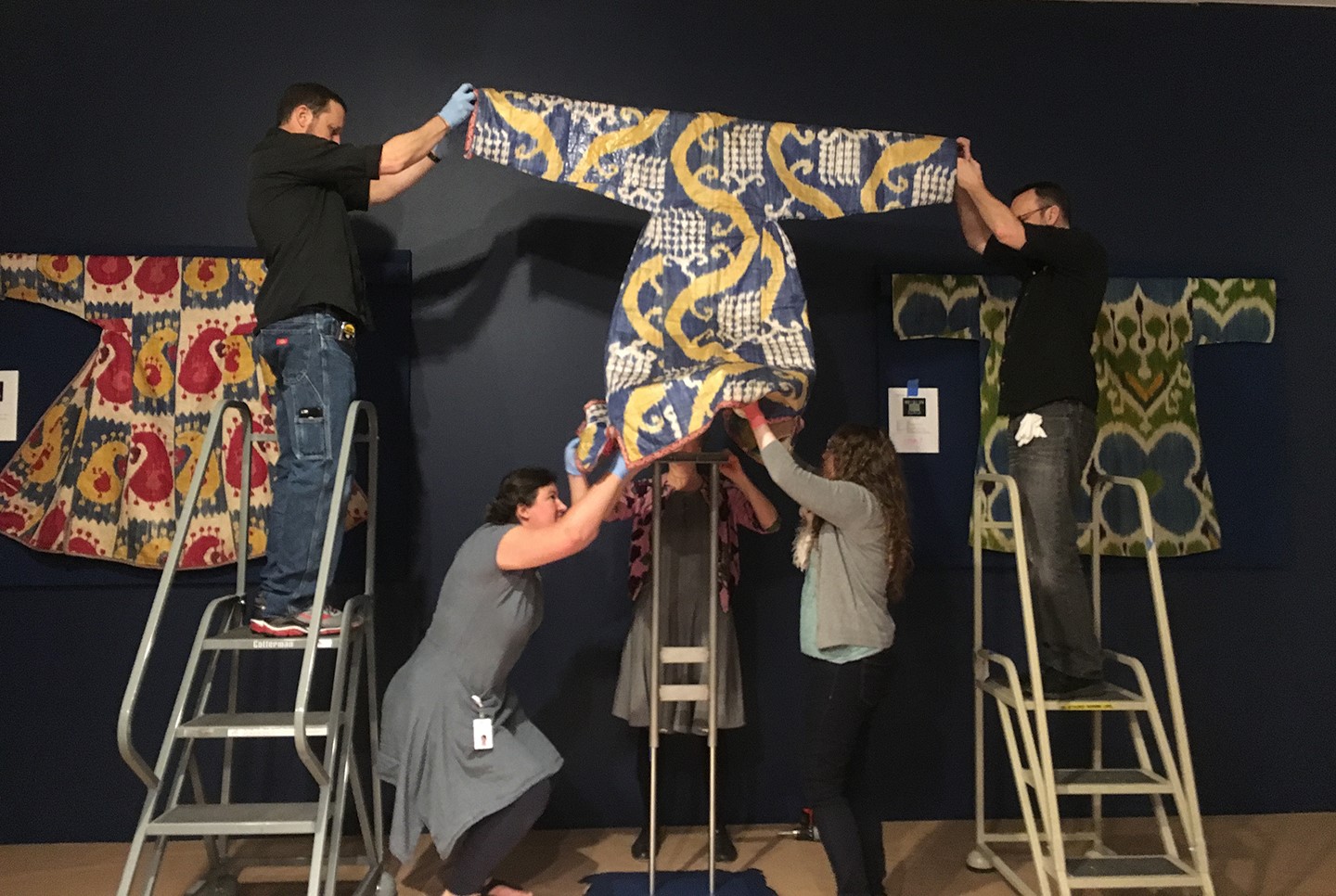 Esther Méthé (back, center) works with MFAH staff to place a woman's robe onto a mount.
What are some conservation issues around dyes and fabrics?
Dyes, whether natural or synthetic, are susceptible to fading through light exposure. The sensitivity varies from dye to dye and is also influenced by other factors such as the dyeing methods. Light damage is cumulative and irreversible, so to be safe, the light level of textile exhibitions such as Colors of the Oasis is usually set quite low, and the period of exhibition is normally limited to few months.
What did the condition of the robes tell you about their history?
Clearly, these are valued objects. The repairs previously done on some of them shows that many people, likely past owners, took meticulous care of the robes.
See the textiles in "Colors of the Oasis" Central Asian Ikats," on view in the Beck Building through June 4.