Celebrating Latinx Heritage September 21, 2019
---
The MFAH salutes Hispanic Heritage Month with Celebrating Latinx Heritage on Saturday, October 12, from 3 p.m. to 8 p.m. This fall community festival features free fun for all ages, including a variety of films, art-making activities, games, music, dance, and poetry performances.
Among the short films you can see are two documentaries that Les Blank—an acclaimed filmmaker who devoted much of his work to traditional musicians—created about norteño music, from northern Mexico: Chulas Fronteras and Del Mero Corazón.
A Remarkable Filmmaker
Blank's films offer intimate, idiosyncratic glimpses into people on the periphery of American society. He is perhaps best known for Burden of Dreams (1982), which documented the chaotic production of German director Werner Herzog's film Fitzcarraldo in the jungles of South America. Roger Ebert called Burden of Dreams "one of the most remarkable documentaries ever made about movie making."
"A Tex-Mex Masterpiece"
Chulas Fronteras (Beautiful Borders) (USA, 1976, 58 minutes) introduces you to music that is a fusion of traditional Mexican harmonies, central European dancehall rhythms, and a little something extra. Featured performers include Flaco Jiménez, Narciso Martinez, Lydia Mendoza, and Los Alegres de Terán. The Village Voice called Chulas Fronteras "a Tex-Mex masterpiece."
Flaco Jiménez (Chulas Fronteras)
A National Film Registry Selection
Blank's son, filmmaker Harrod Blank, has shown several of his own films at the MFAH, most recently Why Can't I Be Me? Around You at the 2019 edition of QFest. Harrod explains that his father filming Flaco Jiménez represents two great artists coming together in a collaboration that will resonate forever. When Chulas Fronteras was selected for the National Film Registry of the Library of Congress, Harrod says, Les was "beaming."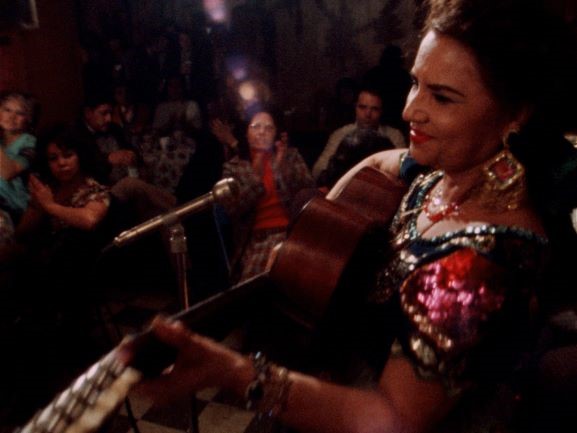 Lydia Mendoza (Chulas Fronteras)
A Lyrical Journey through Chicano Culture
Del Mero Corazón (Straight from the Heart) (USA, 1979, 28 minutes) is a lyrical journey through Chicano culture as reflected in the love songs of the norteño tradition. The group Little Joe y La Familia performs, along with Chavela y Brown Express, Leo Garza & His Conjunto, and others. Harrod says his father was attracted to the music's theme of "making the best of what you have in life—that through music and stories describing pain and suffering, and hard work, there is a perseverance to find joy and be proud of one's identity/culture."
► Plan your visit to Fall Festival: Celebrating Latinx Heritage on October 12. Admission is free! These film screenings take place in Favrot Auditorium in the Glassell School of Art at 6 p.m.
Recent Posts