Careers
---
Employment Overview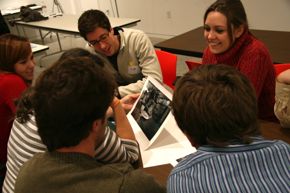 Thank you for your interest in employment opportunities at the Museum of Fine Arts, Houston.
By joining the MFAH, you would be working with an organization that is more than 100 years old and ranks nationally among the top art museums in exhibition space, memberships, endowments, and attendance. The MFAH is a multifaceted institution comprising three gallery buildings, a sculpture garden, two art schools, and two house museums for decorative arts. The encyclopedic collection numbers some 70,000 works of art in a wide range of media.
• The mission of the Museum of Fine Arts, Houston, is to serve as a welcoming and inclusive place for all people, connecting the communities of Houston with diverse histories of art spanning 5,000 years and six continents. Through our permanent collections, special exhibitions, learning and interpretation programs, studio instruction, publications, conservation, and scholarly research, we strive to inspire appreciation and understanding of the broadest spectrum of human achievement.
• The MFAH employs more than 600 people and offers job opportunities in a variety of career fields. Staffing areas include accounting, art conservation, curatorial, development, education, facility maintenance, graphics, guest services, human resources, library science, information technology, marketing, publications, retail, and security.
• The MFAH is an exciting place to work, as it is always growing and changing. Your application for currently posted positions is welcome, and you are encouraged to revisit this site often for information about new opportunities.
• At the MFAH, we believe that diversity, equity, accessibility, and inclusivity are fundamental to our organization. We welcome all candidates whose experience has prepared them to contribute to our organization and to our pledge for workplace diversity, inclusion, and excellence.
• The MFAH is committed to the full inclusion of all qualified individuals interested in employment with the organization. As part of this commitment, we want to ensure that persons with disabilities are provided reasonable accommodation needed to 1) participate in the job application or 2) interview process; 3) perform essential job functions; and/or 4) participate in the benefits and privileges of employment with the MFAH. If reasonable accommodation is needed, please contact the human resources department: HR@mfah.org
Our commitment to our policy and practice of nondiscrimination represents more than good intentions. It provides for employment decisions that are made without regard to race, creed, color, age, gender, sexual orientation, religion, national origin, gender identity or expression, genetic information, disability, or veteran status, or any other protected characteristic as established by law or any other reason unrelated to your ability to join and contribute to our organization and support our mission to provide a museum experience for all.
MFAH Benefits
The Museum of Fine Arts, Houston, offers an excellent benefits package that includes:

Insurance
Insurance coverage is effective the first of the month following employment with the MFAH for employees in a benefit eligible status. Several programs are available, including:
Medical Insurance: Employee and dependent coverage through a choice of managed health care programs
Dental Insurance: Employee and dependent coverage through two plan choices
Vision Insurance: Employee and dependent coverage through a vision program
Life Insurance & AD&D: Employee coverage at no cost to the employee
Long Term Disability: Employee coverage at no cost to the employee
For machine-readable files of in-network provider rates and out-of-network allowed amounts and billed charges for covered items and services under our employee medical program, visit Aetna Life/Coventry - Machine Readable Files.
Time Off
The MFAH provides a generous schedule for time off to eligible employees under the following benefit categories:
Paid Time Off: Used for absences from work such as vacation, illness of short duration, and personal reasons. Hours are accrued biweekly, based on employment status, length of service, and hours worked
Reserve Time Off: Used for extended illnesses. Employees accrue up to 6 days per year, up to a maximum of 120 days
Holidays: Full-time employees receive 10 paid holidays per year

Volunteer Time Off: The MFAH supports activities that enhance and serve the communities in which we live and work. Employees receive up to 40 hours of paid time off annually to give back and volunteer.
Retirement Options
Employees may contribute to the MFAH Retirement Savings Plan. Eligible employees contributing to the plan may receive up to a 5% matching contribution from the MFAH after one year of service.
Other Benefits
The MFAH offers a variety of discounts and benefits, including:
MFAH Membership: Employees receive a free Family-level membership
Discounts: Employees receive discounts on purchases at the Museum shop and café, and at the Glassell School of Art
The Museum of Fine Arts, Houston, is an E-Verify participant.
To learn more:
English > E-Verify Right to Work
Spanish > E-Verify Right to Work