I Too, We Two!—The Ensemble Theatre and the MFAH
---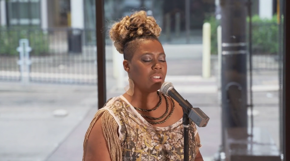 During Black History Month 2021, the MFAH and the Ensemble Theatre present "I Too, We Two!" These virtual experiences—dance, music, spoken-word performances, interviews, and more—are inspired by African American artists whose work is on view in the Museum's Nancy and Rich Kinder Building.
Explore the themes, subject matter, and style of these works of art through the literary and performing arts. The title "I Too, We Two!" acknowledges the collaborative spirit between the Ensemble Theatre and the Museum of Fine Arts, Houston, and also references the Ensemble Theatre's virtual production I, Too, Am America.
Dance
Tiara Blake and Loren Holmes perform a dance honoring the resilience and joie de vivre of their ancestors despite the suffering and injustices endured simply because of being African American. The dance takes place in front of Kara Walker's Slaughter of the Innocents (They Might Be Guilty of Something).
Interview with Tiara Blake

Interview with Loren Holmes



Music
Singer Teacake Ferguson and saxophonist Kyle Turner draw inspiration from John Biggers's The Cradle and Jacob Lawrence's The Brown Angel for this performance of Sam Cooke's "A Change is Gonna Come."
Interview with Teacake Ferguson

Interview with Kyle Turner



Spoken Word
Outspoken Bean presents poems inspired by the writings of Langston Hughes and by Fahamu Pecou's painting American Dream'n.
Interview with Outspoken Bean



Collaboration Conversation
Find out more about the collaboration! This conversation takes you behind the scenes with Ensemble Theatre artistic director Eileen Morris and associate artistic director Rachel Dickson; and MFAH community engagement manager Lourdes Remond.

Clockwise from top left: Lourdes Remond, Rachel Dickson, Eileen Morris.
Virtual Learning & Interpretation programs are generously underwritten by the Jerold B. Katz Foundation.