The Andrew W. Mellon Undergraduate Curatorial Fellowship Program
The Andrew W. Mellon Undergraduate Curatorial Fellowship Program
Program Overview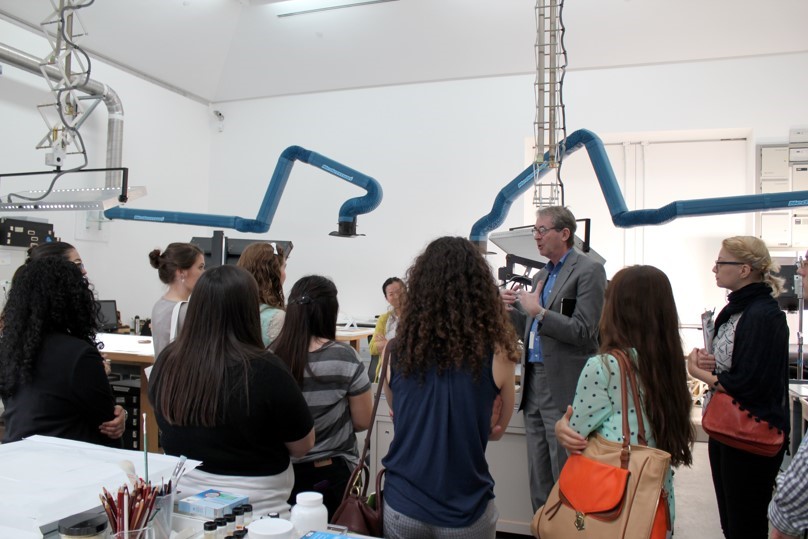 The Andrew W. Mellon Undergraduate Curatorial Fellowship Program and Summer Academy aim to provide specialized training for students from across the United States from groups historically underrepresented in the curatorial field and who support the goal of promoting inclusive, pluralistic museums.
These programs seek to make a critical impact on American art museums by developing gifted curators who are committed to engaging with the full spectrum of museum audiences. The Andrew W. Mellon Foundation published the Art Museum Staff Demographic Survey in July 2015 that addresses the pilot phase of this program in detail and identifies the need for a diverse education pipeline into the curatorial field.
The program takes place at six partnering institutions, each with a world-class, encyclopedic collection that represents the artistic production of human culture. The partnering museums include the Art Institute of Chicago; the High Museum of Art in Atlanta; the Los Angeles County Museum of Art; the Museum of Fine Arts, Houston; the Nelson-Atkins Museum of Art, Kansas City; and the Philadelphia Museum of Art.
We are pleased to announce an additional five year grant to continue the Andrew W. Mellon Undergraduate Curatorial Fellowship program, supporting an additional 36 fellows nationwide following Summer Academies offered at each partner museum in 2018, 2019, and 2020. For more information about the continuation and expansion of the program, see the press release.
Mellon Undergraduate Curatorial Fellows at the MFAH
Mellon Curatorial Fellows participate in a two-year program that provides hands-on experience inside a museum setting, such as working with curatorial mentors and staff on exhibitions, collections, and programs. Mentors work with students to enrich the academic experience and to increase exposure to the museum environment while broadening the students' understanding of art and art history. Designed as a series of ongoing summer internships at the museum, followed by continued engagement during the academic school year, the program provides curatorial mentors and a stipend to the fellows.
| | | |
| --- | --- | --- |
| | | Courtney Khim is a fourth-year student attending the University of Houston and is majoring in art with a double minor in art history and German. Khim has contributed to the work and mission of collections and art galleries in the city of Houston: she currently interns and is also a docent for the curatorial department of Blaffer Art Museum, the contemporary art museum of the University of Houston; she serves as social coordinator and community organizer for the Blaffer Art Museum Student Association (BAMSA); and she was an art administration intern at DiverseWorks, a nonprofit arts organization that supports new and daring art through innovative collaboration. Her practice as an art student focuses on color theory and identity through mixed-media painting. As a fellow, Khim seeks to continue pursuing her passion for contemporary art while further developing her practice as an artist and curator. Her curatorial mentors are Alison de Lima Greene, Isabel Brown Wilson Curator, department of modern and contemporary art, and Kanitra Fletcher, assistant curator, modern and contemporary art. |
| | | Avani Sastry is a second-year student majoring in art history and history at Trinity University in San Antonio. Before discovering her passion for art history and the curatorial field, Sastry explored a wide range of fields, from plant biology research at the University of Texas, to reviewing films for the Austin Film Festival, to interning at the creative writing education nonprofit Gemini Ink. As a Mellon Fellow, Sastry is interested in applying her diverse experiences to her curatorial practice while pursuing her passion for modern and contemporary South Asian art, with an emphasis on post-colonialism, the desi diaspora, and issues of gender and sexuality. Her curatorial mentor is Bradley Bailey, Ting Tsung and Wei Fong Chao Curator of Asian art. |