The Andrew W. Mellon Undergraduate Curatorial Fellowship Program
The Andrew W. Mellon Undergraduate Curatorial Fellowship Program
Program Overview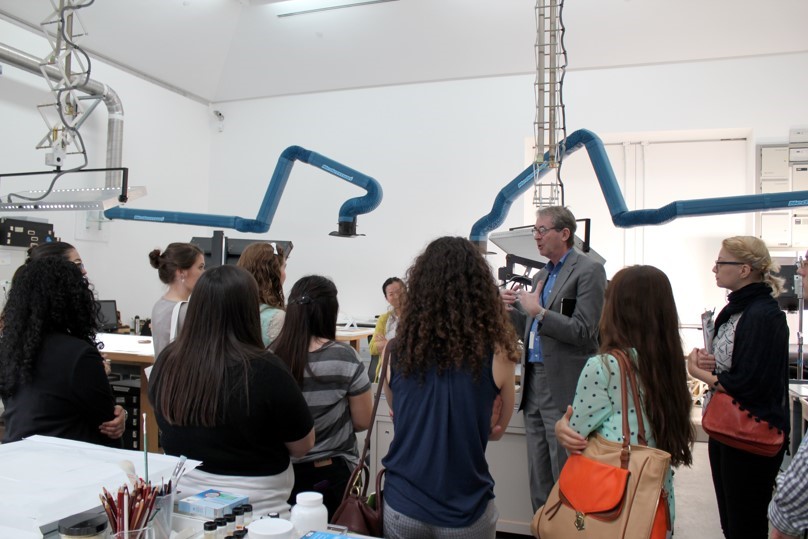 The Andrew W. Mellon Undergraduate Curatorial Fellowship Program and Summer Academy aim to provide specialized training for students from across the United States from groups historically underrepresented in the curatorial field and who support the goal of promoting inclusive, pluralistic museums.
These programs seek to make a critical impact on American art museums by developing gifted curators who are committed to engaging with the full spectrum of museum audiences. The Andrew W. Mellon Foundation published the Art Museum Staff Demographic Survey in July 2015 that addresses the pilot phase of this program in detail and identifies the need for a diverse education pipeline into the curatorial field.
The program takes place at six partnering institutions, each with a world-class, encyclopedic collection that represents the artistic production of human culture. The partnering museums include the Art Institute of Chicago; the High Museum of Art in Atlanta; the Los Angeles County Museum of Art; the Museum of Fine Arts, Houston; the Nelson-Atkins Museum of Art, Kansas City; and the Philadelphia Museum of Art.
We are pleased to announce an additional five year grant to continue the Andrew W. Mellon Undergraduate Curatorial Fellowship program, supporting an additional 36 fellows nationwide following Summer Academies offered at each partner museum in 2018, 2019, and 2020. For more information about the continuation and expansion of the program, see the press release.
2018 Mellon Summer Academy: Call for Applications
► The 2018 Mellon Summer Academy at the MFAH takes place June 3–9.
Application Deadline: Extended to Friday, March 16, 2018
Have you ever wondered how exhibitions are created? Or what skills are necessary to work in a museum? Are you curious to learn more about what a curator does? If you answered YES to any of these questions, then apply to the Summer Academy!
The Summer Academy is a one-week intensive program consisting of:
• Behind-the-scenes art museum tours
• Workshops with art museum professionals
• Tours of exhibitions with MFAH curators
• Conversations with artists, art historians, and collectors
• Networking events with art museum professionals

Fifteen students are selected to participate in the 2018 Mellon Summer Academy at the MFAH. Accommodations, lunches, program supplies, and a per diem of $350 ($50/day) are provided to participating students. Upon completion of the Summer Academy, two participants are selected as Mellon Undergraduate Curatorial Fellows.
Questions? See Frequently Asked Questions or email fellowship@mfah.org.
Mellon Undergraduate Curatorial Fellows at the MFAH
Mellon Curatorial Fellows participate in a two-year program that provides hands-on experience inside a museum setting, such as working with curatorial mentors and staff on exhibitions, collections, and programs. Mentors work with students to enrich the academic experience and to increase exposure to the museum environment while broadening the students' understanding of art and art history. Designed as a series of ongoing summer internships at the museum, followed by continued engagement during the academic school year, the program provides curatorial mentors and a stipend to the fellows.
| | | |
| --- | --- | --- |
| | | Amarie Gipson attends St. Edward's University in Austin and is majoring in liberal studies with a concentration in art, art history, and philosophy. An independent curator, she interns at Pump Project Art Complex, a nonprofit art space in East Austin that provides studios and gallery facilities to emerging and established artists. There, she curated Femme National(e), a multimedia group exhibition of contemporary women artists. Gipson served as a research assistant for Amy Nathan Wright's American Dilemmas course, investigating issues such as race, gender, and class. As a fellow, Gipson seeks to continue pursuing her passion for African American contemporary art while further developing her practice as a curator and scholar. Her curatorial mentor at the MFAH is Dena Woodall, associate curator of prints and drawings. |
| | | Celia Shaheen attends the Unviersity of Texas at Austin and is double-majoring in art history and studio art with an interdisciplinary concentration in museum studies. As a fellow, Shaheen continues tp pursue her interests in museum collections, archives, and curatorial practice, with emphasis on exhibiting the work of a more diversified body of artists in museums. Shaheen has contributed to the work and mission of collections and art galleries at the University of Texas: she served as a junior curatorial officer for the Center Space Project, a student-run organization at the Visual Art Center; she was a preservation guild intern for the Landmarks public-art program; and she is a senior student assistant at the Harry Ransom Center for the Gabriel García Márquez online archive. Her practice as a studio art student focuses on photography and printmaking, and she is interested in bridging her studio practice and curatorial research at the MFAH. Her curatorial mentor is Malcolm Daniel, Gus and Lyndall Wortham Curator, Department of Photography. |