Oscar de la Renta Exhibition Opens in October at the Museum of Fine Arts, Houston
---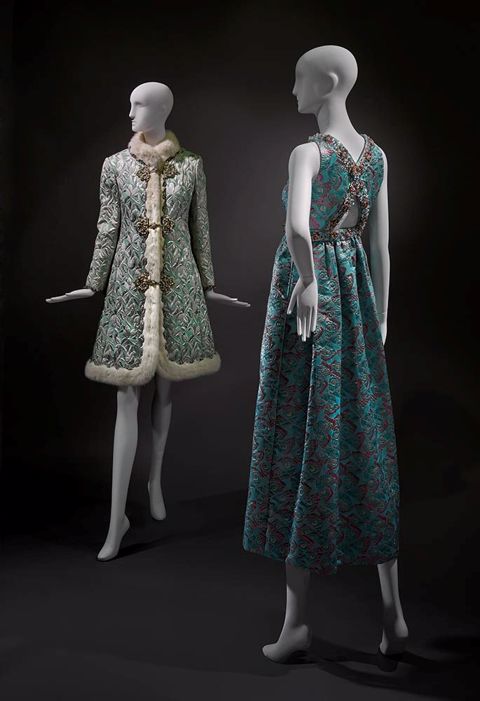 Nearly 70 ensembles by the renowned fashion designer on view in "The Glamour and Romance of Oscar de la Renta"
HOUSTON—August 22, 2017—On October 8, the Museum of Fine Arts, Houston, opens The Glamour and Romance of Oscar de la Renta, an exhibition celebrating the illustrious life and career of the influential fashion designer. Presented in collaboration with Oscar de la Renta, LLC, the exhibition features nearly 70 ensembles sourced from de la Renta's corporate and personal archives, the archives of French label Pierre Balmain, private lenders, and the collection of the MFAH. On view from October 8, 2017, to January 28, 2018, the exhibition is curated by André Leon Talley, former American editor-at-large for Vogue magazine and lifelong friend of the designer, in collaboration with Cindi Strauss, Sara and Bill Morgan Curator of Decorative Arts, Craft and Design at the MFAH, with assistance by fashion historians Molly Sorkin and Jennifer Park.
From the start of his award-winning career, which spanned more than five decades and two continents, Oscar de la Renta set out to design beautiful clothes for every occasion in a woman's life. The Glamour and Romance of Oscar de la Renta highlights recurring themes throughout his career, including the significant impact of Spain, Russia, China, Japan, and the garden on his designs. Displayed along with paintings and decorative arts from the collection of the MFAH, the creations on view offer a window into de la Renta's world through a range of looks, from elegant daywear to resplendent evening gowns.
"The exquisite designs on view demonstrate Oscar de la Renta's innate talent, and the ability of his creative vision, drawn from rich and complex cultures around the world, to transcend well beyond the world of fashion," commented Gary Tinterow, director of the Museum of Fine Arts, Houston. "We're proud to partner with Oscar de la Renta, LLC to present these extraordinary creations this fall."
"We are honored that the Museum of Fine Arts, Houston, is mounting a full-scale exhibition of Oscar's work," said Alex Bolen, CEO of Oscar de la Renta, LLC. "The Museum's incredible collection, augmented by loans from around the world and open access to our extensive archives, curated by Oscar's dear friend André Leon Talley, will showcase Oscar's extraordinary contribution to the world of fashion."
Exhibition Overview
The ensembles on view are organized into four thematic sections, each enriched by a variety of visual assets, including images of de la Renta's private gardens in Connecticut. Paintings and decorative arts from the Museum's collection provide additional context for the artistic and cultural influences prevalent throughout the designs on display.
Spain
The exhibition opens with a look into one of the most significant influences on de la Renta's oeuvre: Spain, the country where he launched his career. After arriving in Madrid, in 1951, de la Renta was hired by the legendary couturier Cristobal Balenciaga, who was similarly inspired by the spectacle and pageantry of Spanish culture. De la Renta's experience of Spanish artists, bullfights, flamenco dance, and festive celebrations informed the silhouettes, ornamentation, and palette of his collections, showcased in this section by ensembles featuring elaborate tassels, embroidery, and cascading ruffles.
The East
The next section explores the influence of the geographical region spanning the Middle East to the Far East—including Russia, North Africa, and Turkey—on de la Renta's designs. Some of de la Renta's most romantic collections were created with this region in mind, represented here by silk ensembles, caftans, and harem pants, alongside Russian-inspired garments with luxurious furs, ornate textiles, and jeweled appliqué.
Garden
Another of de la Renta's lifelong passions was the garden, as explored in this next section. De la Renta cultivated an interest in all things horticultural from a young age on the grounds of his childhood home in the Dominican Republic, and later in life, through the formal gardens of his Connecticut residence. Vibrant colors, delicately applied flowers, floral-printed silk taffetas, and full skirts evoking petals in bloom reflect the infusion of botanical themes throughout his work. De la Renta was also inspired by the 18th-century silhouettes, patterns, and colors worn by Queen of France Marie-Antoinette as reflected in the daywear and gowns on display.
Icons
For decades, women around the world have chosen de la Renta's designs for their most celebrated and cherished occasions, from presidential dinners and award shows to weddings and fundraising galas. The exhibition culminates in a display of de la Renta's technical mastery of dressmaking, fully demonstrated by ready-to-wear and custom couture creations alike. Viewers can see gowns once worn by dignitaries, celebrities, and philanthropists, including Penelope Cruz, Kirsten Dunst, Karlie Kloss, Laura Bush, and Lynn Wyatt.
About Oscar de la Renta
Oscar de la Renta (1932–2014) began his career in the early 1950s as an apprentice to the renowned Spanish couturier Cristóbal Balenciaga. In 1961, he left Madrid to join Antonio del Castillo in Paris as an assistant in the couture department of Lanvin. Shortly after, he relocated to New York, establishing his own eponymous label in 1965. Lauded by fashion press, he quickly gained prominence on the international fashion scene. Still considered among the world's greatest fashion designers, de la Renta created award-winning ready-to-wear and evening wear for customers ranging from everyday women to first ladies and celebrities. In 1992, de la Renta became a designer for French label Pierre Balmain. He was the first American designer to helm a French couture house, a position he held until 2002.
Organization
This exhibition is organized by the Museum of Fine Arts, Houston, with the collaboration of Oscar de la Renta, LLC.
Lead Sponsors:
| | |
| --- | --- |
| Cherie and Jim Flores | |
With additional generous funding from:
Mr. and Mrs. Russell M. Frankel
Carol and Mike Linn
Hallie Vanderhider
Rosanette and Harry Cullen
Vivian L. Smith Foundation
Russell Reynolds Associates
Official Promotional Partner:
About the Museum of Fine Arts, Houston
Established in 1900, the Museum of Fine Arts, Houston, is among the 10 largest art museums in the United States, with an encyclopedic collection of more than 65,000 works dating from antiquity to the present. The main campus comprises the Audrey Jones Beck Building, designed by Rafael Moneo and opened in 2000; the Caroline Wiess Law Building, originally designed by William Ward Watkin, with extensions by Ludwig Mies van der Rohe completed in 1958 and 1974; and the Lillie and Hugh Roy Cullen Sculpture Garden, designed by Isamu Noguchi and opened in 1986. Additional spaces include a repertory cinema, two libraries, public archives, and facilities for conservation and storage. Nearby, two house museums—Bayou Bend Collection and Gardens, and Rienzi—present American and European decorative arts. The MFAH is also home to the Glassell School of Art and its acclaimed Core Residency Program and Junior and Studio Schools; and the International Center for the Arts of the Americas (ICAA), a leading research institute for 20th-century Latin American and Latino art.
Press Contact
Laine Lieberman, publicist
713.639.7516 | llieberman@mfah.org