MFAH Director Gary Tinterow will be joined by artists Mike and Doug Starn for "Conversations with the Director" on Thursday, June 7
---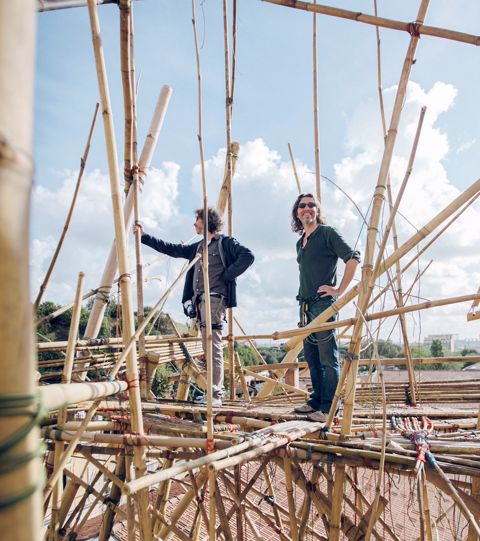 What
On the evening of Thursday, June 7, artists Mike and Doug Starn join Gary Tinterow, director of the Museum of Fine Arts, Houston, for a conversation about the artists' decades-long career, culminating in the Museum's summer exhibition Mike + Doug Starn: Big Bambú, on view June 10–September 3, 2018. This is the latest event in the ongoing "Conversations with the Director" series, where Tinterow engages an eclectic roster of guests in one-on-one conversations about the arts.
When
Thursday, June 7, 2018, at 6:30 p.m.
Where
The Museum of Fine Arts, Houston
Brown Auditorium Theater / The Caroline Wiess Law Building
1001 Bissonnet Street
Admission
Tickets are $15 for students, $25 for MFAH members, and $35 for the general public. Tickets are on sale now and available on a first-come, first-served basis online at mfah.org/conversations or on site at any Museum admissions desk.
About Mike and Doug Starn
Speaker Mike and Doug Starn, brothers and collaborators, first received critical acclaim in the mid-1980s for their conceptual and physical approach to photography. Their practice became increasingly interdisciplinary, incorporating photography, video, painting, sculpture, furniture design, and architecture. Their first museum showing was at the 1987 Whitney Biennial, and they have since been featured in exhibitions worldwide. Among their most recent commissions are a monumental glass and metal sculpture on the plaza of the Princeton University Art Museum and a 90-foot-long glass wall façade for the U.S. Embassy in Moscow.
Funding
Learning and Interpretation programs receive generous funding from Melvyn and Cyvia Wolff; MD Anderson Cancer Center; Mitra Mujica-Margolis and Michael Margolis; the Sterling-Turner Foundation; Institute of Museum and Library Services; Houston Junior Woman's Club; Mercantil Bank; Mr. William J. Hill; The Windgate Charitable Foundation; The Brown Foundation, Inc.; Sharon G. Dies; The Powell Foundation; and the Susan Vaughan Foundation.
Media Contact
Sarah Hobson, publicist
713.800.5345 / shobson@mfah.org