"Gordon Parks: Stokely Carmichael and Black Power" Opens in October at the Museum of Fine Arts, Houston
---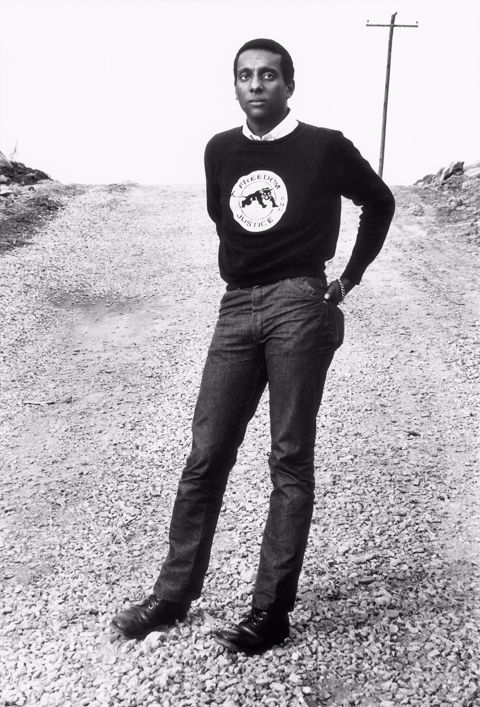 The MFAH exhibition centers on Gordon Parks's five iconic images of controversial young activist Stokely Carmichael, published in Life magazine in May 1967
Organized with the Gordon Parks Foundation, the show presents dozens more photographs from Parks's series that have never before been published or exhibited
HOUSTON—MAY 19, 2022—Fifty-five years ago today, Life magazine published photographer Gordon Parks's groundbreaking images and profile of Stokely Carmichael, the young and controversial civil-rights leader who, as chairman of the Student Nonviolent Coordinating Committee, issued the call for Black Power in a speech in Mississippi in June 1966, eliciting national headlines, and media backlash. On the road with Carmichael and the SNCC that fall and into the spring of 1967, Parks took more than 700 photographs as Carmichael addressed Vietnam War protesters outside the U.N. building in New York, with Martin Luther King, Jr.; spoke with supporters in a Los Angeles living room; went door to door in Alabama registering Black citizens to vote; and officiated at his sister's wedding in the Bronx. In Parks's finely drawn sketch of a charismatic leader and his movement, Parks, the first Black staff member at Life, reveals his own advo­cacy of Black Power and its message of self-determination.
On view only at the Museum of Fine Arts, Houston (October 16, 2022, to January 16, 2023), the exhibition Gordon Parks: Stokely Carmichael and Black Power will present the five images from Parks's 1967 Life article, in the context of nearly 50 additional photographs and contact sheets that have never before been published or exhibited, as well as footage of Carmichael's speeches and interviews.
"Extending the Museum's commitment to photography from the civil-rights era, and following our presentation of the exhibition Soul of a Nation in 2020, which included Gordon Parks's famous 1942 American Gothic, I am very pleased that we are able to present Parks's landmark project for Life magazine, in collaboration with the Gordon Parks Foundation," commented Gary Tinterow, Director and Margaret Alkek Williams Chair of the MFAH. "Parks is well known as one of America's most important 20th-century photographers; this exhibition will further illuminate his accomplishments as a writer and journalist, as well."
Commented Lisa Volpe, exhibition curator and MFAH curator of photography, "Gordon Parks's portrayal of Stokely Carmichael illustrates Parks's unmatched talent in producing illuminating and sensitive profiles. Through dynamic photographs and a personal text, he sketches both his subject and the complexities and tensions inherent in the ongoing struggle for civil rights. It is as relevant to our current moment as it was to Life's readers in 1967. I am grateful to the Gordon Parks Foundation for the opportunity to present these never-before-seen works and to celebrate Parks's legacy."
Exhibition Background
Parks met Stokely Carmichael (later, Kwame Ture) in September 1966, as Carmichael's rallying cry for "Black Power" was grabbing national attention. Parks was a prominent contributor to Life magazine, photographing and writing essays that chronicled, with his characteristic humanity, Benedictine monks and Black Muslims; a Harlem family and a teenage gang member. Carmichael, then 25 and a recent graduate with a philosophy degree from Howard University, was consistently in the news, whether publishing his own writing in the New York Review of Books or being profiled in Esquire and Look magazines.
As chair of the Student Nonviolent Coordinating Committee (SNCC), Carmichael was the figure most identified with the call for Black Power, and was routinely depicted as a representative of anger and separatism. But Parks's text and photo essay for Life, "Whip of Black Power," conveyed the nuanced range of Carmichael as a person—not only his anger at America's deeply rooted racism, but his self-effacing humor, his private moments with family, and his own feelings of dismay that the justice he and the movement sought would not be attained in his lifetime—all part of a "truth," as Parks described, "the kind that comes through looking and listening."
Exhibition Organization and Catalogue
This exhibition is organized by the Museum of Fine Arts, Houston, in collaboration with the Gordon Parks Foundation.
Generous support for the exhibition and opening celebration provided by:
Anne Levy Charitable Trust/Jean Karotkin
Dr. Ruth Simmons
Drs. Jakeen and Garfield Johnson
Simin and Gaurdie Banister
Drs. Annette and Anthony Brissett/Nicholas Stuart and Zsavon Butler
DIR Inc./Drs. Russell H. and Rosalind C. Jackson
Wendy and Mavis Kelsey/Fan and Peter Morris
Karen and Ramon Manning
Merinda Watkins-Martin and Reginald Martin
The accompanying catalogue, Gordon Parks: Stokely Carmichael and Black Power, published by Steidl, explores Parks's groundbreaking presentation of Carmichael, and provides detailed analysis of Parks's images and accompanying text. The book is the latest installment in a series that highlights Parks's bodies of work throughout his career, published by the Gordon Parks Foundation and Steidl. Essays by Lisa Volpe, MFAH associate curator of photography, and Cedric Johnson, professor of African American studies and political science at the University of Illinois at Chicago, shed critical new light on the subject: Volpe explores Parks's nuanced understanding of the movement and its image, and Johnson frames Black Power within the heightened social and political moment of the late 1960s. Carmichael's September 1966 essay in the New York Review of Books, "What We Want," is reproduced in the book.
Gordon Parks
Parks (1912–2006) was one of the 20th century's preeminent American photographers. Beginning in the 1940s and through the early 2000s, he created work that focused on social justice, race relations, the civil-rights movement, and the African American experience. Born into poverty and segregation in Fort Scott, Kansas, Parks won a Julius Rosenwald Fund fellowship in 1942, and went on to create groundbreaking work for the Farm Security Administration and magazines such as Ebony, Vogue, and Life, where he was staff photographer for more than two decades. Beyond his work in photography, Parks was a respected film director, composer, memoirist, novelist, and poet.
Stokely Carmichael
Carmichael (1941–1998) was born in Trinidad; he moved to New York City's Harlem neighborhood when he was 11 and became a naturalized U.S. citizen two years later. An effortless orator, a brilliant student, and a captivating leader, Carmichael found his calling as an activist. While an undergraduate at Howard University, he joined the Freedom Riders on several trips. After graduation, he was a field organizer for the Student Nonviolent Coordinating Committee (SNCC) and became national chairman in 1966. Carmichael heralded a new chapter in the civil-rights movement when he called for Black Power. In 1969 he moved to Conakry, Guinea, where, having adopted the name Kwame Ture, he dedicated his work to Pan-Africanism and liberation movements worldwide.
The Gordon Parks Foundation
The Foundation permanently preserves the work of Gordon Parks; makes it available to the public through exhibitions, books, and digital media; and supports artistic and educational activities that advance what Parks described as "the common search for a better life and a better world."
The Museum of Fine Arts, Houston
Spanning 14 acres in the heart of Houston's Museum District, the main campus comprises the Audrey Jones Beck Building, the Caroline Wiess Law Building, the Lillie and Hugh Roy Cullen Sculpture Garden, and the Nancy and Rich Kinder Building. Nearby, two house museums—Bayou Bend Collection and Gardens, and Rienzi—present collections of American and European decorative arts.
The MFAH is also home to the Glassell School of Art, with its Core Residency Program and Junior and Studio schools; and the International Center for the Arts of the Americas (ICAA), a leading research institute for 20th-century Latin American and Latino art. Additional resources include a repertory cinema; two significant research libraries: the Hirsch Library and the Powell Library and Study Center at Bayou Bend; public archives; a conservation studio; and an off-site storage facility.
The MFAH collections include in-depth holdings of Pre-Columbian and African gold, American art, European paintings, and distinguished international collections of modern and contemporary art. Particular strengths are in postwar American painting; postwar Latin American art, with a focus on Concrete and Constructive art from Brazil, Argentina, and Venezuela, as well as contemporary photo-based work and large-scale installations; international photography, with notable concentrations in Japanese, Latin American, and Central European photography as well as American and Western European; prints and drawings, including the entire 1980–1994 archive portfolio of Peter Blum Editions; and international decorative arts, craft, and design, in particular contemporary.
Media Contact
Melanie Fahey, Senior Publicist
mfahey@mfah.org | 713.800.5345