"Adios Utopia: Dreams and Deceptions in Cuban Art Since 1950" Opens This March, in Houston
---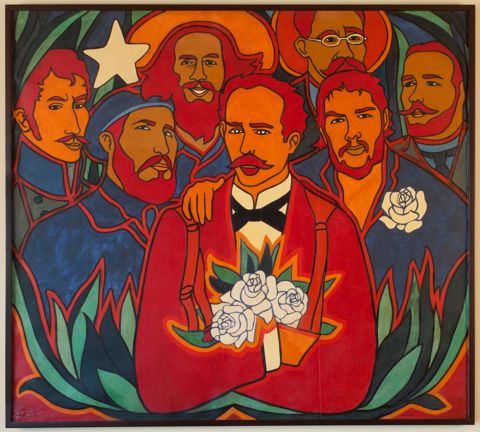 The landmark exhibition debuts at the Museum of Fine Arts, Houston, before traveling to the Walker Art Center, Minneapolis in November 2017
HOUSTON—February 2, 2017—On March 5, the Museum of Fine Arts, Houston, debuts Adiós Utopia: Dreams and Deceptions in Cuban Art Since 1950 .The landmark exhibition of Cuban art is a project conceived by the Cisneros Fontanals Fundación Para Las Artes (CIFO Europa) and The Cisneros Fontanals Arts Foundation, CIFO USA. The exhibition is organized in partnership with the Museum of Fine Arts, Houston, and the Walker Art Center, Minneapolis. Featuring more than 100 of the most important works of painting, graphic design, photography, video, installation, and performance created by Cuban artists and designers over the past six decades, Adiós Utopia looks at how Cuba's revolutionary aspirations for social utopia—and subsequent disillusionment—shaped nearly 60 years of Cuban art.
With Cuban art increasingly visible in the United States and abroad, Adiós Utopia provides an unprecedented context for understanding the recent surge of interest in the art of Cuba around improved US/Cuba relations. Rather than offer a historical survey, the exhibition presents a thematic narrative focused on Cuba's utopian aspirations and failures. It focuses on the experiences of Cuban artists who lived and trained on the island, examining how they commented on and confronted the social and political programs set in motion by the Cuban Revolution through pivotal artistic movements from the 1960s to the 1990s. The narrative also provides access, in some cases for the first time, to the work of avant-garde pioneers of the 1950s, 60s, and 70s that continues to influence Cuban artists.
Conceived by CIFO Europa, the exhibition is curated by Cuban independent curators Gerardo Mosquera, René Francisco Rodríguez, and Elsa Vega. Museum advisors on the project are Olga Viso, executive director at the Walker Art Center; and Mari Carmen Ramírez, the Wortham Curator of Latin American Art at the MFAH, who organized the U.S. tour.
Exhibition Overview
Abstraction: Universalism and Artistic Language
Adiós Utopia opens with an introduction to Cuba's lesser-known "Concrete" art movement. Artists Sandú Darié, Loló Soldevilla, and others in the 1950s sought to establish an avant-garde art group to introduce a universal approach to art, following a spirit of modernization. These artists engaged with Constructivist counterparts abroad, abandoning representational art in favor of using line, color, and form as autonomous elements in their work. This is evident in Soldevilla's geometric reliefs of the 1950s, Darié's Pintura transformable [Transformable painting] (c.1950), and Mario Carreño's Sin título [Untitled] (1954). More recent works—such as Yaima Carranza's "Malevich," de la serie "Tutoriales de esmalte de uñas" ["Malevich," from the series "Nail Polish Tutorials"] (2010), which transposes 20th-century compositions by Russian artist Kazimir Malevich into nail-polish patterns—turn a critical eye toward the gaps between revolutionary ideals and reality.
Cult and Destruction of the Revolutionary Nation
The next section traces the development of Cuba's revolutionary icons—including the Cuban flag, national leaders and rebel soldiers—from their origin in the 1960s to their various re-interpretations throughout the decades. Historical photographs by Alberto Korda, Raúl Corrales, and other major documentarians of the 1960s are brought into dialogue with monumental paintings, video, and sculpture, by key artists such as Servando Cabrera Moreno and his dramatizations of peasants and workers in his painting Rebeldes de la Sierra [Rebels of the Sierra] (1961) and Raúl Martínez with his serialized portraits of political leaders in the painting Rosas y Estrellas [Roses and Stars] (1972). Contemporary reinterpretations of national iconography include Tania Bruguera's "Estadística," de la serie "Memoria de la postguerra" ["Statistics," from the series "Memory of the Post-War Era"] (1995–2000)—a Cuban flag made of bundles of hair sourced from her neighbors and friends—and Tomás Esson's Bandera cubana [Cuban Flag] (1990), which depicts the flag as a sinuous, physical body. Also on view in these galleries are key works from the 1980s generation of artists who pioneered a new, more conceptually focused Cuban art (Nuevo Arte Cubano), characterized by the successful merging of revolutionary imagery with references to highly personal topics based on their experience of Cuban social and political reality. Most notably, this includes Juan Francisco Elso's For America (José Martí) (1986), a wooden sculpture that presents 19th-century revolutionary leader José Martí as a religious martyr.
Poster Art
One of the strongest visual elements of the Cuban Revolution remained its extensive use of posters to promote political ideals, cultural events, and solidarity with struggles for independence in Asia, Africa, and Latin America. Not merely used as tools for propaganda, Cuban posters became international reference points for innovations in graphic design and political messaging. In this section, a selection of approximately 50 posters that defined the so-called "Golden Age" of Cuban poster design (from 1960 to 1972) are represented, with subject matter ranging from political figures to cultural events involving music, literature, and cinema. Well-known posters designed by Olivio Martínez, Antonio Fernández Reboiro, and Alfredo Gonzaléz Rostgaard, among others, are included.
The Imposition of Words: Discourse, Rhetoric, and Media Controls
This group of works focuses on the role of speech and discourse in shaping revolutionary ideology, as well as themes of censorship and media controls. Opus (2005), a video installation by José Ángel Toirac featuring sound clips of Fidel Castro delivering elaborate statistics, opens this section. Other large installations, including Glexis Novoa's Sin título (de la Etapa Práctica) [Untitled, from the Practical Stage] (1989), continue to explore the ways that rhetoric and language have defined Cuban art and national identity. Iconic works like Él hace puf [He goes puf] (1967) and Tú haces plaff [You go plaf] (1967) by Umberto Peña and La Bola o el Discurso (1989) by Tomás Esson use the mouth and tongue as metaphors for addressing the limits on social customs in Cuban society. This section also focuses on the influential work of Santiago "Chago" Armada, a political cartoonist of the 1960s whose work was intermittently censored on several occasions by the Cuban government.
Sea, Borders, Exile
From 1959 onward, the waters surrounding Cuba acted as both a gateway to the rest of the world and as a barrier to insulate the country from external influences. This section of the exhibition focuses on territorial tensions—specifically between Cuba and the United States—and mass migrations as represented by the sea. Many of the works included relate to the humanitarian crises in the 1990s, when the collapse of the Soviet Union left the island without its key trade partner. Tonel's well-known installation El bloqueo [The blockade] (1989) sets the tone for this gallery, featuring a set of cinder blocks set in the shape of Cuba, the layout giving the impression of an island at risk of sinking. Photographs by Manuel Piña and José Figueroa round out the presentation, providing dramatic documentation of Cubans as they sought to escape the island.
Lost Illusions and Inverted Utopia
Though the Cuban Revolution sought to create a new, utopian social order, reality was often characterized by paradox, strife, and disillusionment. The final section of Adiós Utopia presents works created over the past 40 years that chart the unraveling of the utopian dream. In Jeanette Chavez's video performance Autocensura [Self-censorship] (2006), the artist methodically ties knots of string tightly around her own tongue. Photographic works from Ricardo Elías's Oro Seco [Dry Gold] series (2005–09) document the decay of the factories and transportation systems that upheld Cuba's once profitable sugar industry, while Yoan Capote's Stress (in memoriam) (2004–12) sandwiches hundreds of human teeth between two concrete blocks to suggest the teeth-gritting stress of everyday life in Cuba. In the final gallery of the exhibition, visitors experience two haunting works, both created by the artist collective Los Carpinteros. Conga irreversible [Irreversible conga] (2012), a video of a performance piece staged during the 2012 Havana Bienal, shows a traditional Cuban street procession performed in reverse; the marchers and the crowds who blindly follow are a metaphor for the uncertainty of the country's future. The collective's sculptural piece, Faro tumblado [Felled lighthouse] (2006), recalls the iconic lighthouse of the Morro Castle in Havana, a prominent feature of the cityscape and a national monument. Here, the icon is laid on its side, questioning its function as a guiding light.
Publication
A related, comprehensive book by The Cisneros Fontanals Art Foundation (CIFO) entitled Adiós Utopia: Art in Cuba Since 1950, published in both English and Spanish, will accompany the exhibition at all its venues. The book includes a selection of images of emblematic works that go beyond the ones featured in the show. With essays by Antonio Eligio (Tonel), Rachel Weiss, Iván de la Nuez, Elsa Vega, Gerardo Mosquera, and René Francisco as well as a comprehensive chronology by Beatriz Gago Rodríguez, the book focuses on the evolution of the utopian concept and ideologies within revolutionary and post-revolutionary artistic production on the Island. Whether artists were supported, controlled, suppressed or embraced by the political environment in Cuba, the ideas expressed throughout the essays present alternative perspectives from today's standpoint. The chronology creates a frame of reference by bringing light to the events that have influenced and transformed the art of the last 65 years by creating an illustrated narrative that includes historical photographs, archival documents, and images of artwork and publications that have symbolic value and have become part of an iconography of Cuban art and culture.
Exhibition Dates
The Museum of Fine Arts, Houston: March 5–May 21, 2017
Walker Art Center, Minneapolis: November 11, 2017–March 18, 2018
Organization & Funding
Adiós Utopia: Dreams and Deceptions in Cuban Art Since 1950 is a project conceived by the Cisneros Fontanals Fundación Para Las Artes (CIFO Europa) and The Cisneros Fontanals Art Foundation, CIFO USA. The exhibition is organized in partnership with the Museum of Fine Arts, Houston, and the Walker Art Center, Minneapolis. The exhibition is made possible in part by a major grant from the National Endowment for the Humanities: Exploring the human endeavor.


Major support for the exhibition is provided by the Ford Foundation; The Diane and Bruce Halle Foundation and the Andy Warhol Foundation for the Visual Arts. This project is supported in part by an award from the National Endowment for the Arts. Additional generous support is provided by Ella Fontanals-Cisneros.
In Houston, additional generous support is provided by:
Baker McKenzie
Project Team
Organizing Curators, Havana
Gerardo Mosquera, independent curator
Mosquera is a noted curator, critic, art historian, and writer. He was one of the founding organizers of the first Bienal de la Habana, in 1984, and the Wifredo Lam Center in Havana. From 1995 to 2009 he was adjunct curator at the New Museum of Contemporary Art, New York. Since 1995 he has been advisor to the Rijksakademie van Beeldende Kunsten in Amsterdam, and MUAC in Mexico City, among other international art centers. Mosquera has written extensively, lectured widely, and curated exhibitions in more than 70 countries over the past 20 years.
René Francisco Rodríguez, artist, teacher, and independent curator
An internationally recognized contemporary artist, Rodríguez is a professor at Havana's Instituto Superior de Arte (ISA), where he has been known for mentoring several generations of Cuban artists since the 1990s. In 1989 he founded the educational project DUPP, Desde una Pedagogía Pragmática (Through a Pragmatic Pedagogy), and revolutionized teaching methods by taking art students out of the studio and into the "real world." In 2000, during the seventh Bienal de la Habana, DUPPP was awarded a UNESCO prize. He holds an honorary doctorate in fine arts from the San Francisco Art Institute (2001), and was recognized with the prestigious Cuban National Prize in Fine Arts (2010). His artwork has been exhibited internationally, including in Brazil, China, Germany, Italy, Spain, and the United States.
Elsa Vega, independent curator
Specializing in Cuban art of the 1950s, 1960s, and 1970s, Vega has been curator of Cuban art at the Museo Nacional de Bellas Artes (MNBA) since 1993. One of her curatorial hallmarks is the permanent exhibition Otras perspectivas del arte Cubano (Other Perspectives on Cuban Art) 1951–1963, which has been on permanent display at the MNBA in Havana since July 2001. Vega has organized numerous national collection exhibitions and co-curated a number of international exhibitions in Brazil, Canada, Holland, and Spain. She has written widely for exhibition catalogues and art publications. Vega has twice been awarded the Annual Prize for Cultural Research and is a member of the Cuban National Heritage Commission.
Museum Advisors, Houston and Minneapolis
Mari Carmen Ramírez, Wortham Curator of Latin American Art, MFAH, and Director, International Center for the Arts of the Americas (ICAA)
Ramírez has curated numerous critically acclaimed exhibitions of Latin American art over the last 30 years, including Inverted Utopias: Avant-Garde Art in Latin America (2004), and monographic surveys of the work of Antonio Berni, Carlos Cruz-Diez, Gego, and Hélio Oiticica. At the ICAA, Ramírez launched and has overseen Documents of 20th-Century Latin American and Latino Art: A Digital Archive and Publications Project, an extensive initiative to source, digitize, and publish over 15,000 primary sources fundamental to research in Latin American and Latino art.
Olga Viso, Executive Director, Walker Art Center, Minneapolis
Born in Florida to Cuban émigré parents, Viso is well-known for her expertise in contemporary Latin American art, including her groundbreaking survey of the work of Cuban expatriate artist Ana Mendieta, which originated in 2004 at the Smithsonian Institution's Hirshhorn Museum and Sculpture Garden in Washington, DC. Prior to being appointed director of the Walker Art Center in 2008, Viso had been curator of contemporary art, then director, of the Hirshhorn. She is a member of the National Council on the Arts, and she served on the Federal Advisory Committee on International Exhibitions.
MEDIA CONTACTS
The Museum of Fine Arts, Houston
Mary Haus | Head of Marketing and Communications
713.639.7754 | mhaus@mfah.org
Laine Lieberman | Publicist
713.639.7516 | llieberman@mfah.org
Walker Art Center
Annie Gillette Cleveland | Chief of Marketing & Strategic Communications
612.375.7699 | annie.cleveland@walkerart.org
Meredith Kessler | Assistant Director, Public Relations
612.375.7651 | meredith.kessler@walkerart.org
Cisneros Fontanals Art Foundation (CIFO)
Aimee Hernandez | Marketing and Communications Manager
305.455.3343 | ahernandez@cifo.org
Julia Lukacher | SUTTON PR
212.212.3402 | julia@suttonpr.com