Rewrite the World December 3, 2020–February 28, 2021
---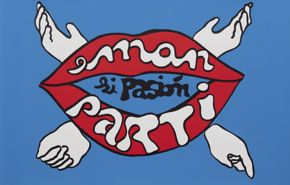 Rewrite the World highlights artists who make the revelation of historical and structural injustices a cornerstone of their practices. The work on view illustrates how art-making can intersect with other forms of producing and sharing knowledge—among them poetry, dance, archival research, and mapmaking.
The exhibition presents art by Jamal Cyrus, Demian DinéYazhi', Newton and Helen Harrison, and Cecilia Vicuña from the 1970s to 2020. Rewrite the World also addresses work created by artists and activists during the past year to protest police brutality and honor Black lives.
The title of the exhibition comes from the writings of Paulo Freire, the late Brazilian philosopher who believed that the world must be regarded as a "reality in process." In this spirit, Rewrite the World explores the interaction between artist and audience, suggesting that such encounters can be learning experiences and can lead to personal and collective transformation.
Learn More
► Virtual Exhibition
Explore Rewrite the World online
► Virtual Discussion
"A Voice of Hope: Remembering Carl Hampton and Houston's Black Panther Party"

Rewrite the World | December 3, 2020–February 28, 2021

• Exhibitions at the Glassell School of Art are open to the public free of charge.
---
The Core Program at the Glassell School of Art receives generous funding from The Joseph & Sylvia Slifka Foundation; The Powell Foundation; The Glassell Family Foundation; and the National Endowment for the Arts.
Core fellowships have been underwritten by The Dickson-Allen Foundation; Mr. Brad Blume; The Francis L. Lederer Foundation; McClain Gallery; and Karen Pulaski.