Off-site Exhibition "Rain: Magdalena Fernández at the Houston Cistern" December 10, 2016–June 25, 2017
---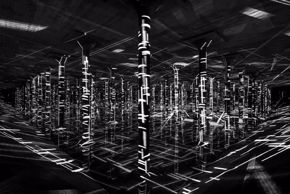 The Museum has partnered with Buffalo Bayou Partnership to present Rain: Magdalena Fernández at the Houston Cistern, located in the Buffalo Bayou Park Cistern near downtown Houston.
The exhibition features 2iPM009, an abstract video-projection installation that belongs to the Museum's permanent collection. Created by Venezuelan artist Magdalena Fernández, 2iPM009 evokes a rain-soaked night. For this presentation, Fernández adapted the work to be projected onto the cistern's 221 columns. The cistern's raw interior, shallow floor of water, and 17-second acoustic reverberation time provide an immersive environment for the art.
Learn more and book tours at buffalobayou.org, and follow along on social media with #CisternRain.
Location: Buffalo Bayou Park Cistern • 105 Sabine Street
---
This exhibition is organized by the Museum of Fine Arts, Houston, and co-presented by Buffalo Bayou Partnership.