Julian Onderdonk and the Texan Landscape October 2, 2016–January 1, 2017
---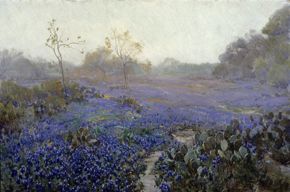 This exhibition brings early Texas history to light through the landscapes of Julian Onderdonk. The American Impressionist and San Antonio native is best known for his depictions of the sprawling Texas countryside.
Onderdonk (1882–1922) spent his formative years training in New York under American artist William Merritt Chase. Studying at Chase's Shinnecock School of Art on Long Island, Onderdonk established his foundations in Impressionist painting and ignited his love of working en plein air. Returning to Texas in 1909, Onderdonk began to portray the distinctive surroundings of his state in his signature depictions of bluebonnets, captured at different times of day and in all seasons.
Julian Onderdonk and the Texan Landscape presents a select group of more than 25 of Onderdonk's paintings, from luminous views of the Long Island landscape to sweeping impressions of the iconic Texas bluebonnet. The exhibition coincides with the release of the first catalogue raisonné of the artist.
Publication
Julian Onderdonk: A Catalogue Raisonné is available through the MFA Shop (713.639.7360) and the Museum's Hirsch Library (713.639.7325).
Related Exhibition
A Texas Legacy: Selections from the William J. Hill Collection is on view concurrently.
---
This exhibition is organized by the Museum of Fine Arts, Houston.
Generous support for this exhibition is provided by Mr. William J. Hill.