Hélio Oiticica: The Body of Color December 10, 2006–April 1, 2007
---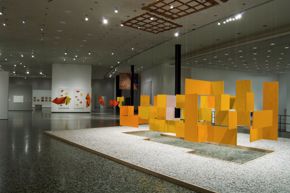 Through its International Center for the Arts of the Americas (ICAA), the MFAH undertook a multi-year collaboration with Projeto Hélio Oiticica (Projeto HO), Rio de Janeiro, to document, conserve, and exhibit the work of Brazilian artist Hélio Oiticica (1937–1980), one of the 20th century's most innovative artists.
The Body of Color traces the conceptual and technical processes that led to Oiticica's emancipation of color into space. The exhibition presents approximately 220 objects representative of the different series created by the artist between 1955 and 1969, shedding light on the various contexts and influences that nurtured their production, and demonstrating the rigor of his aesthetic inquiry. Additionally, in an attempt to stay true to the broad interdisciplinary scope of Oiticica's production, the exhibition includes documentary materials, films, and maquettes. Because the artist was a meticulous record keeper and would not sell his work, Projeto HO possesses an astonishing amount—about 95 percent—of Oiticica's lifetime production, as well as an unprecedented wealth of supporting material.
---
This exhibition is organized by the Museum of Fine Arts, Houston, in collaboration with the Projeto Hélio Oiticica, Rio de Janeiro, and is endorsed by the Ministry of Culture in Brazil.
Major corporate sponsorship is provided by: PETROBRAS
Additional generous funding is provided by:
The Bruce T. Halle Family Foundation
The Andy Warhol Foundation
Sotheby's
Fulbright & Jaworski L.L.P.
Samuel F. Gorman