Colors of the Oasis: Central Asian Ikats March 12–June 4, 2017
---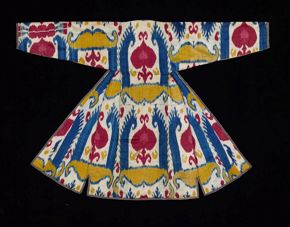 Colors of the Oasis: Central Asian Ikats showcases nearly 50 ikat robes and panels from the renowned Murad Megalli Collection of the Textile Museum in Washington D.C.
These bold garments were mainstays of cosmopolitan oasis culture in the 19th century, worn by inhabitants of different classes and religions throughout crowded marketplaces, private homes, centers of worship, and ceremonial places. The ikat textiles on display—including robes for men and women, dresses, trousers, and hangings—feature eye-catching designs in dazzling colors.
Supplementing the ikats (pronounced "ee-kahts") are historical photographs and didactic materials about the tradition of their creation. The textiles were originally produced in the 1800s in weaving centers across Uzbekistan, including Bukhara, Samarkand, and the Fergana Valley.
Additionally, special installations of ikat textiles from India, Japan, and Central Asia—on view in the Museum's permanent galleries in the Law Building—demonstrate ikat traditions from around the globe.
► In-Gallery Extras
Enrich your experience of the exhibition with on-site options! An interactive kiosk allows you to explore information on natural dye materials, and a video shows how ikat textiles are dyed and woven. An exhibition gallery guide, designed for all ages, is available in both English and Spanish. Learn more.
► Publication
A related, illustrated catalogue is available through the MFA Shop (713.639.7360) and the Museum's Hirsch Library (713.639.7325).
---
This exhibition was organized by the George Washington University Museum and the Textile Museum.
In Houston, generous support for this exhibition is provided by:
Bruce and Terry Baganz
Luther King Capital Management
Franci Neely
The E. Rhodes & Leona B. Carpenter Foundation
Jennifer and Matt Esfahani
Mary Jo Otsea and Richard Brown
Alastair and Kathy Dunn
Felix and Keisha Phillips